ABOUT GOSPEL MUSIC FEVER™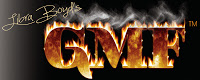 Gospel Music Fever™ is your RED
HOT spot for news, articles, interviews, reviews, and more on your
favorite indie and major artists of every style and from every era!
When we review music, we actually LISTEN to your music (more than once), before publishing an informative review on the site.
We focus on the UPLIFT and ADVANCEMENT of gospel music–not rumor mills and grapevines.
We publish our articles, interviews, and reviews at NO COST.
We SPREAD THE WORD about what's published on GMF™ across social media, including Facebook and Twitter (@GsplMusicFever).
ABOUT THE FOUNDER & EDITOR
Libra Nicole Boyd is a musician,
award-winning author, and gospel music aficionado.
Having devoted more than
half of her life to music ministry, God's favor has brought Libra's musical
gifts into the presence of countless national and international gospel artists. Despite receiving various invitations to
travel throughout the years, she has continued to humbly serve as minister
of music at New Hope Person Missionary Baptist Church in Timberlake, NC. There's no denying, however, that Libra has
gospel music fever.
In fact, it is Libra's
enduring love of gospel music that led her to create Gospel Music Fever™ blog
in spring 2011. Since its inception, she
has been the blog's writer and editor, publishing articles,
interviews, and reviews covering every style and era of gospel music. Accordingly, Gospel Music Fever™ has grown in
popularity and name recognition among gospel music's fans and followers. Sister
2 Sister magazine is one such publication that took notice and requested
that Libra be a contributing writer for a special feature.
Along with her work in gospel
music, Libra is a published author. Her current book release, entitled Hidden
Manna: Fresh Bread Devotionals for Partakers of the Divine Nature, has
garnered two (2) national awards—Book of the Year and Spiritual Inspirational
Book of the Year—from the Younity Reviewers Guild of America. On the heels of these honors, Libra was
featured in the inaugural issue of Having
Church for Women magazine along with singer/actress Melba Moore, the cover
subject.
In conjunction with these undertakings, Libra is currently a full-time doctoral student at the University of North Carolina at Greensboro.