REVIEWS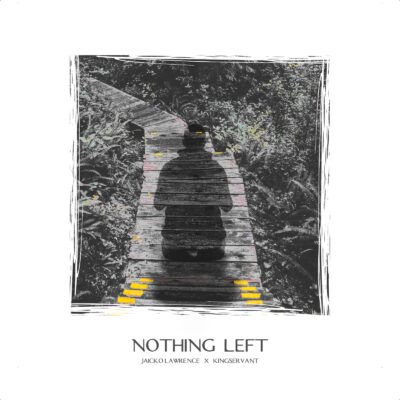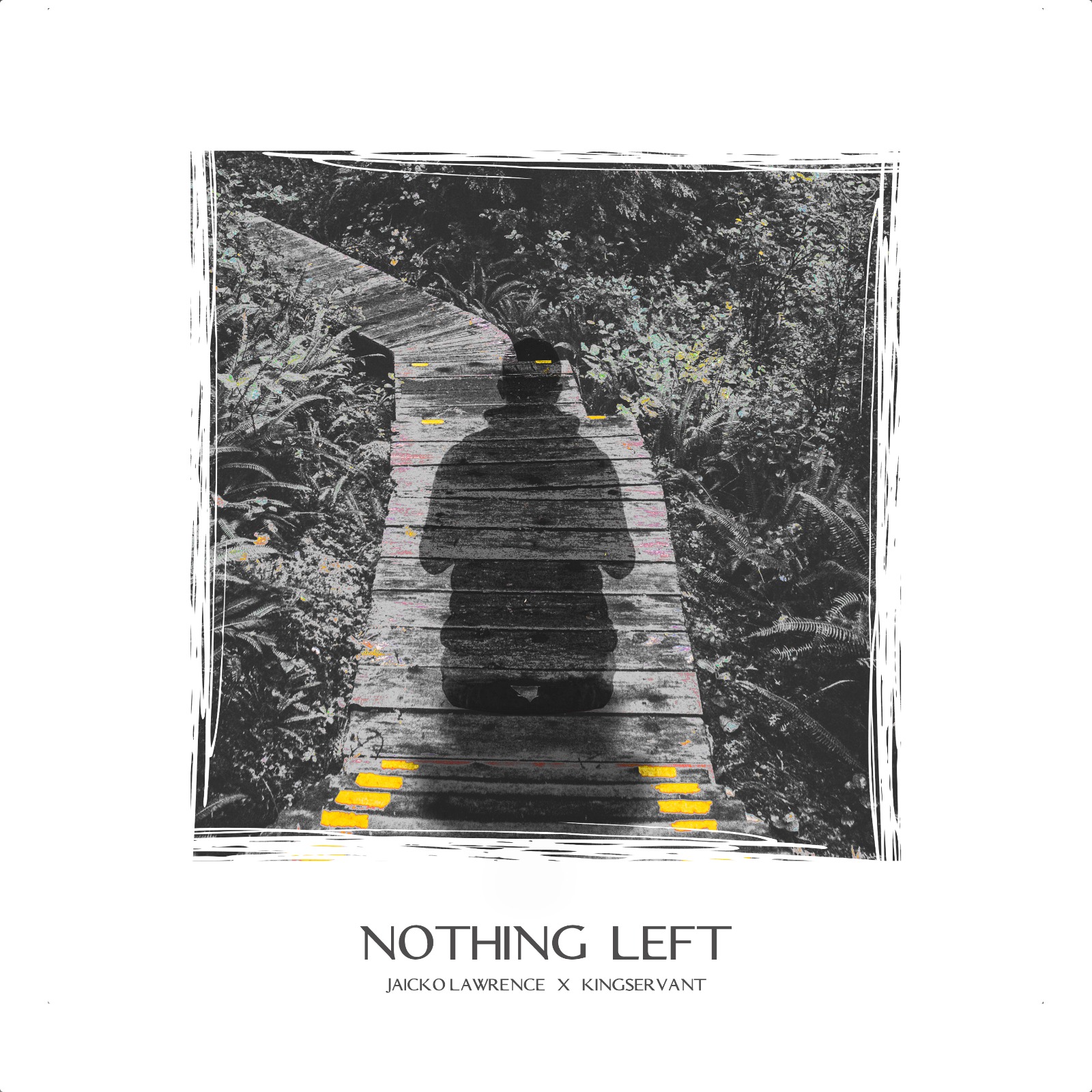 "Nothing Left" feat. Kingservant
Jaicko Lawrence
Indie (2023)
www.kingmindedmusicgroup.com
By Libra Boyd
Gospel Music Fever
Jaicko Lawrence is a Barbadian singer-songwriter with writing credits for Akon, J-Hope, and Jay Sean, to name a few. After giving his life to Jesus, he redirected the focus of his singing and writing. "Windows" became his first big writing placement, appearing on Pastor Mike, Jr.'s Impossible album.
Recently, Jaicko released his own single titled "Nothing Left." It's an introspective urban contemporary/dance hall/reggae song that lifts up themes of faith and perseverance with the repeating rhetorical question, "Who can give me rest, the kind that's for my soul when I've got nothing left?" alongside other lyrical declarations like, "I just keep on looking to the hills; that's where my help comes." Jaicko is joined on this single by reggae artist Kingservant.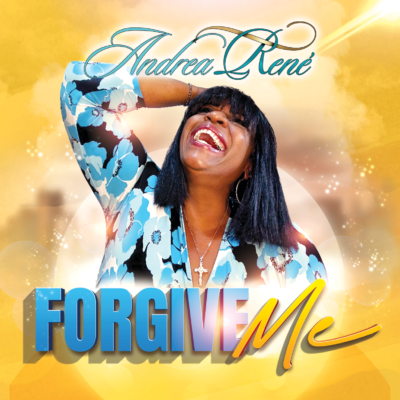 "Forgive Me"
Andrea René
Inspirational Song Factory (2023)
andrearenewilliams.com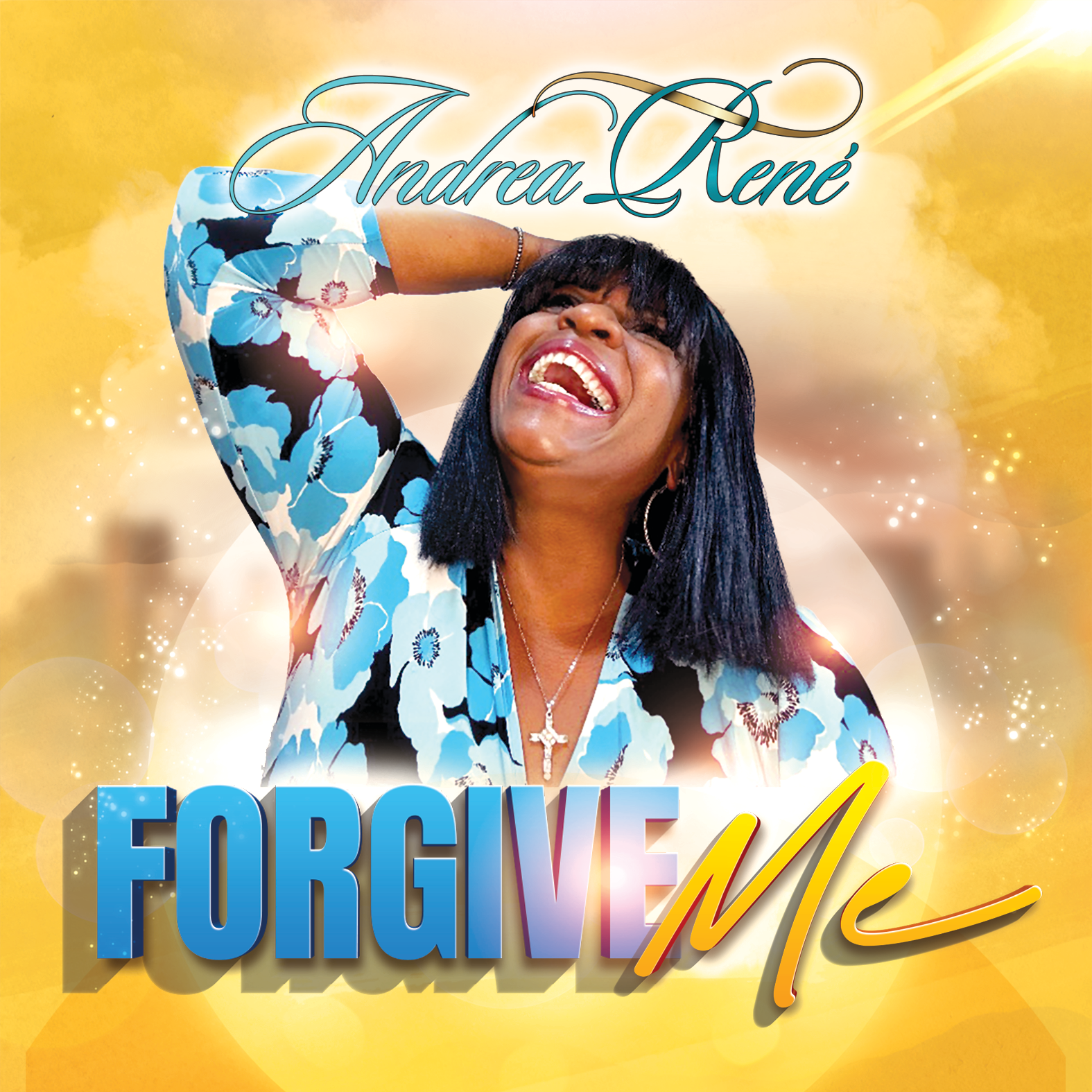 By Libra Boyd
Gospel Music Fever
Popularized by disco sensation Donna Summer, "Forgive Me" is gospel artist Andrea René's latest recorded song offering, made available this year on July 7, which was Global Forgiveness Day. The track is produced by keyboardist Ruth Goolsby and released on Andrea René's own Inspirational Song Factory label.
Andrea René approaches "Forgive Me," written by Reba Rambo and Dony McGuire (and quite the opposite of a disco tune), with passion and tenderness. She graces the mic alone, supported with layers of piano and strings. The emphasis is squarely on the lyrics—a prayer that she sends soaring into the heavens. The petition is for God to help her forgive others as He has forgiven her.
Andrea René is a 25-year music industry veteran. The vocalist, songwriter, pianist, and producer was groomed in gospel by former choir directors Richard Smallwood, Byron Cage, and Ricky Dillard. She has plans to release a new EP later this year.
NEWS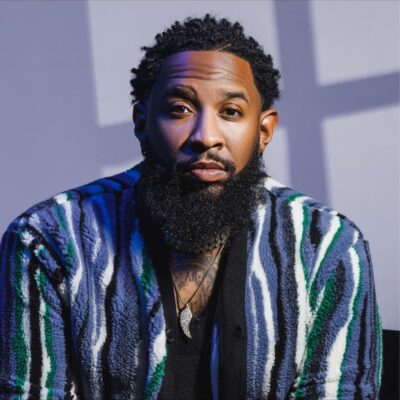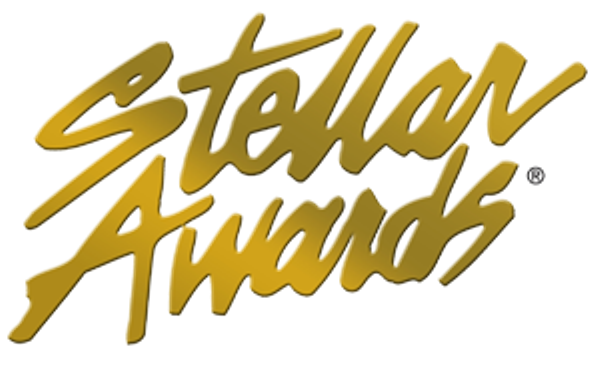 It was a wonderful night for Pastor Mike, Jr. at the 38th Annual Stellar Gospel Awards, held this weekend at the Las Vegas New Orleans Arena. The Birmingham pastor and singer had his hands and arms full with a total of eight awards, including Stellars for Album of the Year (Winning), Song of the Year ("Impossible"), and Artist of the Year.
DOE collected three statues for her Clarity album: Albertina Walker Female Artist of the Year, Contemporary Female Artist of the Year, and Urban/Inspirational Single or Performance of the Year ("When I Pray"). Zacardi Cortez also earned a trio of awards for Traditional Male Artist of the Year, Traditional Album of the Year (Imprint), and Praise and Worship Song of the Year ("You've Been Good to Me"). Maverick City Music x Kirk Franklin and Tye Tribbett celebrated wins in two categories each. The complete list of winners is available at www.stellarawards.com.
In addition, four gospel greats were honored for their contributions to gospel music:
CeCe Winans – Aretha Franklin Icon Award
Rev. Dr. Milton Biggham – James Cleveland Lifetime Achievement Award
Ambassador Dr. Bobby Jones – Thomas A. Dorsey Most Notable Achievement Award
Dottie Peoples – Ambassador Dr. Bobby Jones Legends Award
This year's awards show will premiere on the new Stellar Network on Sunday, July 30 at 6 p.m. ET (available on Charter Spectrum, Verizon Fios, and Xumo Play); BET on Sunday, August 6 at 8 p.m. ET; and Bounce TV on Sunday, September 3 at 1 p.m. ET. The show will also be broadcast nationally from August 7, 2023, to September 10, 2023, through TV syndication. The Stellar Awards Red Carpet Special pre-show will air on Stellar Network on July 30 at 5 p.m. ET. Viewers should check with their local provider for availability.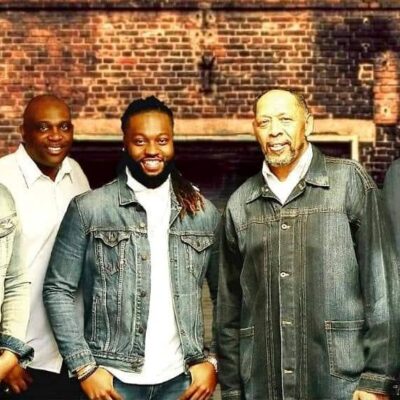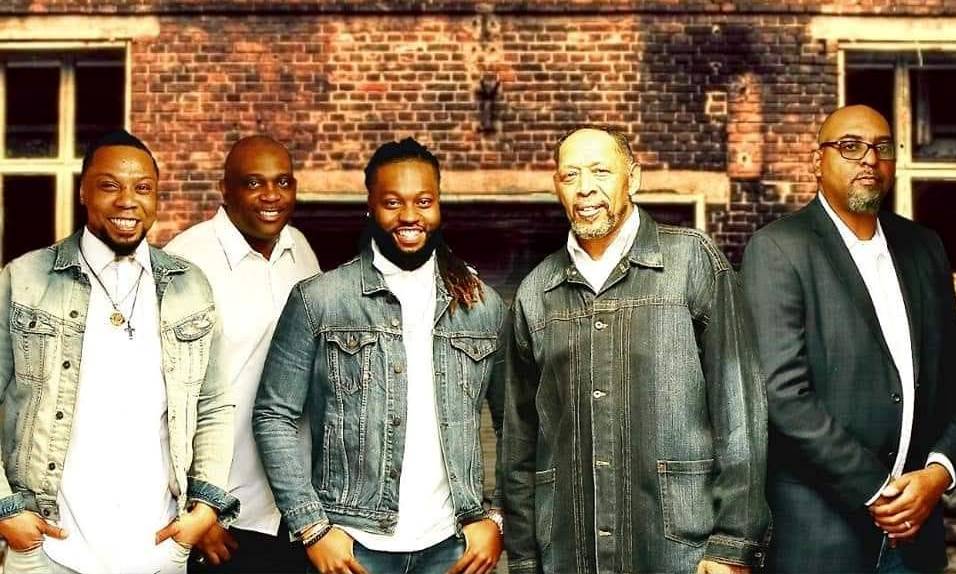 Sponsored by the Kirby Cultural Arts Complex – John Thorpe and Truth are set to take the stage for the fifth and final installment of the "Gospel In Person" concert series, presented by the Kirby Cultural Arts Complex in partnership with Just Love In Person community service organization and Gentry Visuals production company. The event gets underway Saturday, April 29, at 6 pm, at the Kirby Theater in Roxboro, NC.
"Gospel In Person" is a multipart celebration of the rich Black gospel music history found in North Carolina's rural Person County, located in the Piedmont region along Virginia's border. Since the fall of 2022, the concert series has included live performances featuring MG Music Group, The Torain Family, Just Us Guys, The Spiritual Lights, and The Mighty Harmonaires, along with short documentaries chronicling the performers' histories and Person County roots. John Thorpe and Truth round out the series this month.
John Thorpe and Truth was founded in April 2012, by Thorpe, Lorenzo Dixon, and Robert Lunsford. Since organizing, the group members have performed throughout their home state of North Carolina and along the east coast, engaging traditional gospel enthusiasts with their infectious charisma, rollicking drives, and passion for spreading the good news in song. In 2015, they released their debut project, Stay With Jesus. An EP, Come By Here, followed in 2019, as well as their second full-length project, Let Him In. The group's current single is, "I Made It." John Thorpe and Truth have earned multiple Rhythm of Gospel Award nominations and are Season 14 recipients of the Prayze Factor Award. The present roster of singers and musicians includes Thorpe and Dixon along with Jamaal Moore, Brandon Gibbs, Bernard Dixon, Jarmaal Lawson, Iakee Pettiford, Zynell Hardnett, and Giovanni Hardnett.
Before founding John Thorpe and Truth, Thorpe traveled the gospel highway with the Mighty Jubilaires of Newburgh, NY, and The Brower Brothers of Newark, NJ. Upon returning to North Carolina in 1999, he brought together his 13 siblings to form an aggregation known simply and fittingly as The Thorpe Family. He says it was a last wish of his mother Vida—with whom he sang his first song at age five—for him to "keep the family together." Thorpe, the ninth of fourteen children, honored her request through his family's shared love of singing, and The Thorpe Family went on to spread the gospel, eventually releasing two CDs, In His Name (2007) and Child Of God (2012). The latter was recorded live at the Kirby Theater with special guest, Ambassador Dr. Bobby Jones.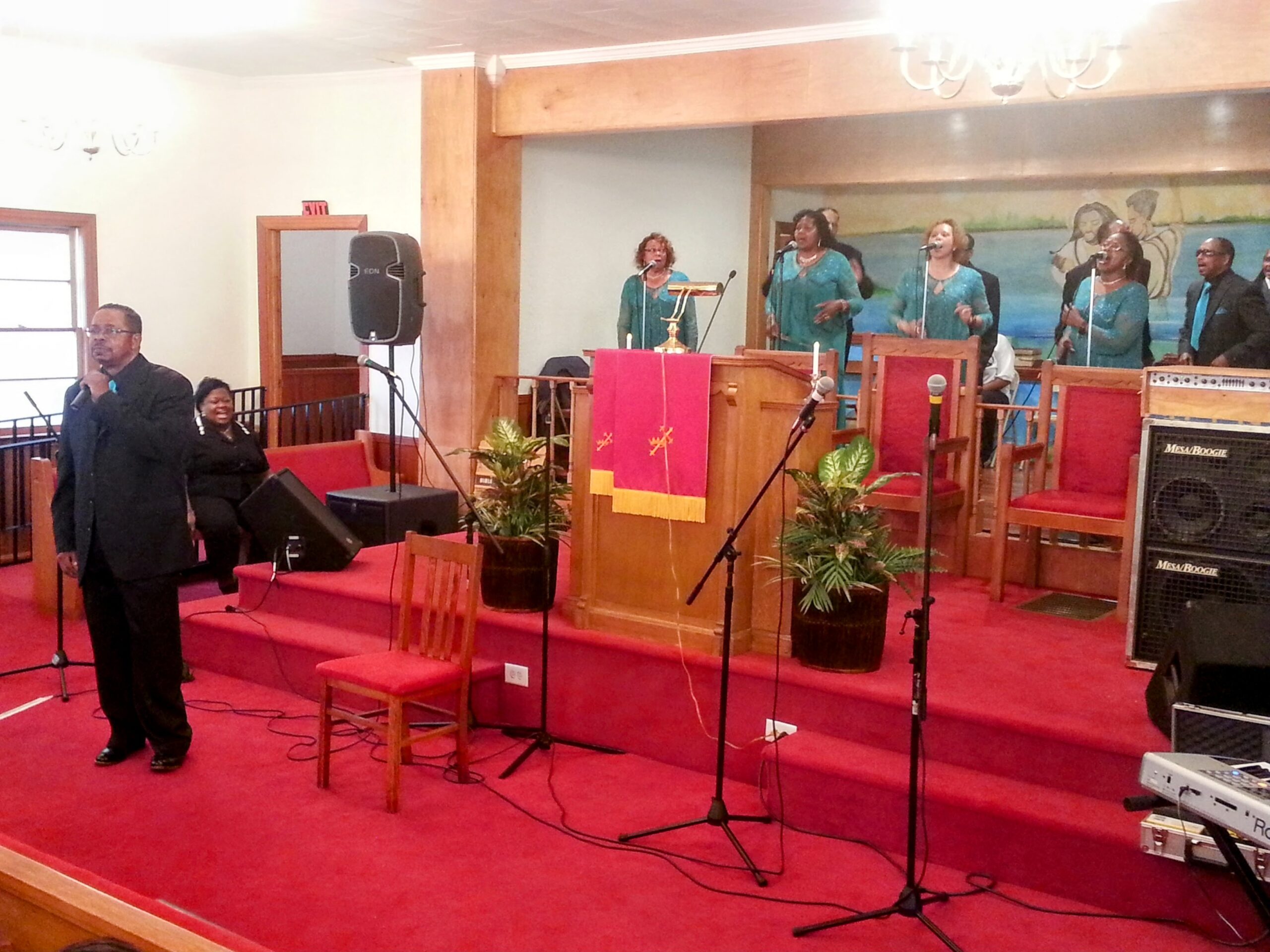 "John Thorpe is a force—from his stature, to his bellowing voice, to his incomparable energy," says Just Love In Person's Michael Gentry, who is also the creator and producer of the forthcoming feature-length documentary titled, Gospel In Person, which premieres in June 2023.
"And with Truth," Gentry continues, "he is indeed surrounded by awesome talent. In the Dixon brothers, Jamaal Moore, Jarmaal Lawson, and others, John is surrounded by men who were born and bred in Person County quartet and can all sing and play. And they'll dance too. The John Thorpe and Truth concert will be a high-energy celebration and a fitting way to end this beautiful concert series."
Purchase tickets for the live concert on Saturday, April 29, at https://www.etix.com/ticket/v/19211/kirby-cultural-arts-complex/. Kirby Theater is located at 213 N. Main Street.
INTERVIEWS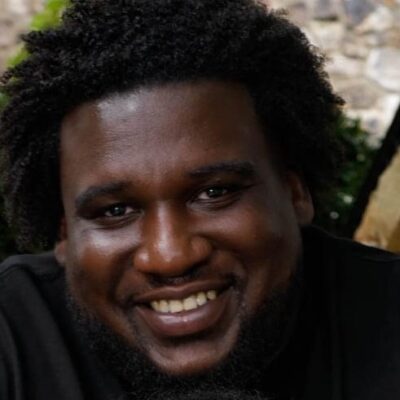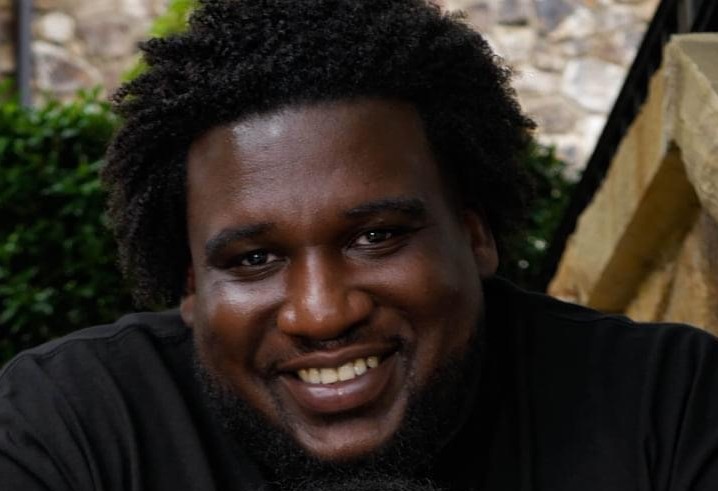 By Libra Boyd
Gospel Music Fever
Prior to the COVID-19 pandemic, Erin Ganey-Hill, cultural arts program director at Kirby Cultural Arts Complex, had an idea, recounts Michael Gentry.
Over the years, Erin had witnessed how the community celebrated Black gospel music and its singers in their small city of Roxboro (population, roughly 8,100) and throughout Person County. Several quartet-styled groups regularly booked the Kirby to host their singing anniversaries or major programs, and Erin and the Person County Arts Council envisioned a project that would pay homage to the valuable legacy of music and culture in the community.
"Erin's goal was to talk about the history of gospel [music], but from the standpoint of quartets," Michael explains. "She wanted to celebrate the history of that [in Person County] and [the impact its] singers had."
The culminating result is a feature-length documentary titled Gospel In Person. It premieres on Father's Day at the Kirby Theater. Michael is the film's creator, producer, and director.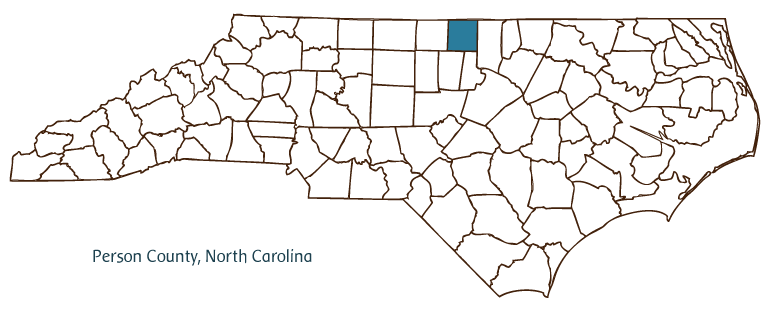 Gospel In Person chronicles over eight decades of the rich Black gospel music history found in Person County, located in the Piedmont region of North Carolina, along Virginia's border. Much of the history is told by the singers themselves, many of whom still travel the circuit singing God's praises. In their vivid accounts, they also reminiscence about area legends who are no longer with us, such as Roosevelt Whitfield of the pioneering Silver Moon Quartet and his son, prolific singer and multi-instrumentalist Michael Whitfield; Martha Pettiford of the Joylettes; Leroy Cash of the Spiritual Lights; Victor Hester of another pioneering group, the Traveling Sextet; Willie Carrington of the Mighty Harmonaires; and many more. Additionally, the film features classic performances of the Mighty Gospel Travelers, Original True Lights, Spiritual Lights, Mighty Prophets, Joylettes, and others. And although they may not be household names beyond the region, their impact has created ripple effects throughout the broader gospel music scene, as their stories reveal.
Michael grew up in Person County and in church. Admittedly, he was more interested in playing basketball as a youngster than attending weekend gospel music programs. His parents, on the other hand, "know all about this music scene," he asserts. "This is what they grew up in. Of course, as I grew in Christ and grew in ministry, as God had told me that my work would be in Person County, I developed an interest in wanting to get to know [some of these singers' stories]. I just didn't know that I would be called upon to do this."
The calling of which he speaks came about after Erin took notice of Just Love In Person, an organization Michael co-founded that is committed to strengthening Person County through acts of service powered by love. One way the organization does this is by sharing first-person narratives of people in the community with webisodes fittingly called "Just Love Stories." The web series piqued Erin's interest so much so that she jotted Markeith Gentry's name down to contact about her idea. Markeith is the head of Gentry Visuals multimedia publishing company, the official publisher of Just Love In Person's "Just Love Stories" series. He is also Michael's younger brother. In the meantime, she ran it by fellow arts council board member Kim Hargrove. 
"So it just so happens that Erin asked Kim one day, 'Hey, do you know Markeith Gentry? I need to find a way to get in touch with him,'" Michael recalls. What Erin did not know, he says, is Kim "is like my brother's second mother."
It turns out Markeith's schedule was full, but he had already been showing his big brother the ropes when it came to videography. Erin and Michael finally met in March 2022 and began developing the project.
The first Sunday in June, Michael visited New Hope Person Missionary Baptist Church in south-central Person County to invite its pastor to appear on "Just Love Stories." "I went to the church—this is after I had met with Erin—and of course, who do I see? Dr. Libra Boyd. And that's when I told you about this idea that the Kirby had. And you got on your phone, pulled up several pictures, and said, 'Here are the people you have to contact. Here are some of the older groups.'"
One of the first people Michael contacted was David Ramsey, a renowned singer and bass guitarist who has been a member of several of the groups discussed in the Gospel In Person film. He is also a longtime radio personality and host of the David Ramsey Gospel Show on WRXO 1430 AM / WKRX 96.7 FM. "I started with David Ramsey, and he's just a gold mine of knowledge."
Ambitiously, he went on to conduct interviews with more than 60 people for Gospel In Person and estimates working on the project an average of eight hours every day for just over one year. "But my soul was getting fed. My knowledge was being increased. So it was a labor of love—emphasis on love, not labor." Still, the most demanding task may have been condensing nearly 100 hours of accumulated interview and archival footage into a suitable documentary length for one sitting. Gospel In Person runs approximately three hours and is divided into three parts. "From a quartet standpoint, you're talking about probably 85 years of history."
And even though the film focuses on singers of the quartet style, both choirs and churches are acknowledged in this body of work because "all the quartets, for the most part, come directly from a church choir," he points out. "They were in the choirs, even though they were singing full-time, you know, every weekend, all evening long. They were always in their churches on Sunday morning."
Another eye-opener, one that blew him away as he collected stories and listened to audio and video recordings, was, "I believe all of these groups could have been professional. Traveling the country. Famous. And I think had these groups been in a larger city, they would have been. . . . You know, they weren't just 'Roxboro' good. They weren't just 'North Carolina' good. They were awesome. But not only that; they had relationships with professional groups. . . . 'I'm coming through North Carolina. Can I come stay at your house?' (laughs) The professionals knew them. Some of these singers were singing alongside professionals before they were professionals."
The Gospel In Person documentary rounds out the "Gospel In Person" series, which since the fall of 2022 has featured live concert performances of MG Music Group, the Torain Family, Just Us Guys, the Spiritual Lights, the Mighty Harmonaires, and John Thorpe and Truth. Concertgoers were treated to short documentaries spotlighting the headliners, but Michael is quick to emphasize that the full-length documentary is a new release and not a stringing together of the previously released short docs. "You're going to see a lot of things that were not in the stories we've already [released]. . . . We have not released any information on Facebook or in these concerts about maybe the most talented gospel singer in Person County history."
"Historic and monumental" is how the talented producer and director describes the significance of Gospel In Person; and yet, his prayers and hopes for it are profoundly humble.
"My prayer for [Gospel In Person] has been that it moves people spiritually because that's [Just Love In Person's] assignment; our assignment is to make a spiritual impact. I pray that it gets folks saved, revitalizes people, strengthens the spiritual work of quartets in Person County, and continues to strengthen the church community. I hope it encourages the active quartets to continue the work they're doing and realize they've made an impact. And then my prayer is that people can know, understand, and appreciate what exists in our community. We have greatness all throughout. I hope people understand what is in these roots and see it as their responsibility to continue to feed these roots by producing more greatness. My main prayer is that God is glorified and the people are encouraged.
"I'm grateful that God called me to the work because it is, to me, it's been the most important thing that I've really ever worked on."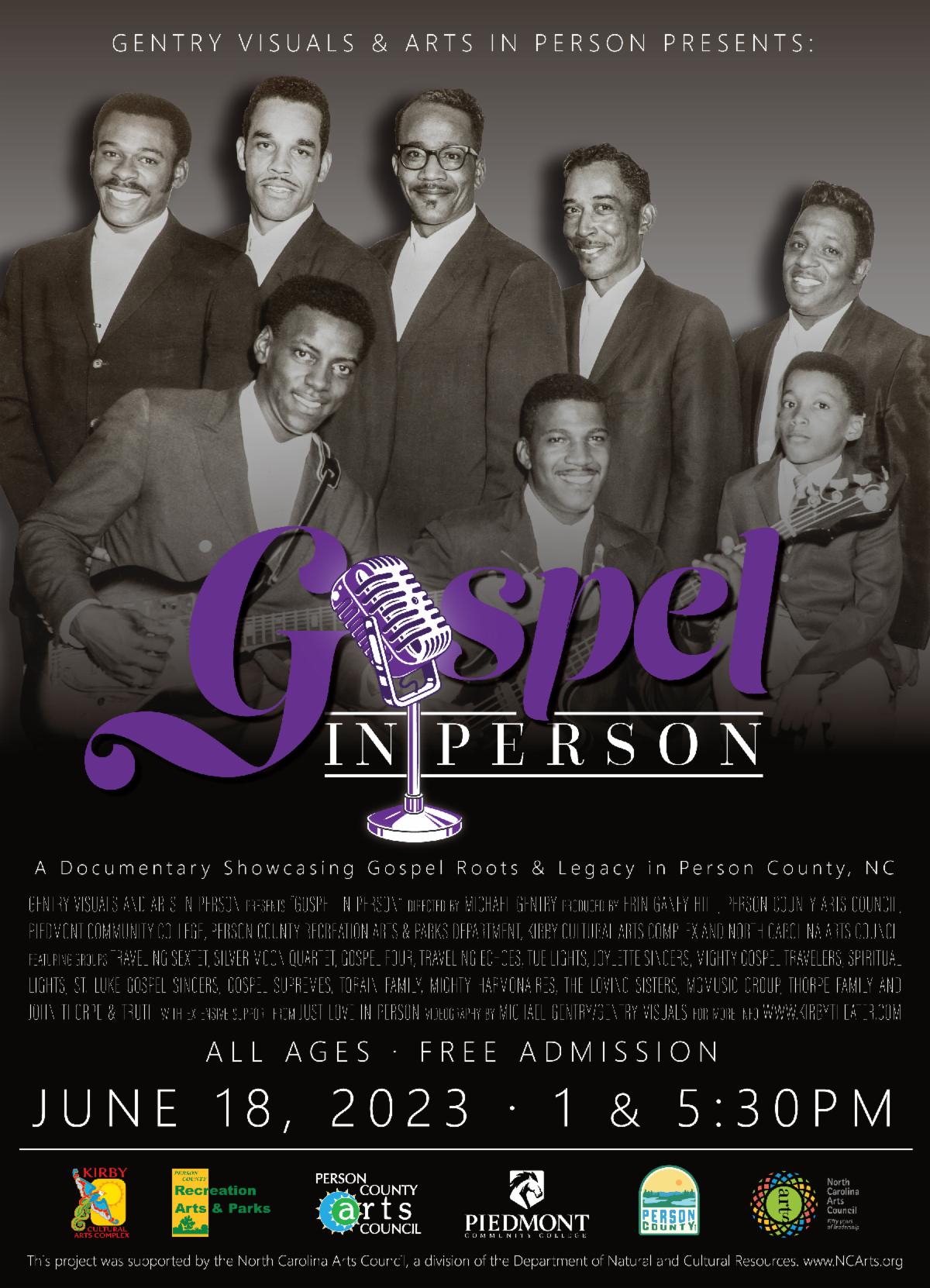 Gospel In Person premieres Sunday, June 18, at Kirby Theater on 213 N. Main Street in Roxboro. Showtimes are 1 pm and 5:30 pm. Admission is FREE. GMF's Libra Boyd appears in the film.
Editor's Note: The group pictured on the graphic is The Mighty Gospel Travelers. Seated from left to right are the late Michael Whitfield, David Ramsey, and Stacey Pettiford. Standing from left to right are the late James Lunsford, Rev. McArthur Pettiford, the late Victor Hester, the late Burley Pettiford, and the late Freddie McGhee.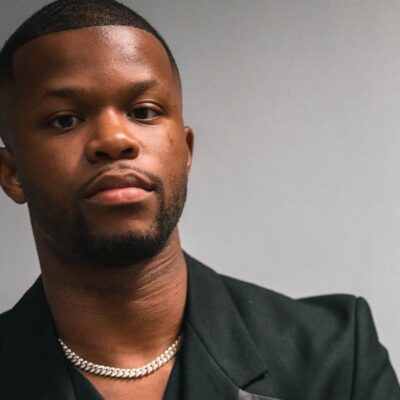 By Libra Boyd
Gospel Music Fever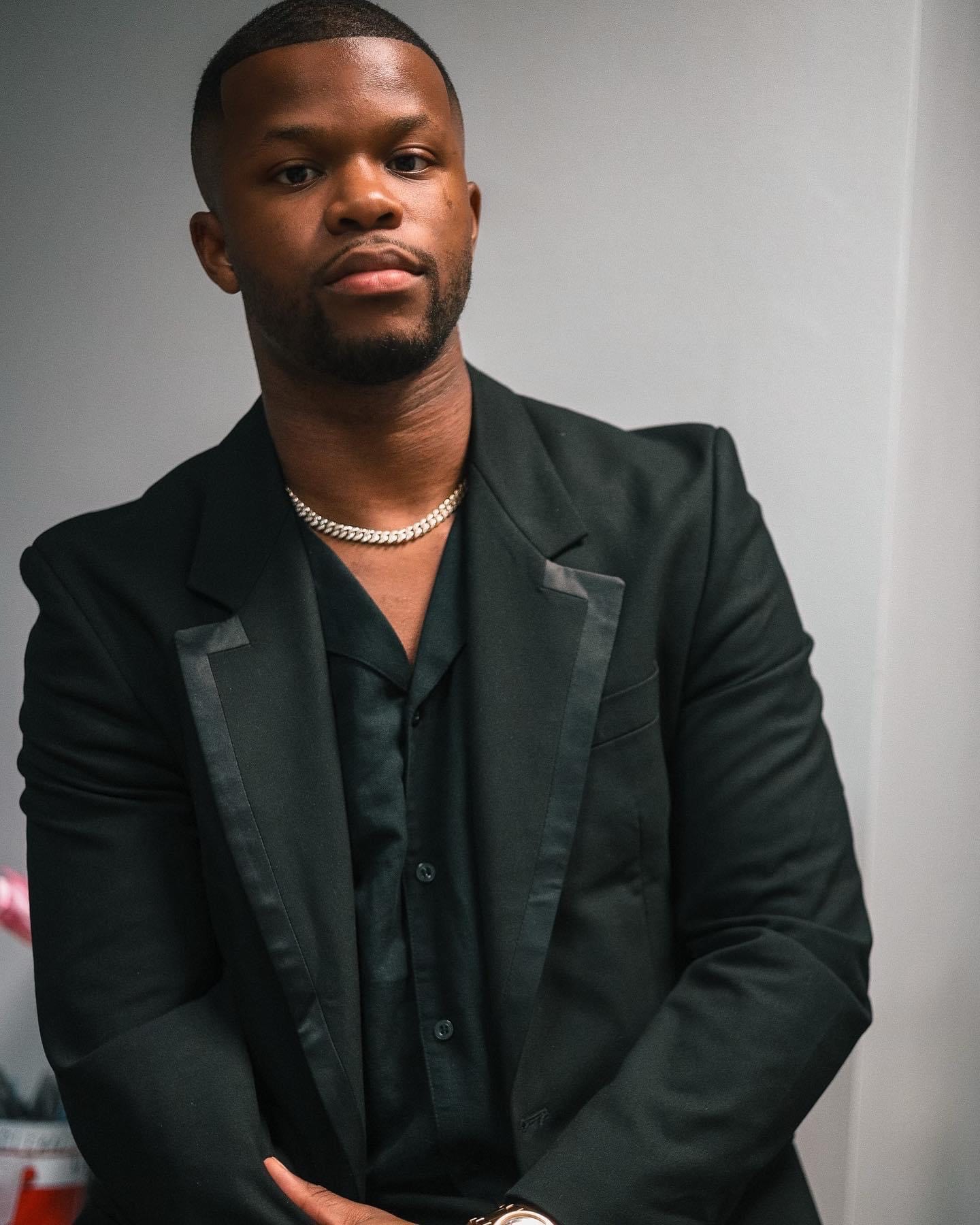 Kelontae Gavin was only a high school freshman in 2014 when a cafeteria worker captured him on video singing Rev. Paul Jones' popularized version of "I Won't Complain." The South Carolina native was already such a force that when the video was posted on social media, it spread with virality.
Just nine years later, Kelontae has Billboard charting music—including the single "No Ordinary Worship"—over 55 million audio streams, two full-length albums (The N.O.W. Experience and The Higher Experience), and a Stellar Award. He is set to release his third album, Testify, this summer. The first two singles from it, "Live Again" and "Good Love" have already dropped. It might appear that his music career is progressing at lightning speed.
When I caught up with Kelontae, he had just performed at the 8th Annual Black Music Honors, a star-studded celebration of music legends including this year's gospel honorees, The Hawkins Family. He took some time to talk with GMF about music, mentoring, and maturing.
First off, I love the new single "Live Again"! It represents a fresh start and the joy of being able to walk into a new beginning. That being said, what fresh start(s) are you celebrating?
One fresh start that I am celebrating is I just launched a worship mentorship for worship leaders and aspiring artists—those who have the big dreams, but they're from small towns. You know, many of us come from small churches or smaller ministries where we don't really have the facilitators to help us grow in our gifts. And so I wanted to be the lifeline for worship leaders that have felt like the communities that they've served have overlooked them. It is not really the case, it's just God develops us in the dark. And those who may have felt like you are unseen, you are seen, like, you got all of heaven backing you up! And God has given them gifts that are beyond their last name, that are beyond where they come from. And so the "live again" for me is being the platform for somebody else.
So, yeah, let's talk about platforms. You have multiple #1s on Billboard and Mediabase Gospel charts, and you've earned a Stellar Award so far. How do these achievements fit in with what you envisioned at this stage for your platform of music and ministry?
Yeah, I would have, like, I don't even know if the little boy in me knew that I would even be answering a question like this. Everything that I have, God gave it to me. Every place that I've been, God took me. Everything that I know, God has placed people in my life to help teach me. And the awards are just the consequence, the byproduct of my relationship with God, of trusting God and knowing that the gifts and talents that He has given me are not just to shine my light, but it's also for people to see his light.
"Live Again" is the first single from your upcoming album. "Good Love" is the second one. What is it that we absolutely must know about the full-length project that drops later this year? What can we expect?
Yeah, Testify is gonna be incredible! And Testify is the name of my upcoming album that is dropping. Testify is an album that is a collaboration of worship songs and life songs that you will hear and you can sing that will not just be a testimony to you, but be a testimony for others as well [of] just how great our God is. I'm so excited that people will get the opportunity to purchase and download and stream and even share with other people. This record is special. It's another baby of mine that I'm birthing out for the world to hear and just be changed and encouraged.
A final thought as we've talked mentoring, music, and testimonies: If your life were a book, what wisdom would a chapter titled, "The Maturing of Kelontae Gavin" contain?
Man, if my life were a book, I would say that the wisdom in that chapter of "The Maturing of Kelontae Gavin"…I would just talk about the fear of being different. We all want a crew, we want friends. We wanna belong to something, we wanna run with the herd. But as I am growing and maturing as a man, I'm realizing that some of the greatest leaders in the world and leaders in the Word of God were lonely, or felt lonely, or practiced the art of being alone. And many people don't understand that true leadership is evolved, nurtured, developed—not when everybody's applauding, but when you're by yourself looking in the mirror to your core [at] who you are. Do you love who you are when there is no best friend, when there is no marriage, when you're not dating, when you didn't get the promotion? So I think a chapter on maturing would definitely entail a lesson called "The Necessity of Being Alone."
Wow, man! If you were to write it, I would certainly read it. It would be profoundly introspective.
What else would you like to share with GMF?
I would say get the album! I'm so excited about Testify! Subscribe to my YouTube channel: I Am Kelontae Gavin. [I'm] dropping some new heat, some exclusive releases and videos, and I'm just excited. And of course, follow me on Instagram @kelontae_gavin, Facebook @Kelontae Gavin, and stay locked in for all that I have going on in my life, my journey, and on the road.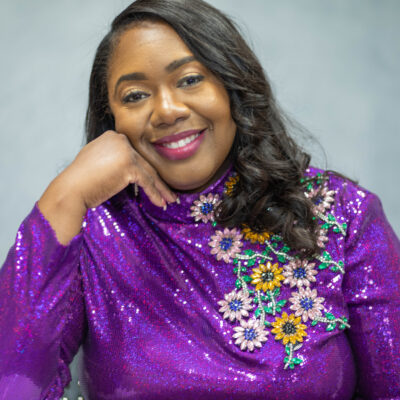 By Libra Boyd
Gospel Music Fever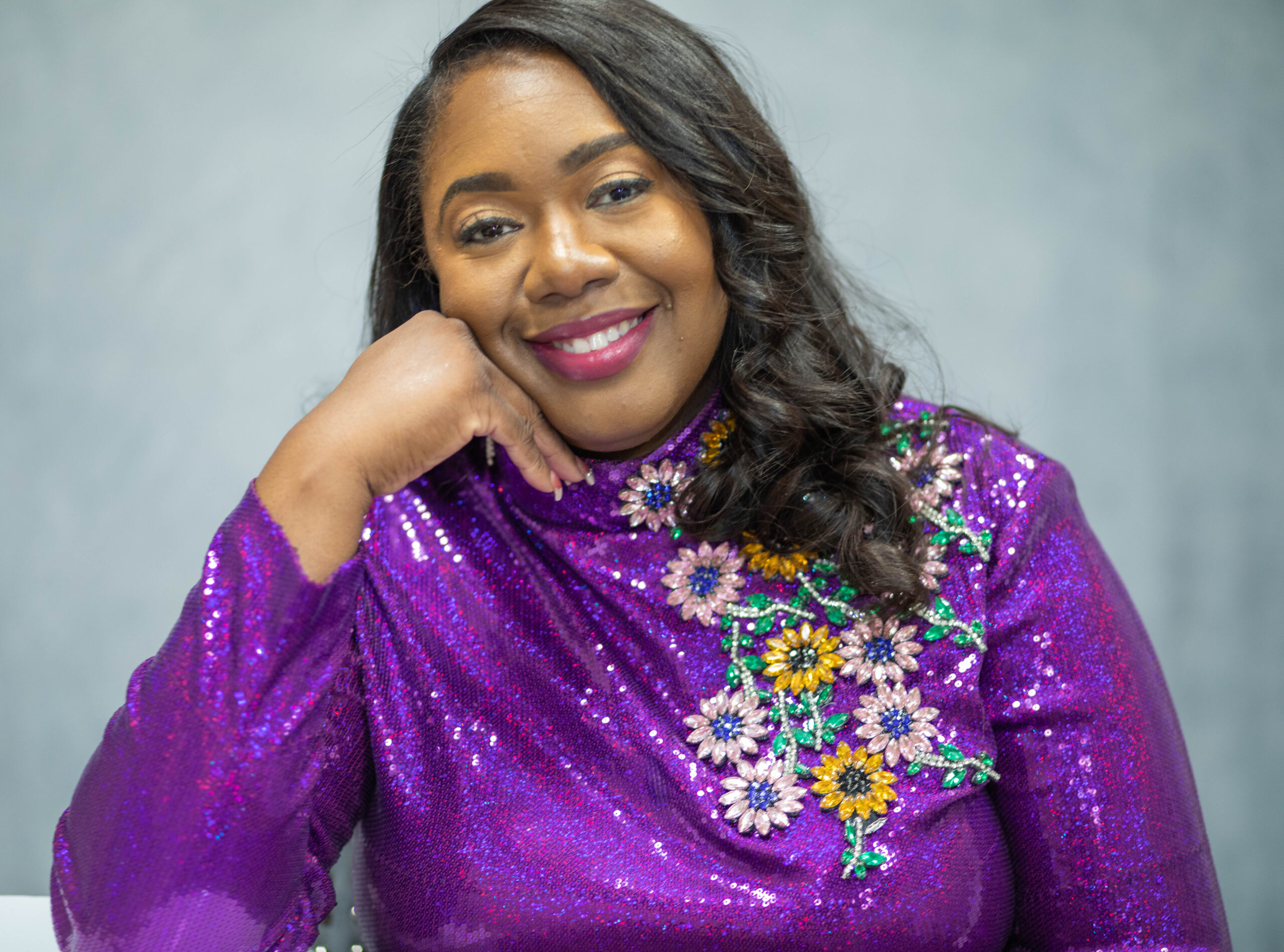 Pastor Nell Smith Ward has been preaching since the tender age of three and singing nearly as long. From then til now, "Little Nell," as she is better known, has graced platforms with numerous notables including Pastor Shirley Caesar, Dr. Bobby Jones, Beverly Crawford, and Dr. Maya Angelou. In 2018, she took social media by storm when Facebook footage of her wedding serenade (Jason Nelson's "Forever") to husband Bishop Timothy Ward went viral. As of April 2022, the video is at 733,000 views and counting.
From humble beginnings as the young preaching machine and singer-musician who served at Miracle Center Holiness Church, founded by her mother Overseer Cora Smith, God birthed Living Waters Christian Church (presently based in Zebulon, NC) in 2000. She remains the pastor alongside her husband. In our GMF Q&A, Pastor Ward chats about the early days of her ministry, her new music project, and how she brings balance into her life in the midst of ongoing demands.
Describe Pastor Nell Smith Ward in three words.
Passionate, fair, loving.
You started preaching when you were three and ran your first revival at age six. I'm sure many people were fascinated to hear about you. Do you remember what that first revival experience was like for you and possibly for those who attended?
Yes, I remember my first revival. It was in Henderson, NC at the Jesus House of Prayer. They had to build a stool for me to stand on top of for the people to see me. People would come from miles around to hear me. My mom, Overseer Cora Smith, was there, as well as Sister Doris Busby, Donald Morgan, and Julia Johnson, my aunt. I was a sweet little girl who wanted to pray for everyone. The people were excited to see a child used by God. The churches were packed from wall to wall. I wasn't afraid or shy. I knew my calling even back then.
When and how did you recognize singing to be a part of your ministry?
At the age of eight. I remember when my dad came home from work and he said, "Nell, I leave for work [and] you're singing. I come home, you're singing." I knew I had a gift right then and there.
Tell us all about your latest project, It's Your Time.
This is a 20-year project in the making. I started this journey over 20 years ago. It wasn't easy. I kept on preaching and singing and pastoring Living Waters. Yes, I had to wait on the Lord – wait on his timing – and now it's my time!
That's certainly a fitting album title for your journey. What is your favorite track on the new album?
"Holy Ghost"! [And it's] because I see how the power of God changed my life and it changes the lives of so many people. I love every song on the album. WOW! This is a hard choice.
Speaking of "Holy Ghost," you reached back and got that classic from Rev. Milton Brunson and The Thompson Community Singers' There Is Hope album. Why did you decide to make it part of yours?
When I was praying about the songs for the album, I started thinking about a place and time in my life. Childhood times came back to my memory. Hanging out with my cousin Darrell Johnson, he would play Rev. Milton Brunson's music. We would listen to the album over and over again. It was a happy place in my life, so that's why I chose that song.
Don't say it's an unfair question (smile), but between singing and preaching, which is your favorite to do?
Preaching is, but singing is too. I can't choose. They go hand-in-hand with my type of ministry.
You've been doing both practically all your life. In a time when we see pastors, preachers, and others in ministry experiencing burnout, what, in addition to your relationship with God, keeps you going?
Prayer keeps me going; having faith and trust in God. I've learned to live my life being dependent on Jesus! Staying focused on my assignment and saying "no" to some things is one way to keep your sanity as well. You can't be everything to all people. Let God be God, and you'll get through it.
______________________________
Pastor Ward wants you to know the single "Holy Ghost" is available on all major digital platforms.