REVIEWS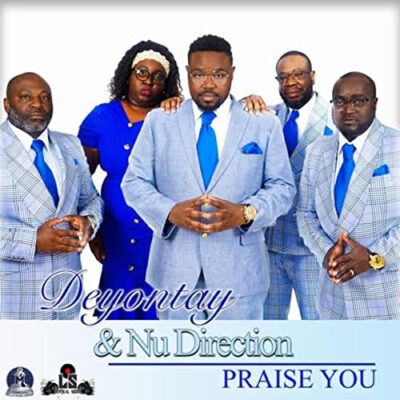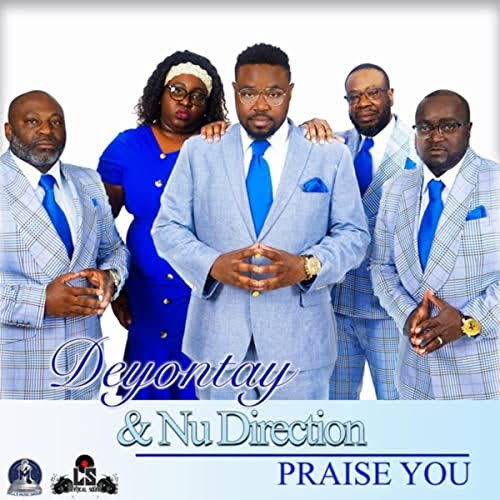 "Praise You"
Deyontay & Nu Direction (2022)
Available at Apple Music
By Libra Boyd
Gospel Music Fever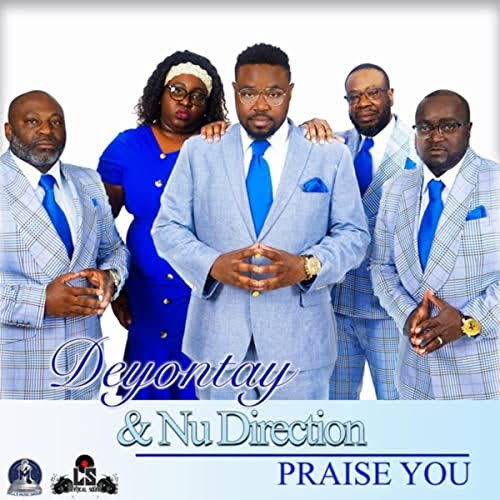 Deyontay & Nu Direction, true to their name, take Maurette Brown Clark's "I Just Want to Praise You" in a new direction, driving the praise and worship song up the quartet highway.
Their rendition of "Praise You," written by Troy Felder, starts modestly – just a lead guitar, clap track, and harmonious vocals. Keys and auxiliary elements enhance the track as it cruises along. Deyontay & Nu Direction finesse "Praise You" while maintaining the melodic structure of Clark's version at the "blessings and glory" turn. Once the group approaches the run, the song is a full-on drive.
Deyontay & Nu Direction meld the styles of praise and worship and quartet to present "Praise You" as a tasteful remix.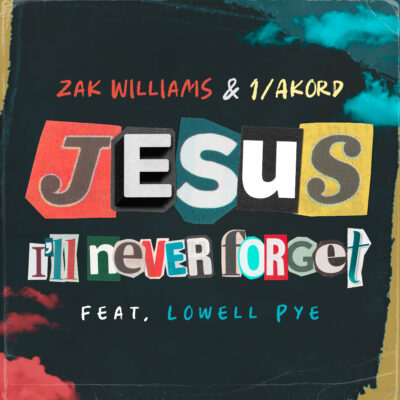 "Jesus I'll Never Forget"
Zak Williams & 1/Akord (October 7, 2022)
Enon Music Group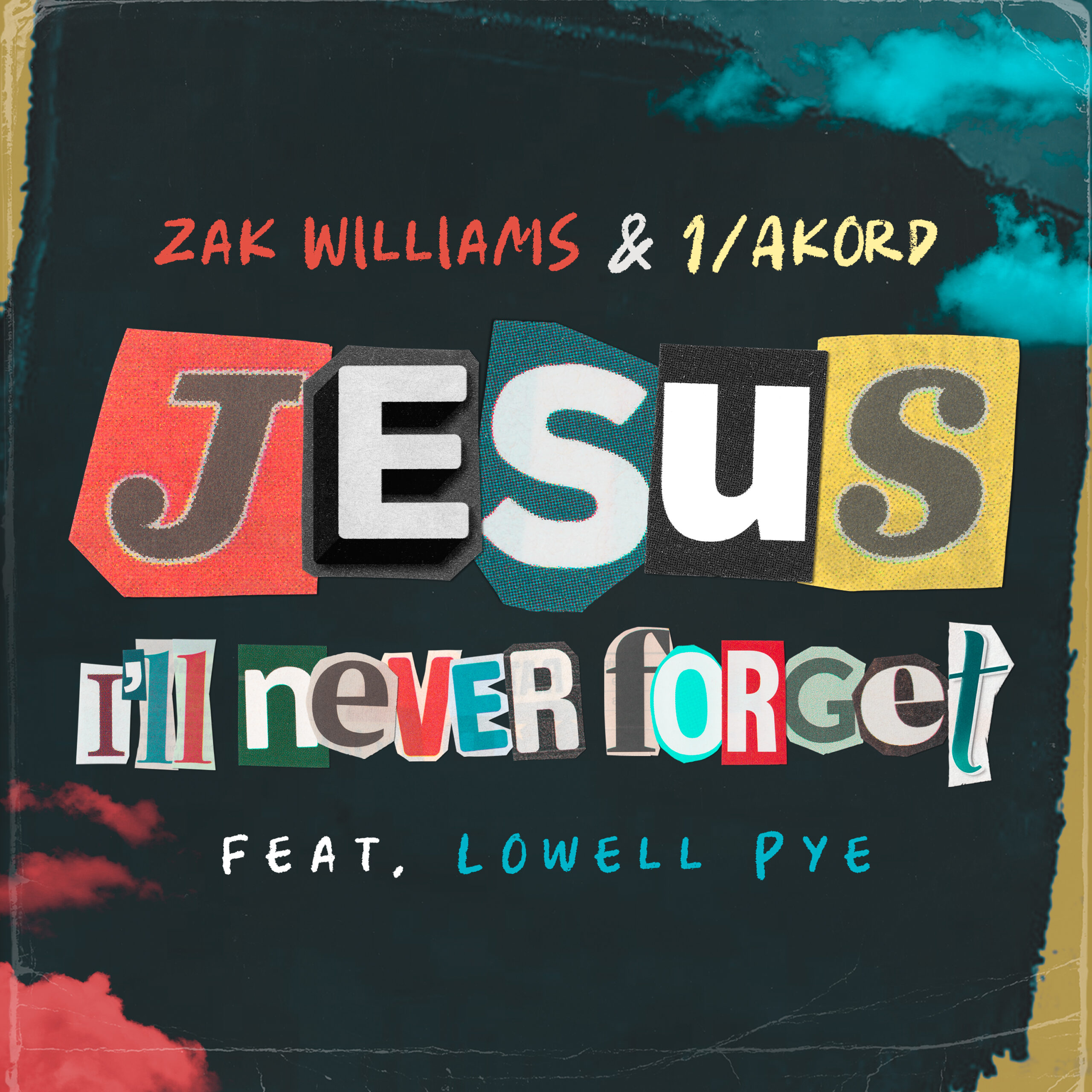 By Libra Boyd
Gospel Music Fever
Pretty much any song with the words, "Jesus I'll never forget" will charge a church atmosphere. Zak Williams & 1/Akord's "Jesus I'll Never Forget" featuring Lowell Pye is a banger in both message and delivery.
The song itself, written by Gabriel Sharpe, is reminiscent of the great choir music from the '90s; and Stellar Award-winning vocalist Lowell Pye is just the powerhouse to take "Jesus I'll Never Forget" to church, sharing his personal testimony along the way. The high energy of the choir is captured excellently as their enthusiastic, dynamic vocals leap through the speakers.
Zak Williams & 1/Akord, torchbearers of the "Philly choir" sound, are planning to release an album in 2023, from which "Jesus I'll Never Forget" is the single.
NEWS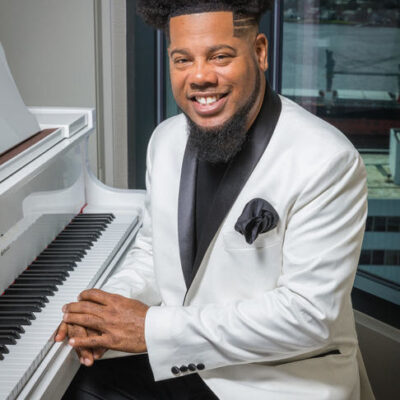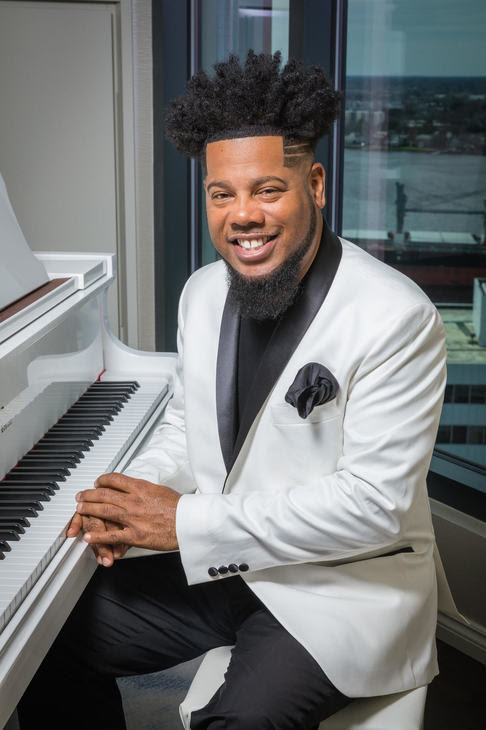 Chesapeake, VA — Dr. Earl Bynum is a Stellar award-winning singer, songwriter, and choir director who has a syndicated radio show, "On Stage With Earl Bynum" and a new television show of the same name. He wears many hats as a record label executive of Lrae Entertainment and the Executive Director of Music, Worship, and Arts at The Mount in Chesapeake, VA. But we sometimes forget that high-profile individuals like Dr. Bynum also go through life daily as we all do. With that comes tests and trials, journeys with family and friends, and private moments that can instantly change our lives. Dr. Bynum's life was almost tragically changed in the blink of an eye last week while driving on a Virginia highway.
Dr. Bynum shares the account of this terrible car accident that could have turned tragic.
"I was on Interstate 64 in heavy traffic, and a truck pulled out too slowly into the fast traffic. Everyone had to swerve to avoid hitting each other. The car behind me swerved to my right to avoid hitting me, so I couldn't go to the right or left because of a barrier. The vehicle in front of me came to a complete stop. I had no place to go but to directly crash into the back of the jeep in front of me at high speed."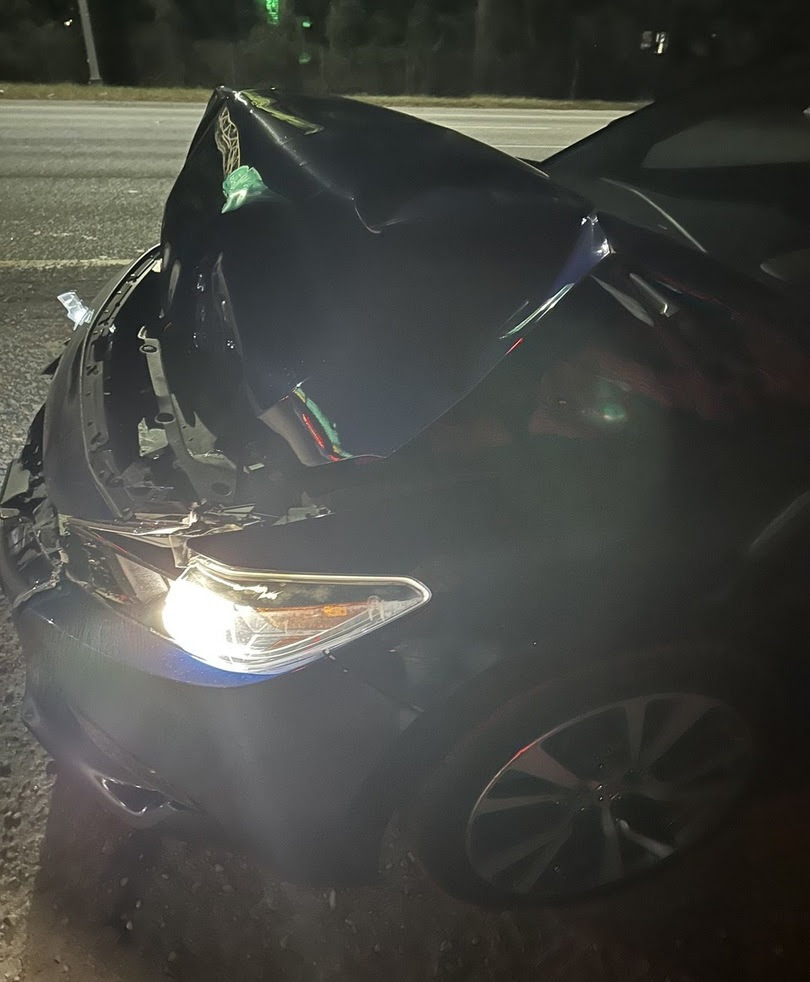 Bynum continues, "My entire car nearly folded in half with the hood completely bending in half. However, surprisingly, no glass broke, nor did my airbag deploy. It was as if the heavenly Father lifted me and covered me at that moment."
Bynum was able to get out of his car and walk around without any injury whatsoever. Miraculously, no other person involved in the horrifying crash suffered any harm. Bynum's vehicle suffered extensive damage, but God completely protected him.
We often take for granted small things like driving a car and arriving at our destination safely. For Dr. Bynum, this commute is a miracle to share. He offers this as a testimony and proof to those who may question God's hand of protection for us and His presence among us.
Dr. Bynum encourages us to remember that "He Is JEHOVAH NISSI – He protected the Israelites, He protected David, He protected ME, and He will protect You!"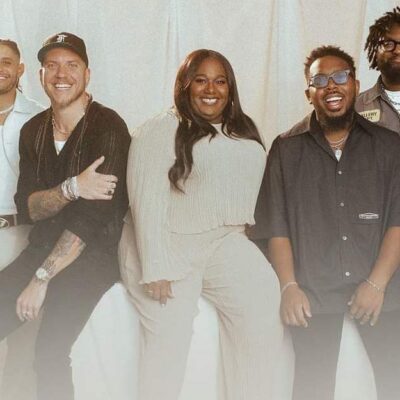 Nominees for the 2023 GRAMMYs, officially known as the 65th GRAMMY Awards, were announced today, November 15, and here are artists who received nominations in the Gospel/CCM categories.
Best Gospel Performance/Song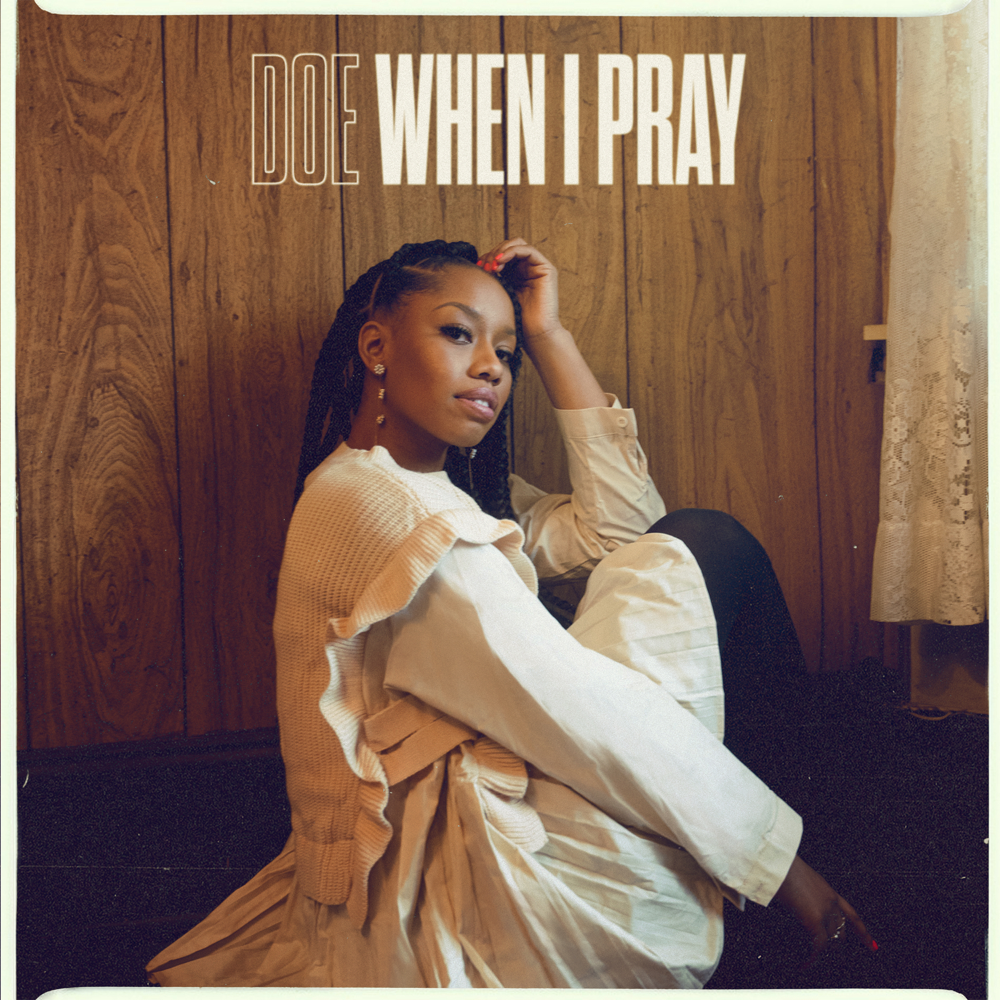 "Positive"
Erica Campbell; Erica Campbell, Warryn Campbell & Juan Winans, songwriters
"When I Pray"
DOE; Dominique Jones & Dewitt Jones, songwriters
"Kingdom"
Maverick City Music & Kirk Franklin; Kirk Franklin, Jonathan Jay, Chandler Moore & Jacob Poole, songwriters
"The Better Benediction"
PJ Morton Featuring Zacardi Cortez, Gene Moore, Samoht, Tim Rogers & Darrel Walls; PJ Morton, songwriter
"Get Up"
Tye Tribbett; Brandon Jones, Christopher Michael Stevens, Thaddaeus Tribbett & Tye Tribbett, songwriters
Best Contemporary Christian Music Performance/Song
"God Really Loves Us (Radio Version)"
Crowder Featuring Dante Bowe and Maverick City Music; Dante Bowe, David Crowder, Ben Glover & Jeff Sojka, songwriters
"So Good"
DOE; Chuck Butler, Dominique Jones & Ethan Hulse, songwriters
"For God Is With Us"
for KING & COUNTRY & Hillary Scott; Josh Kerr, Jordan Reynolds, Joel Smallbone & Luke Smallbone, songwriters
"Fear Is Not My Future"
Maverick City Music & Kirk Franklin; Kirk Franklin, Nicole Hannel, Jonathan Jay, Brandon Lake & Hannah Shackelford, songwriters
"Holy Forever"
Chris Tomlin; Jason Ingram, Brian Johnson, Jenn Johnson, Chris Tomlin & Phil Wickham, songwriters
"Hymn Of Heaven (Radio Version)"
Phil Wickham; Chris Davenport, Bill Johnson, Brian Johnson & Phil Wickham, songwriters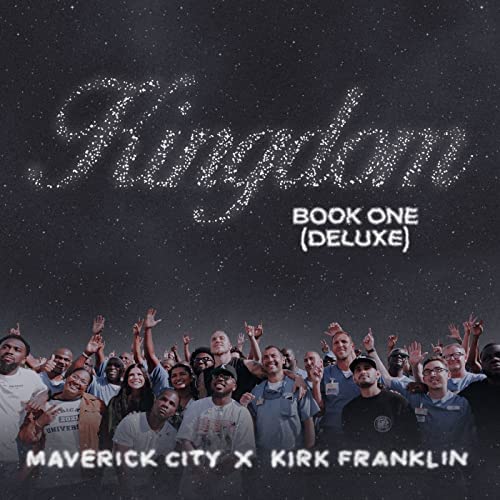 Best Gospel Album
Die To Live
Maranda Curtis
Breakthrough: The Exodus (Live)
Ricky Dillard
Clarity
DOE
One Deluxe
Maverick City Music & Kirk Franklin
All Things New
Tye Tribbett
Best Contemporary Christian Music Album
Lion
Elevation Worship
Breathe
Maverick City Music
Life After Death
TobyMac
Always
Chris Tomlin
My Jesus
Anne Wilson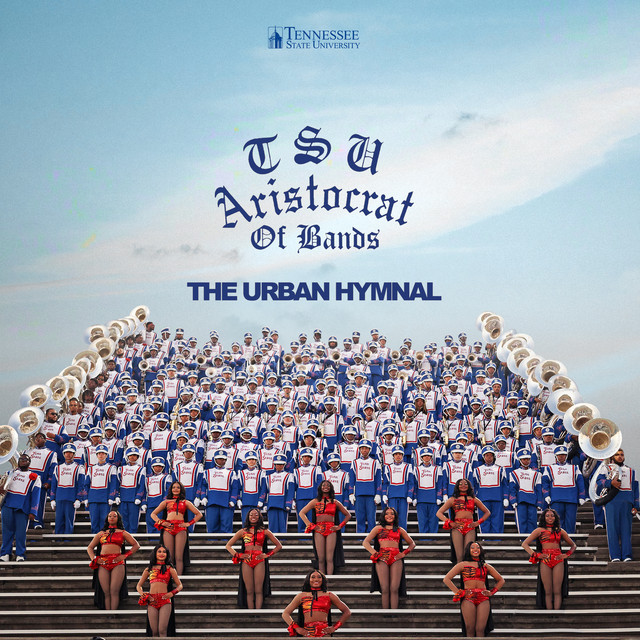 Best Roots Gospel Album
Let's Just Praise The Lord
Gaither Vocal Band
Confessio – Irish American Roots
Keith & Kristyn Getty
The Willie Nelson Family
Willie Nelson
2:22
Karen Peck & New River
The Urban Hymnal
Tennessee State University Marching Band
The Blind Boys of Alabama also earned another GRAMMY nomination this year in the Best Americana Performance category. The legendary group is nominated for their performance of "The Message," featuring Black Violin.
Check out the list of nominees in all categories here. The GRAMMYs are set to air live Sunday, February 5, on CBS and stream live on-demand on Paramount+ at 8 pm ET.
INTERVIEWS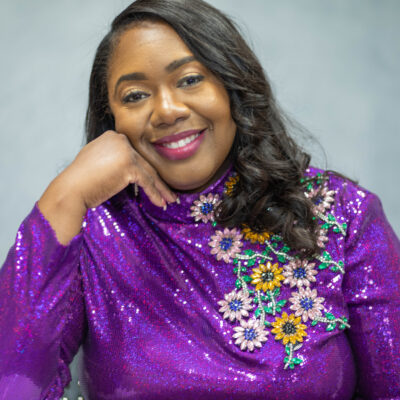 By Libra Boyd
Gospel Music Fever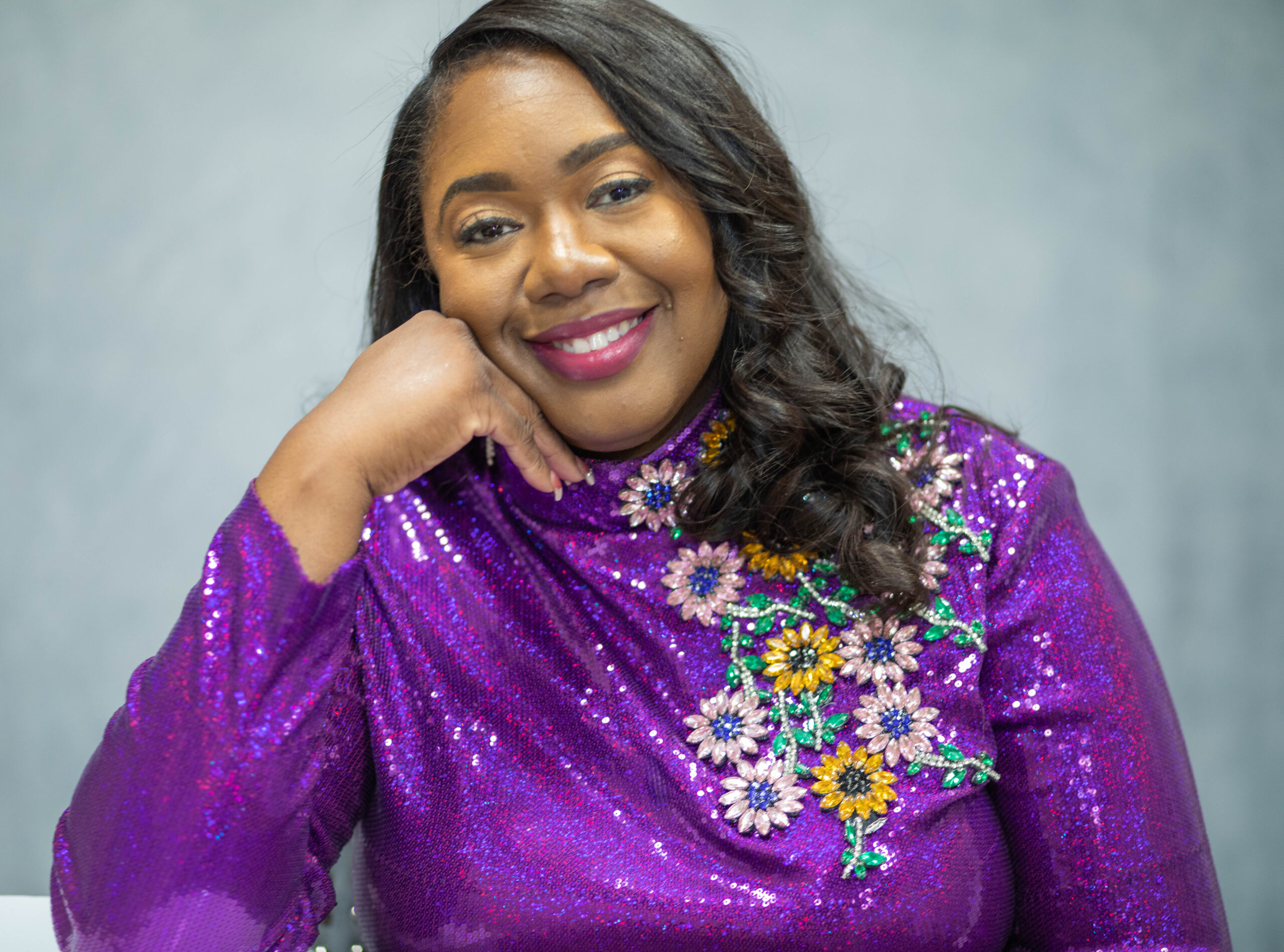 Pastor Nell Smith Ward has been preaching since the tender age of three and singing nearly as long. From then til now, "Little Nell," as she is better known, has graced platforms with numerous notables including Pastor Shirley Caesar, Dr. Bobby Jones, Beverly Crawford, and Dr. Maya Angelou. In 2018, she took social media by storm when Facebook footage of her wedding serenade (Jason Nelson's "Forever") to husband Bishop Timothy Ward went viral. As of April 2022, the video is at 733,000 views and counting.
From humble beginnings as the young preaching machine and singer-musician who served at Miracle Center Holiness Church, founded by her mother Overseer Cora Smith, God birthed Living Waters Christian Church (presently based in Zebulon, NC) in 2000. She remains the pastor alongside her husband. In our GMF Q&A, Pastor Ward chats about the early days of her ministry, her new music project, and how she brings balance into her life in the midst of ongoing demands.
Describe Pastor Nell Smith Ward in three words.
Passionate, fair, loving.
You started preaching when you were three and ran your first revival at age six. I'm sure many people were fascinated to hear about you. Do you remember what that first revival experience was like for you and possibly for those who attended?
Yes, I remember my first revival. It was in Henderson, NC at the Jesus House of Prayer. They had to build a stool for me to stand on top of for the people to see me. People would come from miles around to hear me. My mom, Overseer Cora Smith, was there, as well as Sister Doris Busby, Donald Morgan, and Julia Johnson, my aunt. I was a sweet little girl who wanted to pray for everyone. The people were excited to see a child used by God. The churches were packed from wall to wall. I wasn't afraid or shy. I knew my calling even back then.
When and how did you recognize singing to be a part of your ministry?
At the age of eight. I remember when my dad came home from work and he said, "Nell, I leave for work [and] you're singing. I come home, you're singing." I knew I had a gift right then and there.
Tell us all about your latest project, It's Your Time.
This is a 20-year project in the making. I started this journey over 20 years ago. It wasn't easy. I kept on preaching and singing and pastoring Living Waters. Yes, I had to wait on the Lord – wait on his timing – and now it's my time!
That's certainly a fitting album title for your journey. What is your favorite track on the new album?
"Holy Ghost"! [And it's] because I see how the power of God changed my life and it changes the lives of so many people. I love every song on the album. WOW! This is a hard choice.
Speaking of "Holy Ghost," you reached back and got that classic from Rev. Milton Brunson and The Thompson Community Singers' There Is Hope album. Why did you decide to make it part of yours?
When I was praying about the songs for the album, I started thinking about a place and time in my life. Childhood times came back to my memory. Hanging out with my cousin Darrell Johnson, he would play Rev. Milton Brunson's music. We would listen to the album over and over again. It was a happy place in my life, so that's why I chose that song.
Don't say it's an unfair question (smile), but between singing and preaching, which is your favorite to do?
Preaching is, but singing is too. I can't choose. They go hand-in-hand with my type of ministry.
You've been doing both practically all your life. In a time when we see pastors, preachers, and others in ministry experiencing burnout, what, in addition to your relationship with God, keeps you going?
Prayer keeps me going; having faith and trust in God. I've learned to live my life being dependent on Jesus! Staying focused on my assignment and saying "no" to some things is one way to keep your sanity as well. You can't be everything to all people. Let God be God, and you'll get through it.
______________________________
Pastor Ward wants you to know the single "Holy Ghost" is available on all major digital platforms.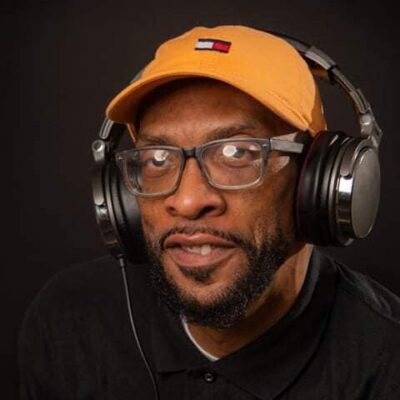 By Libra Boyd
Gospel Music Fever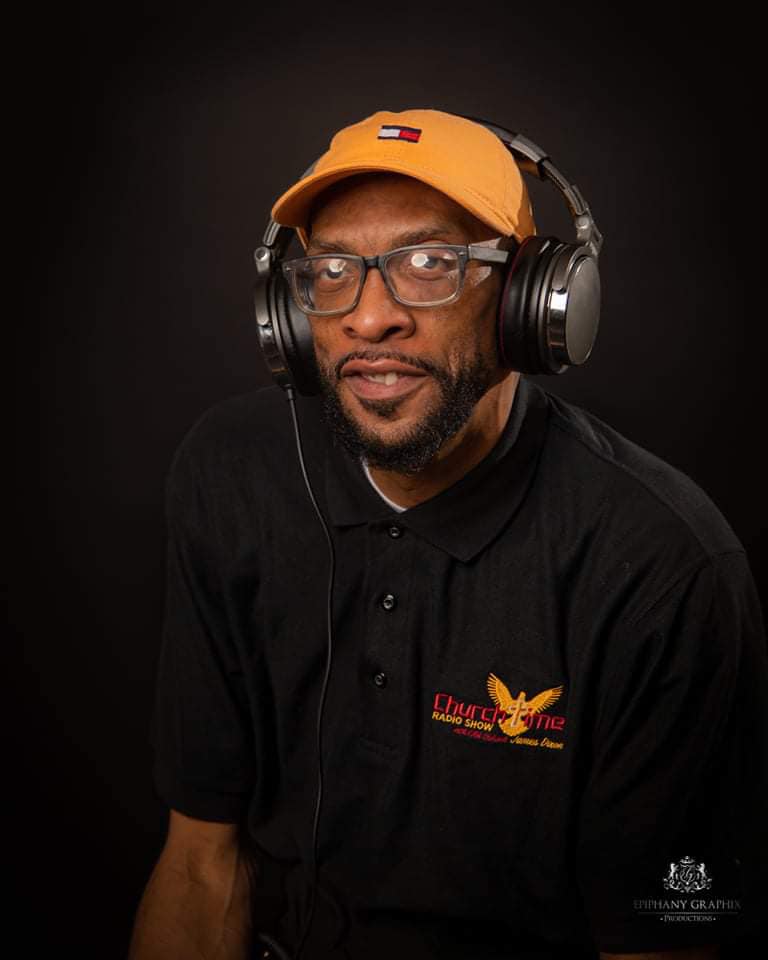 This is the time of year James Dixon looks forward to, and it's not just because of college basketball's March Madness and the fact that he's a diehard Duke fan. James, a lover and loyal supporter of gospel music, has a special day coming up. The radio announcer and former drummer for The Sensational Nightingales uses his birthday to bring family, friends, and great gospel singers together.
Libra: Who is James Dixon?
James: A child of the most High God, a servant of God!
Libra: Let's go back some years. When did you realize your love for gospel music?
James: You can't help but love gospel music when you're born into a gospel music family. My mom and my aunts had a group; and my brothers, my two cousins, my uncle and myself had a group. If we weren't singing anywhere, me and my mom were going to a quartet program.
Libra: How did you get started with the Sensational Nightingales and what was that experience like? Is there a concert moment or conversation etched in your mind from the time spent with The Gales?
James: I got started with The Sensational Nightingales in 1997. The Sensational Nightingales performed a charity concert with Donald Lawrence & The Tri-City Singers in Charlotte. That's a concert moment I won't ever forget.
Libra: You're a radio host as well. Tell us about Church Time Radio Show and the kind of gospel music that grabs your attention.
James: Yes, I'm a radio host. Well, I got started with Church Time Radio Show in 2020, [and] quartet music, well, good gospel music [is what grabs my attention].
_______________________
James' birthday musical has become an annual tradition. This year, it is set for Sunday, April 3, at 3 PM. The celebration takes place at the Mebane Arts Community Center in Mebane, NC. Admission is $10 for persons 13 and above.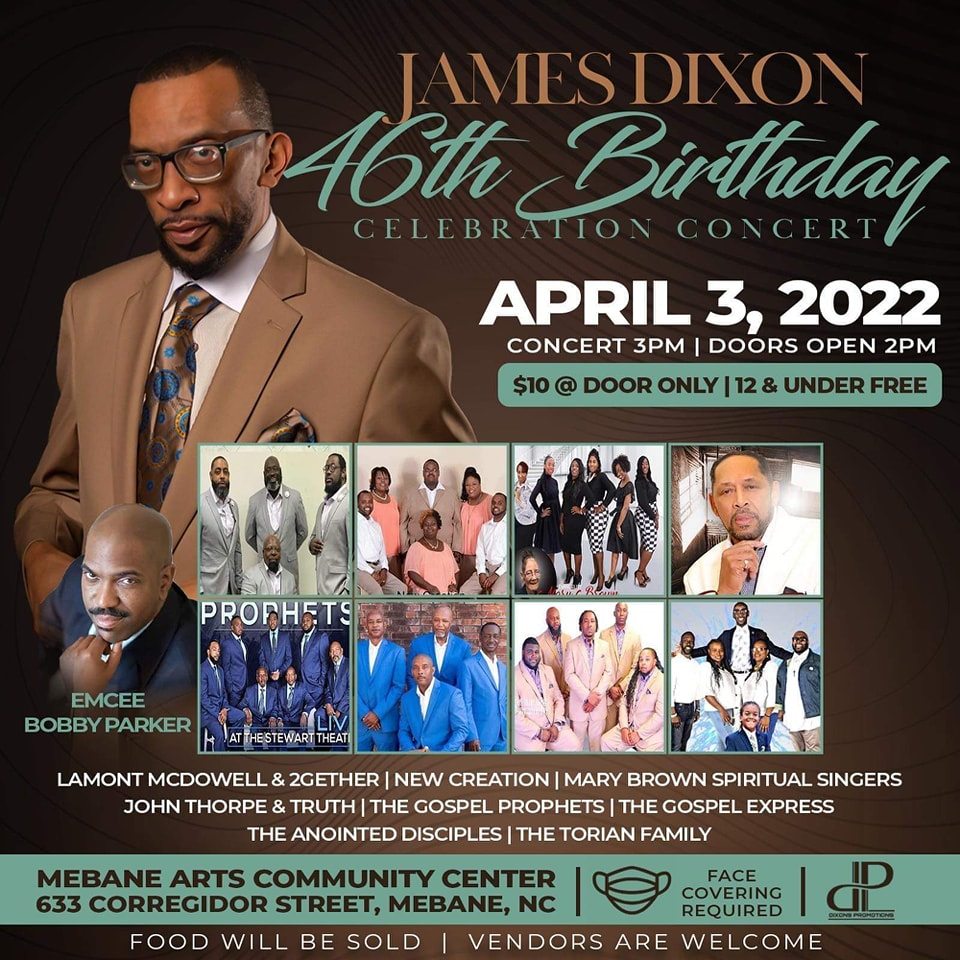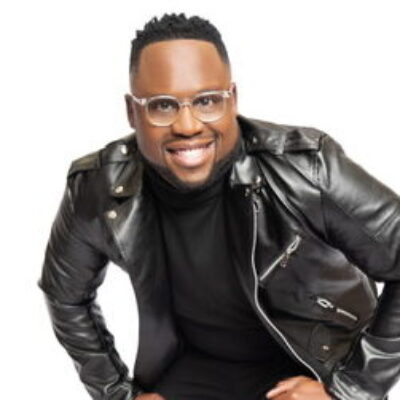 By Libra Boyd
Gospel Music Fever
Gospel artist Tevis Harris could be called a hope dealer. Just take a look at his song and album titles. In 2019, he released his first single, "Fight," which features a group of friends and family that go by the name faVor. The independent release was followed in 2021 by his album Keep Winning, a compilation of praise and worship, contemporary, and urban gospel music for multiple generations of listeners. Then, in late 2021, the Rocky Mount, NC-based singer-songwriter released the Christmas single, "Hope is Alive."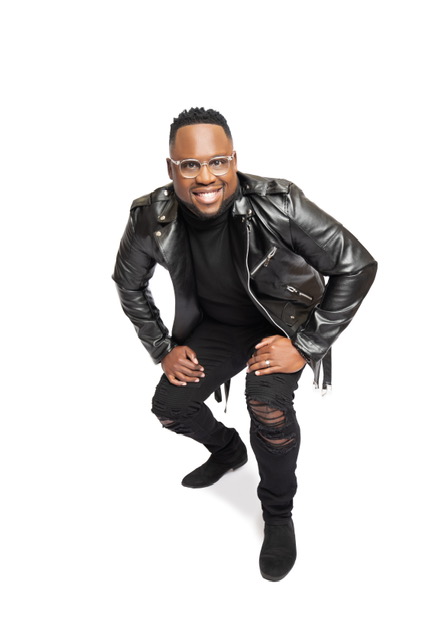 But Harris is not only a singer-songwriter and conveyor of messages of hope. He's also a worship leader, director, and producer whose musical giftedness became apparent as a young boy in the church choir. Through the years, Harris has provided backing vocals in musical productions and for other artists; even so, you can still find him in his hometown, singing and serving in ministry. You can also find him collaborating with hometown friends Luther Barnes ("Victory") and Wanda Barnes ("Begin Again") of gospel's legendary Barnes family.
In our GMF Q&A, Harris talks about his experiences working alongside the Barnes family, the crafting of his signature sound, and, of course, he gives us a dose of hope from his songwriting catalog.
You are from Rocky Mount, NC, which is also the home of gospel's renowned Barnes Family. How has your music ministry intertwined with theirs?
I was 13 years old when I first began singing with the Barnes Family. I was 18 when I started singing with F.C. Barnes & Company. For years I developed my gift through the mentorship of both Bishop F.C. Barnes and Pastor Luther Barnes. I also sang background for Deborah Barnes. I currently still sing background for Pastor Luther Barnes and the Restoration Gospel Choir. My sound, style, and musicianship have a foundation that was built from my time singing and being with the Barnes Family. And now, they sing with me. Wanda Barnes is featured on a song, Pastor Luther is featured on a song, and Pastor Luther's daughter, Bonita, is also featured on a song on my album. Everything has come full circle.
You started singing in the choir as a young boy and realized you were musically gifted. What was the moment that affirmed this for you?
Yes, I started singing at a very early age and it was affirmed at a very early age that I was musically gifted at Mount Olive Baptist Church. I started directing the choir and leading songs. I learned to play the piano and when the church pianist was absent, I was called upon to play. I was just a young boy when my musical giftedness was affirmed.
Tell GMF about your latest music.
My single "Hope Is Alive" recently debuted in November 2021. It is an amazing song that opens with Handel's "For unto us a child is born." It ends with an intense musical proclamation for a life full of hope, joy, peace, and bliss because of Jesus. In the spring of 2022, I will release my newest single, "It Will Work Out."
You write, produce, direct, and sing. How would you describe the Tevis Harris sound?
The Tevis Harris sound is inspired by Luther Barnes, Anthony Brown, Kirk Franklin, and James Fortune. I absolutely love and appreciate their giftedness and approach to music. Anthony Brown is definitely my favorite. The classical touch that he adds to his music production is incredible.
Take a title or lyric from your catalog and share a word of inspiration with the GMF audience.
I want to remind each of us that no matter where you find yourself in life, no matter the past mistakes or failures or poor choices, with God, you can begin again. Life is going to throw us curve balls and we will find ourselves in some of the most difficult and dark places and spaces; some from no fault of our own. Yet most will be because we've messed up and have fallen short. BUT we can begin again. This song ("Begin Again" from the album Keep Winning) was birthed out of the experience of having to begin again.
Since I've written "Begin Again," I've realized that the Bible is simply a compilation of stories that share begin again moments and experiences. These moments are filled with people living in their humanism, just like you and me, receiving opportunity after opportunity to begin again. God gives grace and pushes hope on us through His son Jesus Christ and in the word of God that encourages us to live in the freedom of new beginnings. He's not expecting us to be perfect; yet when we fall, get up, dust yourself off, get better, begin again, and do better. New beginnings are just a part of life and a part of how God has instructed and constructed us to live.
Lamentations 3:22-23 says, "Through the Lord's mercies we are not consumed, because His compassions fail not. They are new every morning; Great is thy faithfulness." We are going to fall and make mistakes, sin, mess up, fall short of the glory, and make poor choices; but God doesn't want us to stay there in the mess. He gives us the opportunity and wants us to begin again. He wants us to repent for Him to only pour his forgiveness and love all over us. You can begin again!