REVIEWS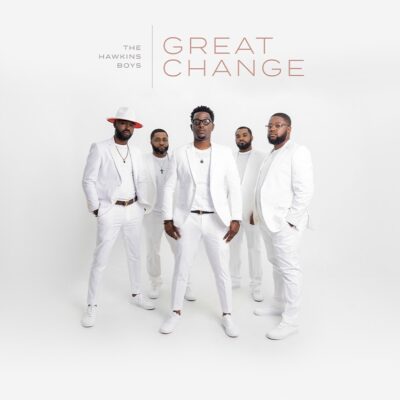 "Great Change"
The Hawkins Boys (2022)
Available on Apple Music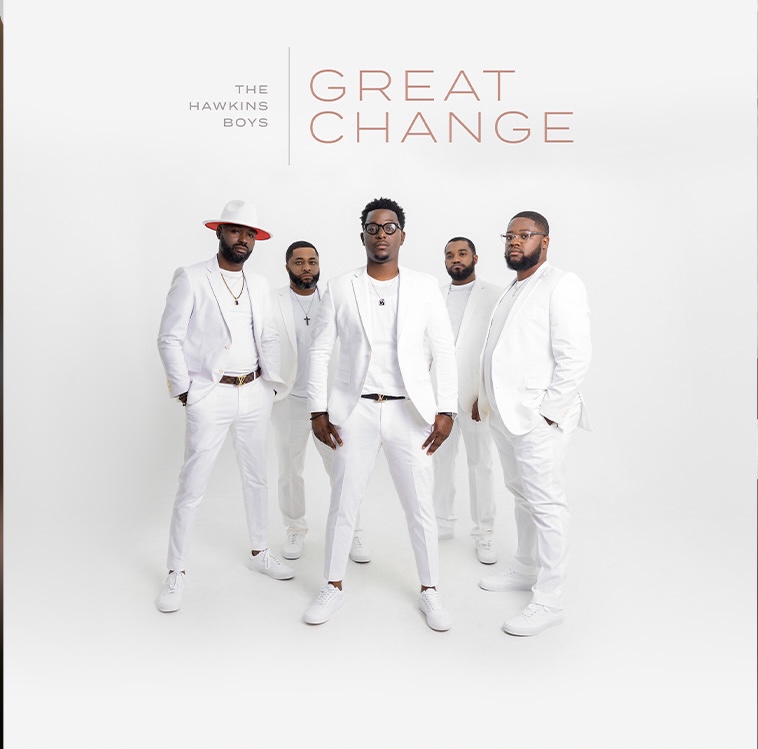 By Libra Boyd
Gospel Music Fever
When hearing "Great Change," one feature pops out instantly: close harmonies. It's the sound of The Hawkins Boys, and they deliver not just smooth vocals but an optimistic message.
The message is attributed to the writing talent of brothers Lemuel and Joe Hawkins: "Never lose hope, keep your head up high, wipe the tears from your eyes because just when you thought it was over, God said He ain't through with your story, just fall down on your knees and pray because there's a great change coming your way!"
Lyrically, "Great Change" is aligned with the contemporary/gospel soul group's mission to make music with a purposeful message. The track is produced by industry veterans Melvin Williams and Stan Jones.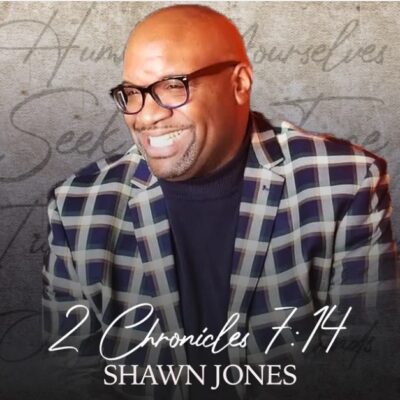 "2 Chronicles 7:14"
Min. Shawn Xavier Jones & The Company (2020)
https://sxaviersplacemusic.bigcartel.com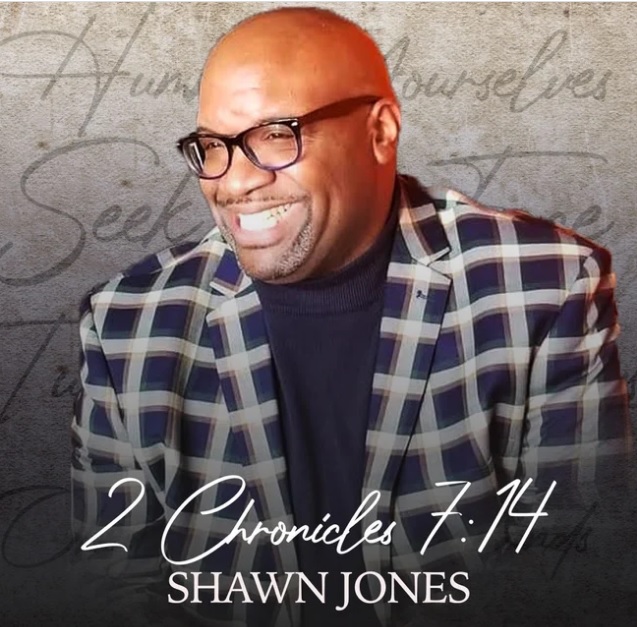 By Libra Boyd
Gospel Music Fever
While Minister Shawn Xavier Jones does not take all the credit for God's Word in his lyrical content, he is certainly credited with placing the Old Testament verse in lyrical form for this musical offering of "2 Chronicles 7:14."
The Company is at the forefront throughout this uptempo track, singing the scripture that many Bible readers have committed to memory. Jones is a multi-talented musician. In 2019, he launched his own record company, SXavier's Place Music Group, which led to the release of "2 Chronicles 7:14," produced by Jason St. Clair and Christopher L. Hinson, Sr.
NEWS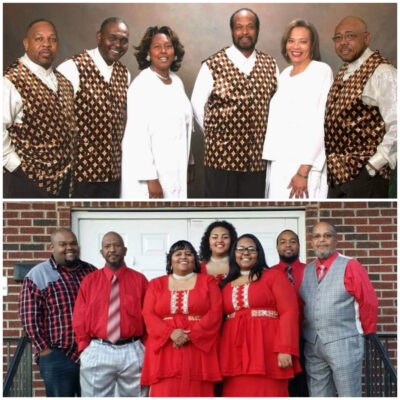 Sponsored by the Kirby Cultural Arts Complex – The Spiritual Lights and The Mighty Harmonaires, two quartet-styled groups each with over fifty years of ministry in song, will share the stage for the fourth installment of the "Gospel In Person" series. The series is presented by the Kirby Cultural Arts Complex in partnership with Just Love In Person community service organization and Gentry Visuals production company. The ticketed concert performance takes place at the Kirby Theater in Roxboro, NC, on Saturday, April 1, at 6 pm.
"Gospel In Person" is a multipart celebration of the rich Black gospel music history found in North Carolina's rural Person County, located in the Piedmont region along Virginia's border. The schedule of events includes live concert performances with short documentaries through April 2023, as well as a feature-length documentary film, Gospel In Person, which is set to premiere in June 2023.
Concertgoers are in for an evening of high-spirited singing and praise as The Spiritual Lights and The Mighty Harmonaires each render some of their most requested songs.
The Spiritual Lights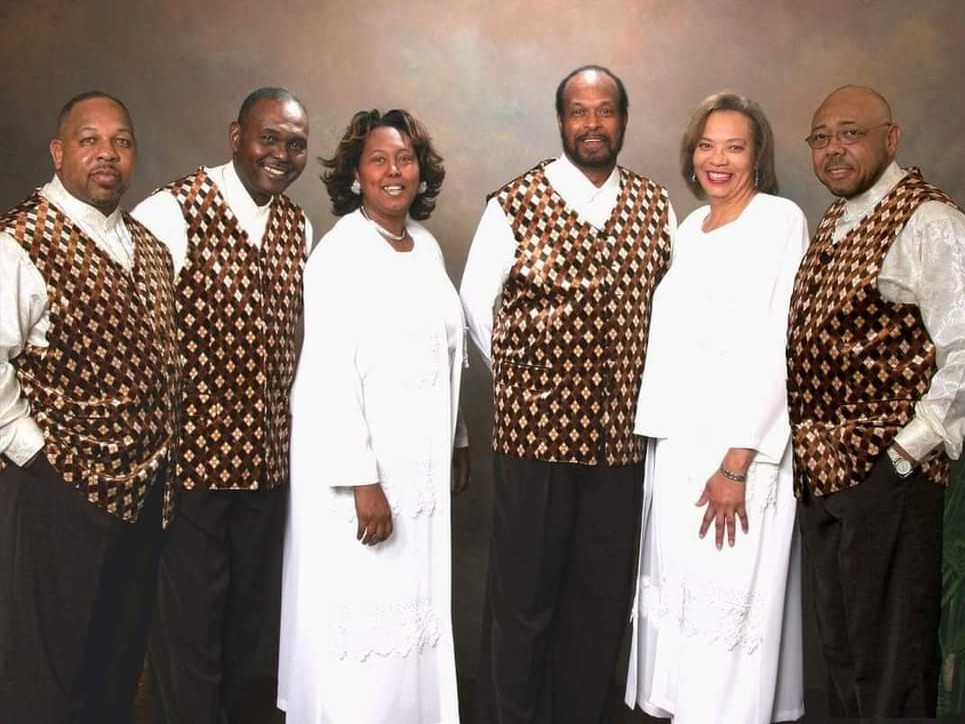 The Spiritual Lights, formed circa 1964 by the late Isaac Daye, have been spreading the gospel in song for nearly six decades. In the '60s, the Lights took innovative approaches to enhance their sound, being among the first gospel groups in the area to incorporate both a lead and bass guitar as well as drums and a PA system.
In 1980, The Spiritual Lights cut a 45 RPM record with "Send A Blessing Our Way," written by Robert Lunsford, Jr., and "Working for My Savior," written by Melvin Cash. "Working for My Savior" became one of their most-performed drives. In 1995, they released Trust the Lord, a full-length project with all original songs. By now, Melvin had emerged as a primary songwriter for the group. In 2005, the Lights released another full-length project—a 12-song disc titled, Still A Few Things. The recording was dedicated to the memory of Leroy Cash, who had passed four years prior. Leroy was a beloved lead singer and writer of several of the group's popular songs, including "Meet Me There," "Show Some Sign," and "He's Alright."
Clyde Cash, lead singer and manager, is the current lineup's only original member. Andrew Daye continues in the ministry his father founded, serving as bass guitarist. They are joined by members Wanda Coleman, Marshall Johnson, Leland Gadson, Sr., Solomon Smith, Cynthia Cash Dixon, Iakee Pettiford, and Melvin Cash.
The Mighty Harmonaires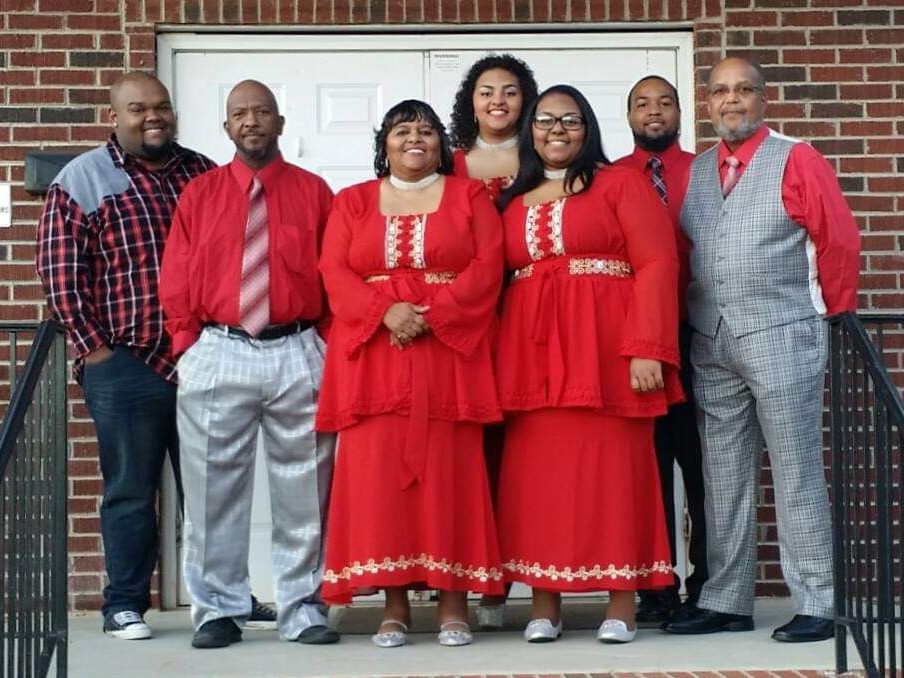 A Children's Day program at Old Mount Zion Baptist Church in April 1968 would be the beginning of the singing ministry later known as The Mighty Harmonaires. It is where Willie Carrington and his two children, Cynthia and Richard, sang The Sensational Nightingales' "It's Gonna Rain" and the elder Carrington was inspired to continue cultivating his children's musical talents. The group was formally organized in 1971, with Willie accompanying his family on guitar. Richard went on to become the group's bass guitar player, and several family members and friends joined The Mighty Harmonaires over the years as singers and musicians.
In 1986, the quartet released its first project titled, No Need to Worry, with Richard as writer on the tracks "I'm Glad Jesus Loves Me" and "He's Around." (Many years later, his musicianship gained the attention of the Brooklyn Allstars, who enlisted him as a member for a period of time.) In 2009, The Mighty Harmonaires released another project, One Day. Richard again sat at the writer's desk for several tracks.
With the passing of her father (2011) and brother (2020), Cynthia Carrington Petty carries on the family ministry as the Harmonaires' sole surviving original member. Alongside her are her children Cinzia P. Harris and Stavonna Petty, along with J.C. Bailey and Leland Gadson, Sr. R.J. Carrington follows in the footsteps of his father as bass guitarist. Together, they continue to deliver renditions of some of Black gospel quartet's popular songs along with their own arrangements. 
Gospel In Person Documentary
In addition to their upcoming live concert, The Spiritual Lights and The Mighty Harmonaires are among area singers and musicians featured in the documentary, Gospel In Person, which is scheduled to premiere in June 2023. According to Michael Gentry, the film's creator and producer, Gospel In Person "will tell the history of the great musical anointing that has rested upon Person County."
"It is fitting that The Spiritual Lights and Mighty Harmonaires have joined together for the next concert in our 'Gospel In Person' series," says Gentry. "These two groups both began in the 1960s as family groups and more than fifty years later, they are both still mostly made up of family. Both groups still have one original member and second- and third-generation family members, and in both groups the musicians are homegrown."
He continues, "The Spiritual Lights and Mighty Harmonaires represent the Person County values of humility, community, and perseverance. And both groups have no problem letting the Holy Ghost have His way. That is why they are so beloved here in this community."
Purchase tickets for the live concert on Saturday, April 1, at https://www.etix.com/ticket/v/19211/kirby-cultural-arts-complex/.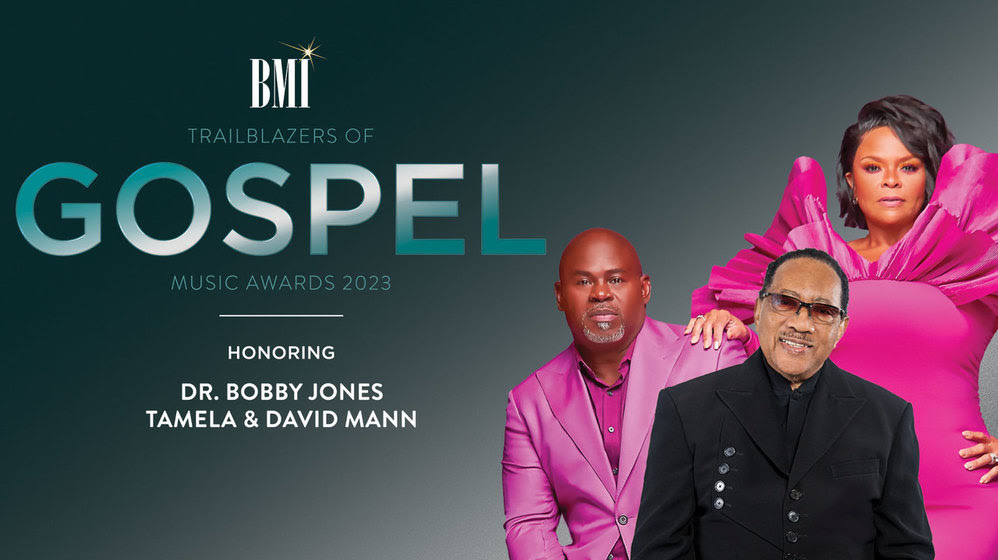 (Atlanta, GA – March 7, 2023) BMI (Broadcast Music, Inc.) will honor Gospel superstars Tamela and David Mann and Dr. Bobby Jones at its 22nd Annual Trailblazers of Gospel Music Awards to be held at Flourish Atlanta on March 30. The inspirational ceremony will recognize the impact that the three legendary entertainers have made on the genre and beyond and pay tribute to the songwriters and publishers behind the best in Gospel music. The private event will be hosted by BMI President & CEO Mike O'Neill and BMI Vice President, Creative, Atlanta, Catherine Brewton.
"BMI is thrilled to be back in Atlanta celebrating the best in Gospel music," said Brewton. "We're extremely proud to honor powerhouse couple Tamela and David Mann for their incredible contributions to the Gospel community, the enduring legacy of Dr. Bobby Jones, and the songwriters and publishers behind the top Gospel songs of the previous year. Through song and praise, they deliver inspirational messages of hope, faith, and goodwill to music lovers around the world. We feel truly blessed to bring these trailblazers together in fellowship and celebrate their creative works."
Throughout the ceremony, BMI will also recognize the songwriters, producers, and music publishers of the past year's 25 most-performed Gospel songs in the United States. The BMI Gospel Song, Songwriter, and Publisher of the Year will also be named during the event.
Together, Tamela and David Mann have become staples in the Gospel community and have flourished across radio, television, film, and stages around the world. The iconic couple began their professional music careers in the '90s after joining the Gospel group Kirk Franklin and the Family and toured the globe. They went on to develop successful solo careers and joint ventures as a couple in music and beyond, creating Tillymann Entertainment in 2005, a home for all of their many projects in entertainment. In 2018, David and Tamela released Us Against the World, their first collaborative album as a duo. The companion book of that album won an NAACP Image® Award for Outstanding Literary Work, and the album's singles have topped the charts, including the Urban AC track "Ups & Downs." Most recently, The Manns embarked on the acclaimed "Overcomer Family Tour," a mixture of music and comedy, featuring their son David Jr. and their daughters La'Tia and Tiffany Mann.
As a solo artist, Tamela has released six studio albums and has received a GRAMMY Award, BET Award, Billboard Music Award, and multiple NAACP Image, Stellar Gospel Music, and GMA Dove Awards. She was also the first Gospel lead artist in Billboard Gospel radio chart history to score three consecutive No. 1 singles from her album Best Days. Beyond music, The Manns have appeared in numerous Tyler Perry plays, films, and television shows, including I Can Do Bad All By Myself, Meet the Browns and Madea Goes to Jail, among others, and the pair also starred in their own sitcom, Mann & Wife, and the docuseries, It's a Mann's World.
In addition, the esteemed singer, TV host, and radio broadcaster Dr. Bobby Jones will be celebrated, honoring his illustrious career spanning more than 40 years. For more than 35 years, he was the host of Bobby Jones Gospel on BET, which was the highest-rated show on the network and longest-running original cable show in history. Jones is credited for giving Yolanda Adams, Kirk Franklin, Mary Mary, and many others their first national exposure on television. 
An established Gospel singer and songwriter, Jones received a GRAMMY Award for Best Soul Gospel Performance by a Duo or Group in 1984 for "I'm So Glad I'm Standing Here Today" with Barbara Mandrell. He also received a Dove Award, three Stellar Awards, and a presidential commendation from President George W. Bush, among several other awards and accolades. He currently serves as a UNICEF Ambassador and was inducted into the Black Music & Entertainment Walk of Fame (BMEWOF) in February 2023.
INTERVIEWS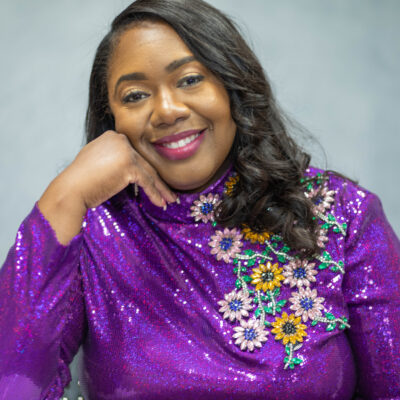 By Libra Boyd
Gospel Music Fever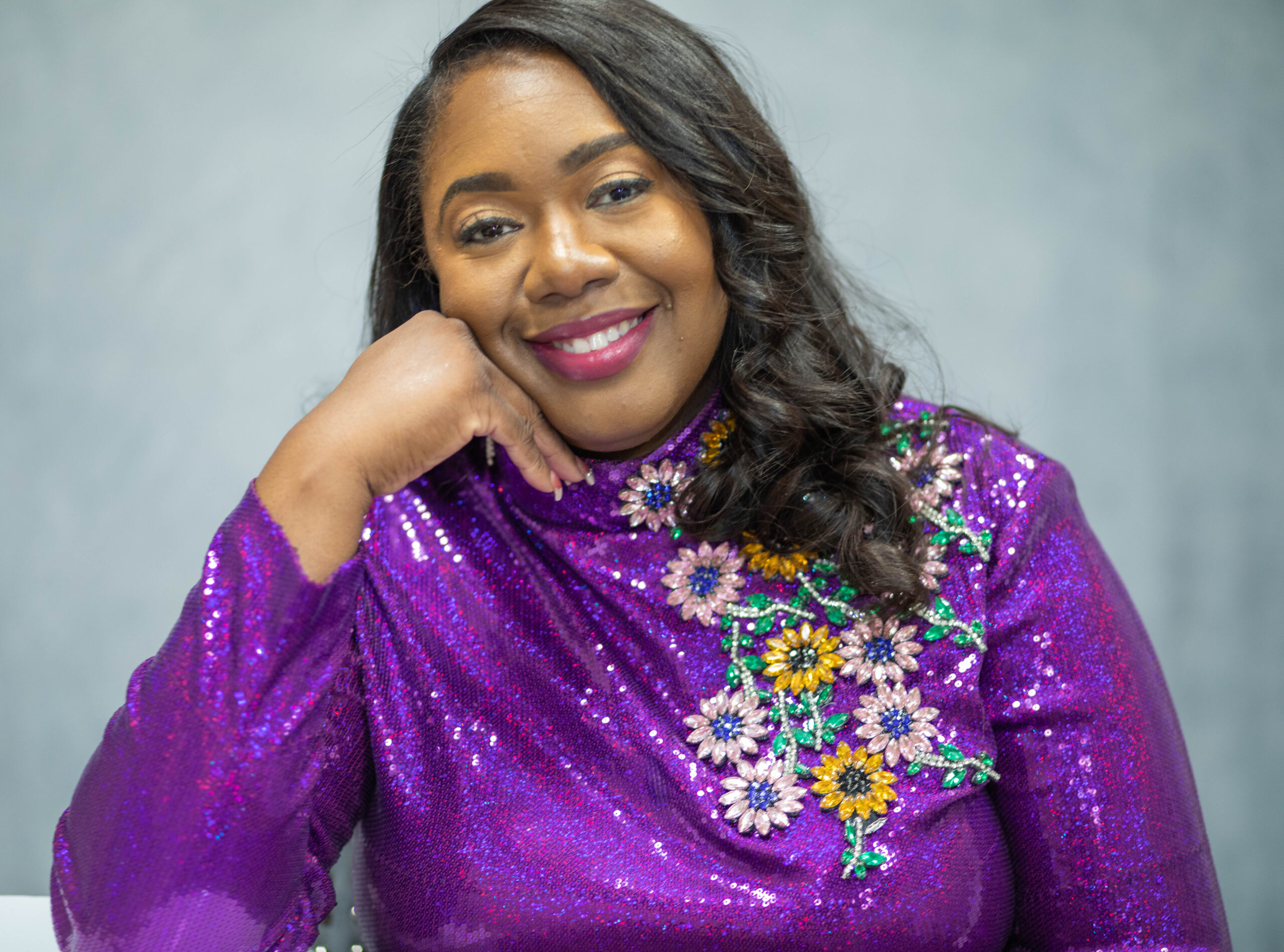 Pastor Nell Smith Ward has been preaching since the tender age of three and singing nearly as long. From then til now, "Little Nell," as she is better known, has graced platforms with numerous notables including Pastor Shirley Caesar, Dr. Bobby Jones, Beverly Crawford, and Dr. Maya Angelou. In 2018, she took social media by storm when Facebook footage of her wedding serenade (Jason Nelson's "Forever") to husband Bishop Timothy Ward went viral. As of April 2022, the video is at 733,000 views and counting.
From humble beginnings as the young preaching machine and singer-musician who served at Miracle Center Holiness Church, founded by her mother Overseer Cora Smith, God birthed Living Waters Christian Church (presently based in Zebulon, NC) in 2000. She remains the pastor alongside her husband. In our GMF Q&A, Pastor Ward chats about the early days of her ministry, her new music project, and how she brings balance into her life in the midst of ongoing demands.
Describe Pastor Nell Smith Ward in three words.
Passionate, fair, loving.
You started preaching when you were three and ran your first revival at age six. I'm sure many people were fascinated to hear about you. Do you remember what that first revival experience was like for you and possibly for those who attended?
Yes, I remember my first revival. It was in Henderson, NC at the Jesus House of Prayer. They had to build a stool for me to stand on top of for the people to see me. People would come from miles around to hear me. My mom, Overseer Cora Smith, was there, as well as Sister Doris Busby, Donald Morgan, and Julia Johnson, my aunt. I was a sweet little girl who wanted to pray for everyone. The people were excited to see a child used by God. The churches were packed from wall to wall. I wasn't afraid or shy. I knew my calling even back then.
When and how did you recognize singing to be a part of your ministry?
At the age of eight. I remember when my dad came home from work and he said, "Nell, I leave for work [and] you're singing. I come home, you're singing." I knew I had a gift right then and there.
Tell us all about your latest project, It's Your Time.
This is a 20-year project in the making. I started this journey over 20 years ago. It wasn't easy. I kept on preaching and singing and pastoring Living Waters. Yes, I had to wait on the Lord – wait on his timing – and now it's my time!
That's certainly a fitting album title for your journey. What is your favorite track on the new album?
"Holy Ghost"! [And it's] because I see how the power of God changed my life and it changes the lives of so many people. I love every song on the album. WOW! This is a hard choice.
Speaking of "Holy Ghost," you reached back and got that classic from Rev. Milton Brunson and The Thompson Community Singers' There Is Hope album. Why did you decide to make it part of yours?
When I was praying about the songs for the album, I started thinking about a place and time in my life. Childhood times came back to my memory. Hanging out with my cousin Darrell Johnson, he would play Rev. Milton Brunson's music. We would listen to the album over and over again. It was a happy place in my life, so that's why I chose that song.
Don't say it's an unfair question (smile), but between singing and preaching, which is your favorite to do?
Preaching is, but singing is too. I can't choose. They go hand-in-hand with my type of ministry.
You've been doing both practically all your life. In a time when we see pastors, preachers, and others in ministry experiencing burnout, what, in addition to your relationship with God, keeps you going?
Prayer keeps me going; having faith and trust in God. I've learned to live my life being dependent on Jesus! Staying focused on my assignment and saying "no" to some things is one way to keep your sanity as well. You can't be everything to all people. Let God be God, and you'll get through it.
______________________________
Pastor Ward wants you to know the single "Holy Ghost" is available on all major digital platforms.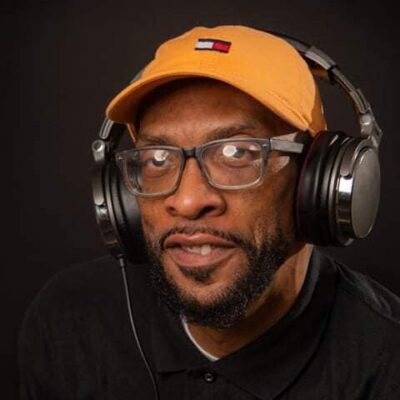 By Libra Boyd
Gospel Music Fever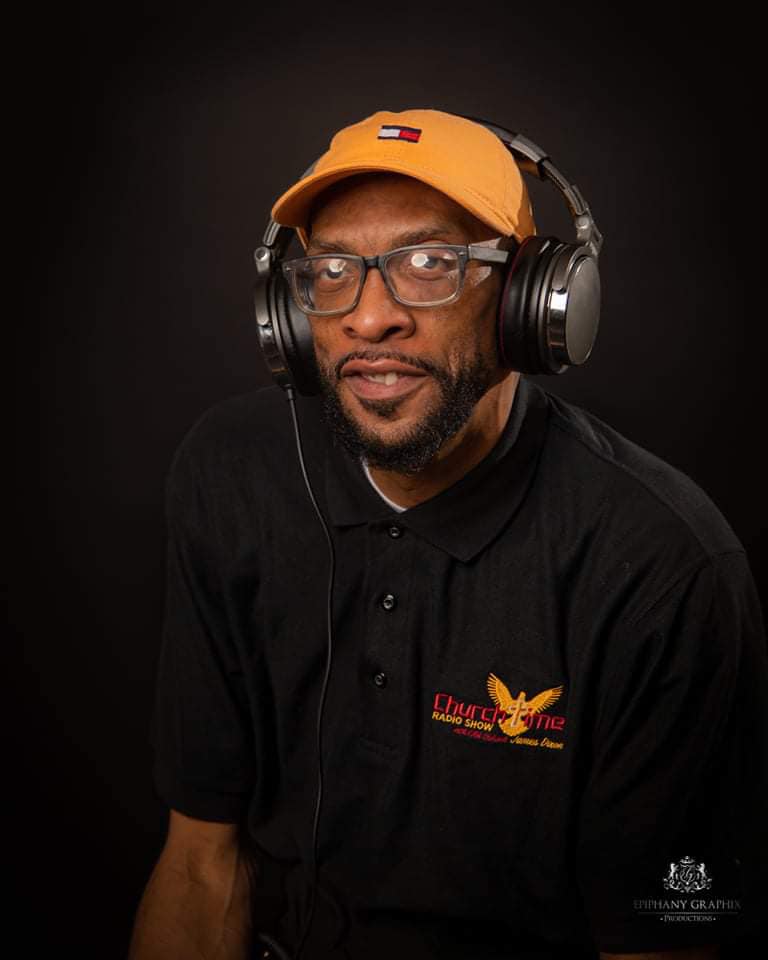 This is the time of year James Dixon looks forward to, and it's not just because of college basketball's March Madness and the fact that he's a diehard Duke fan. James, a lover and loyal supporter of gospel music, has a special day coming up. The radio announcer and former drummer for The Sensational Nightingales uses his birthday to bring family, friends, and great gospel singers together.
Libra: Who is James Dixon?
James: A child of the most High God, a servant of God!
Libra: Let's go back some years. When did you realize your love for gospel music?
James: You can't help but love gospel music when you're born into a gospel music family. My mom and my aunts had a group; and my brothers, my two cousins, my uncle and myself had a group. If we weren't singing anywhere, me and my mom were going to a quartet program.
Libra: How did you get started with the Sensational Nightingales and what was that experience like? Is there a concert moment or conversation etched in your mind from the time spent with The Gales?
James: I got started with The Sensational Nightingales in 1997. The Sensational Nightingales performed a charity concert with Donald Lawrence & The Tri-City Singers in Charlotte. That's a concert moment I won't ever forget.
Libra: You're a radio host as well. Tell us about Church Time Radio Show and the kind of gospel music that grabs your attention.
James: Yes, I'm a radio host. Well, I got started with Church Time Radio Show in 2020, [and] quartet music, well, good gospel music [is what grabs my attention].
_______________________
James' birthday musical has become an annual tradition. This year, it is set for Sunday, April 3, at 3 PM. The celebration takes place at the Mebane Arts Community Center in Mebane, NC. Admission is $10 for persons 13 and above.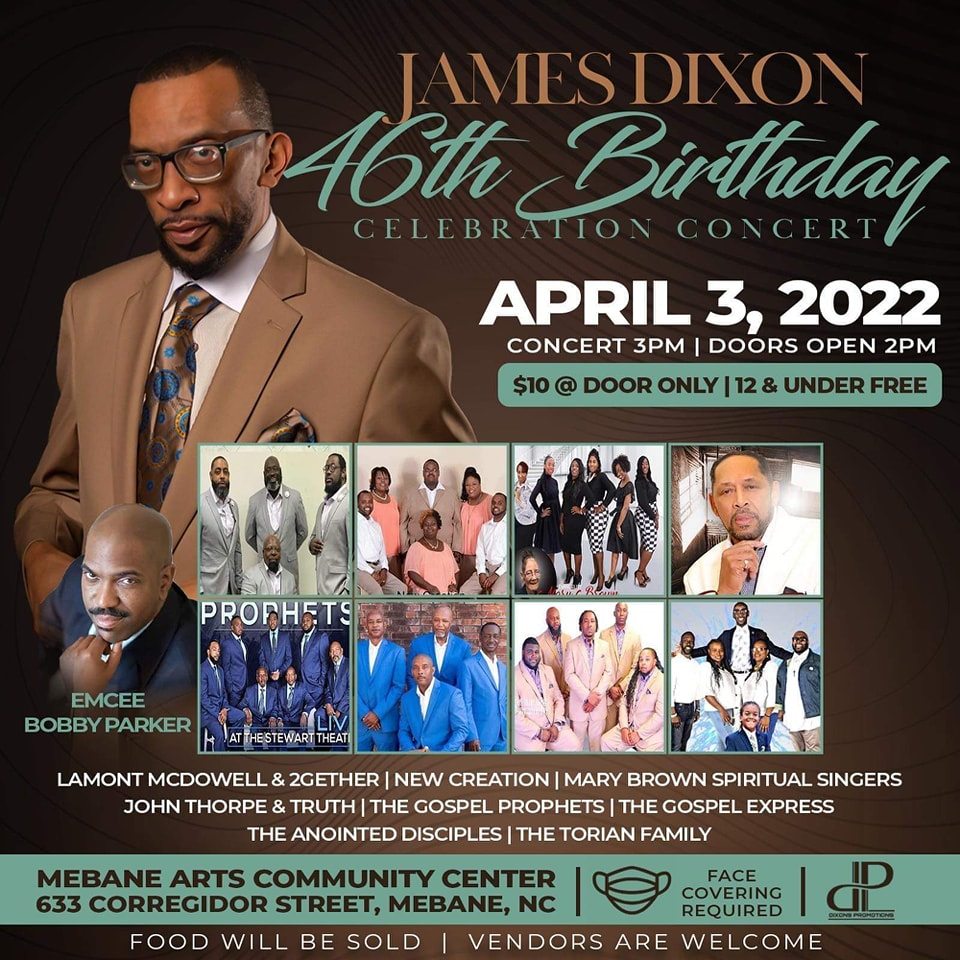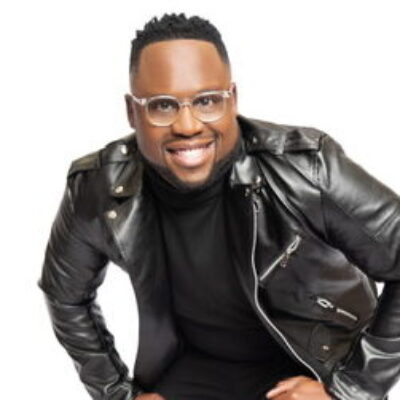 By Libra Boyd
Gospel Music Fever
Gospel artist Tevis Harris could be called a hope dealer. Just take a look at his song and album titles. In 2019, he released his first single, "Fight," which features a group of friends and family that go by the name faVor. The independent release was followed in 2021 by his album Keep Winning, a compilation of praise and worship, contemporary, and urban gospel music for multiple generations of listeners. Then, in late 2021, the Rocky Mount, NC-based singer-songwriter released the Christmas single, "Hope is Alive."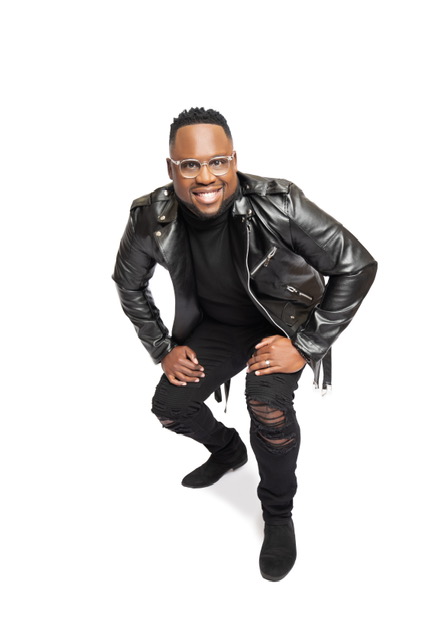 But Harris is not only a singer-songwriter and conveyor of messages of hope. He's also a worship leader, director, and producer whose musical giftedness became apparent as a young boy in the church choir. Through the years, Harris has provided backing vocals in musical productions and for other artists; even so, you can still find him in his hometown, singing and serving in ministry. You can also find him collaborating with hometown friends Luther Barnes ("Victory") and Wanda Barnes ("Begin Again") of gospel's legendary Barnes family.
In our GMF Q&A, Harris talks about his experiences working alongside the Barnes family, the crafting of his signature sound, and, of course, he gives us a dose of hope from his songwriting catalog.
You are from Rocky Mount, NC, which is also the home of gospel's renowned Barnes Family. How has your music ministry intertwined with theirs?
I was 13 years old when I first began singing with the Barnes Family. I was 18 when I started singing with F.C. Barnes & Company. For years I developed my gift through the mentorship of both Bishop F.C. Barnes and Pastor Luther Barnes. I also sang background for Deborah Barnes. I currently still sing background for Pastor Luther Barnes and the Restoration Gospel Choir. My sound, style, and musicianship have a foundation that was built from my time singing and being with the Barnes Family. And now, they sing with me. Wanda Barnes is featured on a song, Pastor Luther is featured on a song, and Pastor Luther's daughter, Bonita, is also featured on a song on my album. Everything has come full circle.
You started singing in the choir as a young boy and realized you were musically gifted. What was the moment that affirmed this for you?
Yes, I started singing at a very early age and it was affirmed at a very early age that I was musically gifted at Mount Olive Baptist Church. I started directing the choir and leading songs. I learned to play the piano and when the church pianist was absent, I was called upon to play. I was just a young boy when my musical giftedness was affirmed.
Tell GMF about your latest music.
My single "Hope Is Alive" recently debuted in November 2021. It is an amazing song that opens with Handel's "For unto us a child is born." It ends with an intense musical proclamation for a life full of hope, joy, peace, and bliss because of Jesus. In the spring of 2022, I will release my newest single, "It Will Work Out."
You write, produce, direct, and sing. How would you describe the Tevis Harris sound?
The Tevis Harris sound is inspired by Luther Barnes, Anthony Brown, Kirk Franklin, and James Fortune. I absolutely love and appreciate their giftedness and approach to music. Anthony Brown is definitely my favorite. The classical touch that he adds to his music production is incredible.
Take a title or lyric from your catalog and share a word of inspiration with the GMF audience.
I want to remind each of us that no matter where you find yourself in life, no matter the past mistakes or failures or poor choices, with God, you can begin again. Life is going to throw us curve balls and we will find ourselves in some of the most difficult and dark places and spaces; some from no fault of our own. Yet most will be because we've messed up and have fallen short. BUT we can begin again. This song ("Begin Again" from the album Keep Winning) was birthed out of the experience of having to begin again.
Since I've written "Begin Again," I've realized that the Bible is simply a compilation of stories that share begin again moments and experiences. These moments are filled with people living in their humanism, just like you and me, receiving opportunity after opportunity to begin again. God gives grace and pushes hope on us through His son Jesus Christ and in the word of God that encourages us to live in the freedom of new beginnings. He's not expecting us to be perfect; yet when we fall, get up, dust yourself off, get better, begin again, and do better. New beginnings are just a part of life and a part of how God has instructed and constructed us to live.
Lamentations 3:22-23 says, "Through the Lord's mercies we are not consumed, because His compassions fail not. They are new every morning; Great is thy faithfulness." We are going to fall and make mistakes, sin, mess up, fall short of the glory, and make poor choices; but God doesn't want us to stay there in the mess. He gives us the opportunity and wants us to begin again. He wants us to repent for Him to only pour his forgiveness and love all over us. You can begin again!