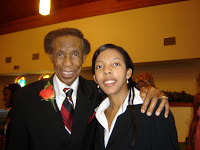 Last weekend, a grinning and grateful Brother Joseph "JoJo" Wallace and his family filled the first rows of Durham's Union Baptist Church.  The occasion was the celebration of his 65 years of ministry with one of the baddest quartets of gospel's Golden Era, the Sensational Nightingales.  The year he joined as tenor and lead guitarist, 1946, predates the birthdates of most of the people who came to pay homage.
The appreciation musical was delightful.  The ambiance was replete with soft lighting and numerous tributes as family and group photos of Brother JoJo displayed on the projection screen.  Amid the dimly lit sanctuary, Brother JoJo was still quite visible at various times either waving his hand, smiling broadly, applauding joyously or listening attentively.
The only disappointments of the evening were the mediocre turnout and the noticeable absence of some well-known nearby gospel music industry comrades (save Reuben and Ruth Cooper, original members of the Triangle area's legendary Cooper Four, a traditional group who has sung to folks in Radioland live every Sunday since 1952) for whom Brother JoJo was a way-paver.
His name is in gospel music books and encyclopedias, etched in the American Gospel Quartet Hall of Fame, and listed among nominees for the coveted Grammy Award.  Brother JoJo would never tell you of these accolades himself, though; maybe this is why some are unaware of his international acclaim.  In fact, the mention of the word "legend" causes him to clasp his jaw-dropped face and announce, "Aw! You're making me blush!"  He's just a blessed, spry 84 year-old servant of the Most High, he insists, who has been graced with the health and strength to travel across the country and overseas, ministering to the masses in song.
Brother JoJo's unassuming disposition was spoken of by several who offered tributes during the musical, including former journalists Billy Warden and his wife Lucy Inman.  The celebration also included musical salutes by Carolyn Satterfield, Tony & the Magnificent Voices, Rufus Poole & the Stars of Faith, 12 year-old Kaleb Robinson, John Thorpe, who sang, fittingly, "It's Your Time," and New Hope Person Male Chorus with Libra Nicole Boyd, who traveled back in time to 1955 with the Gales' tune "Somewhere to Lay My Head."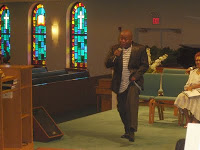 The most melodic sounds of the celebration came from The Hillian Sisters, a pre-Golden Era sounding trio whose harmonies, minus the soaring vocals, were as sweet as Chicago's Barrett Sisters.  Darrell Luster (pictured at right), Gales' former lead singer, took to the platform to sing two selections and to read a tribute from Malaco Records.  The Malaco family praised Brother JoJo for "[being] a rock for us during troubling times."  Congratulatory letters were also received from President and First Lady Obama, Governor Bev Perdue, and Mayor Bill Bell.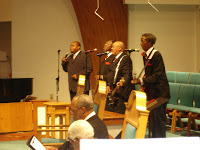 The honoree along with the Sensational Nightingales—Horace "Sug" Thompson, Larry Moore, and guest singer and former member Ricky Luster—also treated the audience to two numbers.  Hardly able to contain himself, an overwhelmed Brother JoJo began right away: "You all just don't know how excited I am.  God be praised!  All honor and all glory belongs to God….My heart is rejoicing.  I want to say to the saints of God, keep your hands in God's hand, and don't give up.  Listen carefully."  Straightway, he strummed opening chords on his guitar, awaiting Luster's mellow interpretation of  "Don't Give Up."  From there, the audience rose to its feet on the brisk-paced "Rapture," with Thompson and Brother JoJo taking turns with the lead vocals.  The first verse, "some sweet day," ended with a signature gesture: Brother JoJo swinging his guitar into the heavens.
At the close of the evening, the guest of honor trotted to the platform, either shaking hands or hugging everyone on his route, to give remarks.
"Thank you, Lord Jesus," he said toward the sky, his tall, slender frame leaning into the mic.  Then to his guests, he added, "You have given me flowers that I can see today.  I have been on this journey for a long time, and I'm not ready to stop now."


Top photo: GMF's Libra Boyd congratulates Brother JoJo.

Second photo: Darrell Luster sings "Every Promise in the Book is Mine."
Third photo: The Gales render "Don't Give Up" for the audience.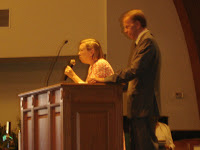 Lucy Inman talks about compiling a press kit for the Nightingales that caught the attention of then-newspaper reporter Billy Warden (right), led to a front page feature on Brother JoJo, and resulted in Inman and Warden's courtship and marriage.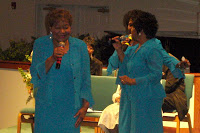 The Hillian Sisters perform "All of These Years."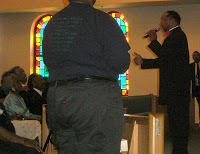 John Thorpe serenades Brother JoJo with Luther Barnes' "It's Your Time."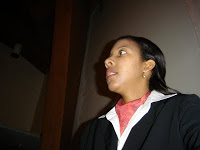 Seated at the keyboard, Libra Nicole Boyd cues in lead singer Bernard Thorpe and New Hope Person Male Chorus on the Gales' 1955 hit "Somewhere to Lay My Head."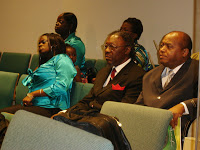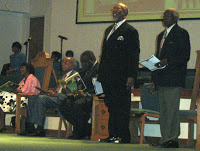 Larry Moore, Ricky Luster, and members of Tony & The Magnificent Voices enjoy a musical tribute.
Program participants Dr. Tonya Armstrong, Dr. W.E. Daye, Pastor Thomas Bannister, III, Dr. Johnny Branch, and Rev. David Bell look on as Brother JoJo is feted.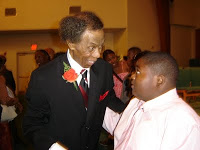 -->Twelve year-old Kaleb Robinson meets Brother JoJo--a dream come true.  Kaleb sang "Face to Face" earlier in the evening.  This is not just some kid who gets props for being young and cute; the boy can sing.  Kaleb brought the house to its feet.  I told him afterwards that I refuse to wait: I want his autograph now.  Trust me when I tell you that "Kaleb Robinson" is a name you want to keep in mind. All photos by Libra Boyd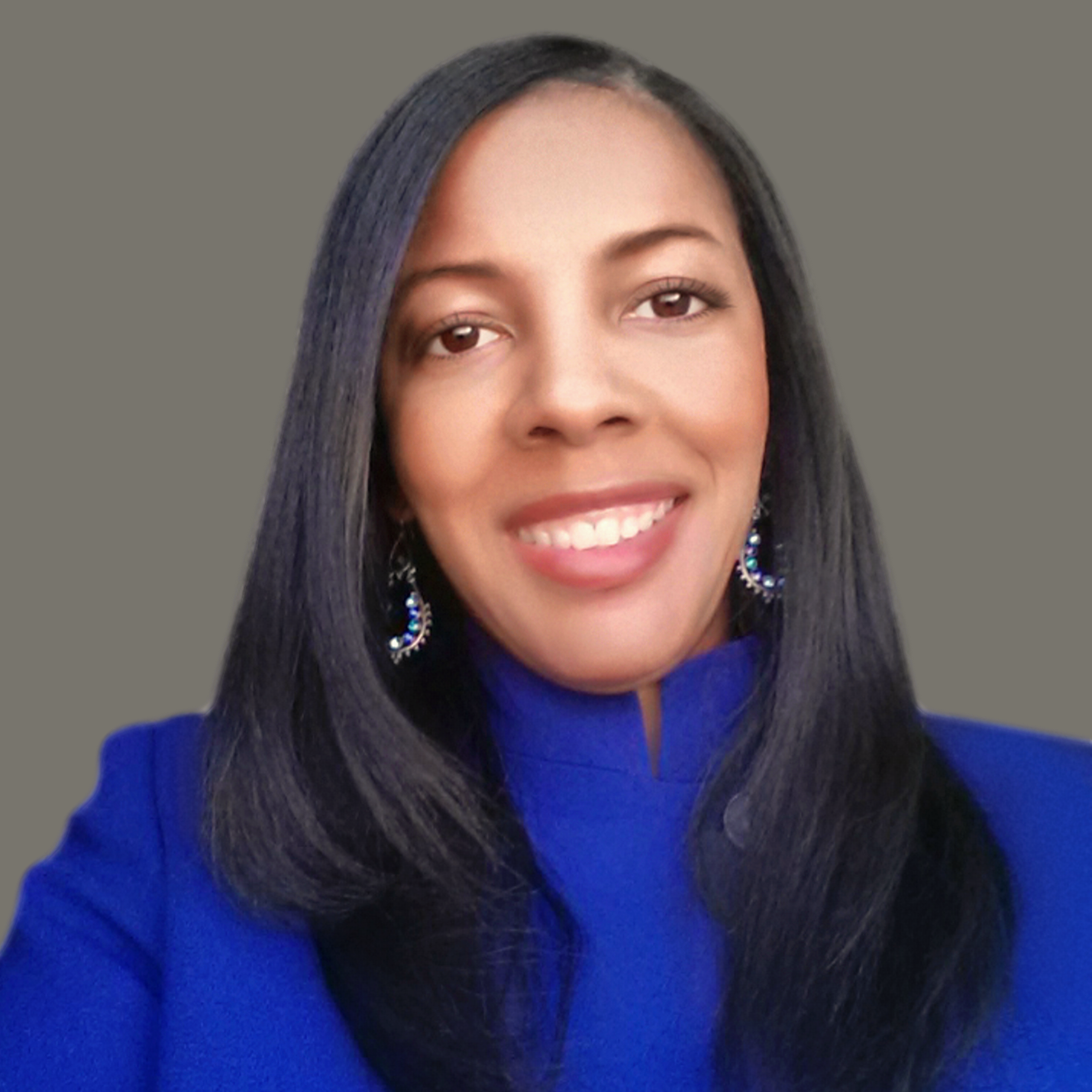 Libra Nicole Boyd, PhD is a musician, award-winning author, gospel music aficionado, and the founder and editor of Gospel Music Fever™. Her commitment to journalistic integrity includes bringing you reliable gospel music content that uplifts and advances the art form. Libra is presently working on several scholarly projects about gospel music in the media as well as gospel music in social movements.