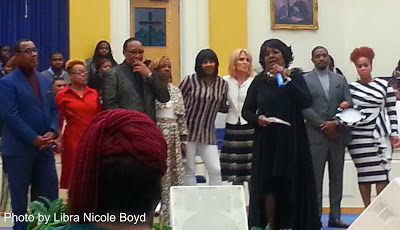 Pastor Shirley Caesar (front), joined by (left to right): Melvin
Williams, LaDehra Alston, Dr. Bobby Jones, Beverly Crawford, Le'Andria
Johnson, Ami Rushes, Teddy Campbell, and Tina Campbell. 
By Libra Boyd
Gospel Music Fever
The tribute lineup read like Who's Who in gospel music Friday evening, October 14, at Raleigh's Mt. Calvary Word of Faith Church, where gospel's queen Shirley Caesar is pastor.  There, a host of artists along with a crowd of over 1,000 gathered to help the pastor-singer celebrate her 78th birthday.  Caesar's longtime friend and industry colleague, Dr. Bobby Jones, was the emcee.
The four-hour program included musical tributes from the Mt. Calvary Word of Faith Choir, mime minister Arie Pope, Ami Rushes, Melvin Williams, Teddy and Tina Campbell, Wess Morgan, Le'Andria Johnson, and Beverly Crawford.  Nieces Tammy Caesar and LaDehra Alston along with Shirley Caesar Group mainstay Bernard Sterling also honored Caesar with musical tributes.  Interspersed between the performances were humorous anecdotes, no fewer than three frenzied praise breaks, and congratulatory videos from Karen Clark-Sheard, Regina Belle, Jekalyn Carr, and Stellar Awards executive producer Don Jackson.
The honoree took the stage as the night drew to a close.  Flanked by the program participants, Pastor Caesar and the audience revisited her recent Hollywood Walk of Fame experience with video excerpts from the star dedication ceremony.  Afterward, the gospel music matriarch offered expressions of gratitude–sprinkled with humor and sermonic tuning–and treated her fans to an abbreviated version of "Jesus, I Love Calling Your Name."
Pastor Caesar's birthday was October 13, and Friday's musical was the third of four services this week commemorating her birthday.  This year's events are also in recognition of her 26th pastoral anniversary, 50-year solo music career, and star on the Hollywood Walk of Fame.  The celebration series culminates Sunday, October 16, at 5 PM, with a choir competition dubbed, "Battle of the Choirs."
Dr. Bobby Jones (front) with (left to right): Bernard Sterling, Biddy Newborn, Melvin Williams, Tammy Caesar, Anthony Hill, LeDehra Alston, Beverly Crawford, Le'Andria Johnson, Ami Rushes, Teddy Campbell, Tina Campbell, Wess Morgan, and Mt. Calvary Word of Faith Choir (background). Not pictured: Arie Pope.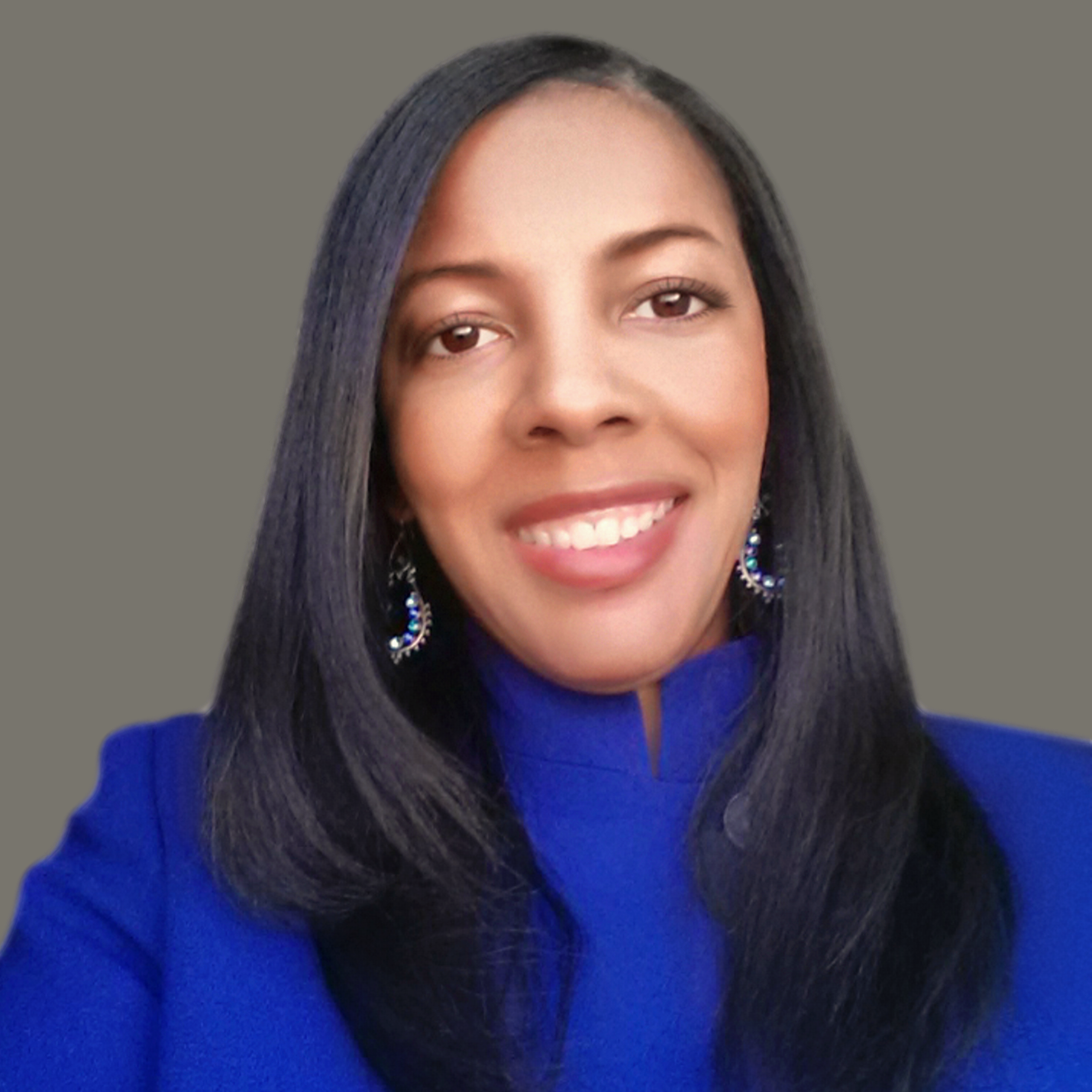 Libra Nicole Boyd, PhD is a musician, award-winning author, gospel music aficionado, and the founder and editor of Gospel Music Fever™. Her commitment to journalistic integrity includes bringing you reliable gospel music content that uplifts and advances the art form. Libra is presently working on several scholarly projects about gospel music in the media as well as gospel music in social movements.