Libra Boyd
Gospel Music Fever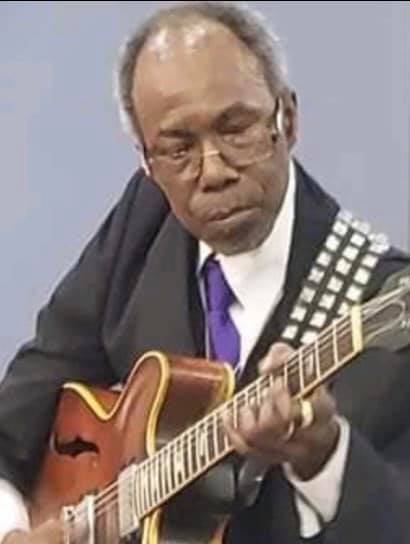 Val Alexander, a longtime guitarist and member of The Gospel Keynotes, died December 15, 2020.
According to his obituary:
Val Alexander, Jr. was the son of Mr. and Mrs. Val Alexander, Sr. and Elizabeth Emanuel Alexander. He was born and raised in the city of Greensboro and is a Class of 1967 Graduate of Dudley High School. He was married to Beatrice Alexander who preceded him in death. He was the youngest of nine children. His mother gave him a guitar for Christmas when he was a teenager. He taught himself to play and used his talent to bless people throughout the United States and around the world. He is one of the Original Gospel Keynotes.
He and his wife Beatrice lived in New Jersey for a period of time until they decided to settle down in Union Springs, Alabama to be close to her mother. To their union they had one daughter Simone Alexander. He left Union Springs and relocated to Greensboro (NC) in 1997 when his mother became ill. He came off the road of singing gospel music to take care of his mother and was able to gain employment working for the Industries of the Blind where he served as Assistant Supervisor. He also continued to play for the Original Gospel Keynotes part-time.
Upon returning to Greensboro he used his skill of playing the guitar to teach, promote and play for local groups as well as his church Mt. Pleasant Christian Church Disciples of Christ for which he had been a member since 1963. He played for the Mattie Alston and the Voices of Praise, The Sons of Zion, The True Tones, The JJ Gospel Singers, and the Harmonizing Five to mention a few. Val was a loving and devoted husband, father, son, brother, and uncle. He was very humble and quiet and soft-spoken.
Some years ago when I first met Val, he shared with me that he traveled with Willie Neal Johnson and The Gospel Keynotes – whose notable songs include "Show Me the Way" and "Jesus, You've Been Good to Me" – for approximately 25 years. I continued to see him every year when he came to the church where I serve as minister of music. Without fail, he'd come to where I was, shake my hand, and share a word of encouragement. Eventually, he asked me about collaborating on some music he was working on for an upcoming project. As we now see, our plans are not always God's plans.
In recent years, I took notice of him again traveling and playing with the Original Gospel Keynotes. Watching him was watching a legend who influenced many present-day guitar greats.
Criss "Righteous" Johnson, longtime guitarist for Pastor Shirley Caesar posted on Facebook, "Mr. 'Val Alexander' from one of the greatest 'Quartet Gospel' singing groups of all time….(The Country Boy) 'Willie Neal Johnson And The Gospel Keynotes' of Tyler, Tx." He included the hashtag #whatanincredibleinfluencer
.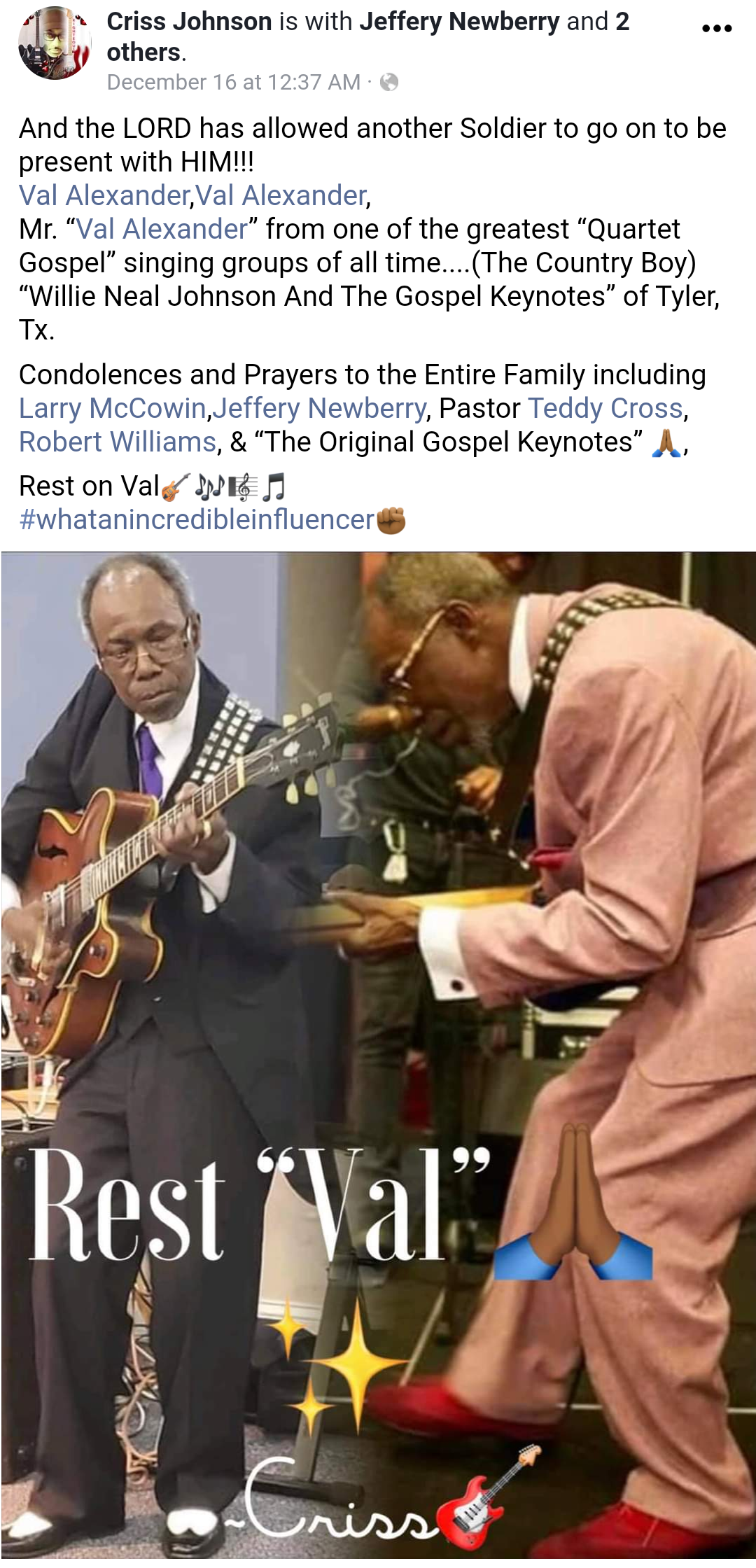 Kevin Wilson, CEO and founder of the International Musicians Summit, also offered reflections on social media. "Val Alexander, Sugar Hightower, Spanky Alford & Al Dent are musicians and friends I've had the honor of sharing the stage with! I truly miss all of them. Rest well Val-e Joe!!! I'll never forget the years we shared music and ideas. #Legends"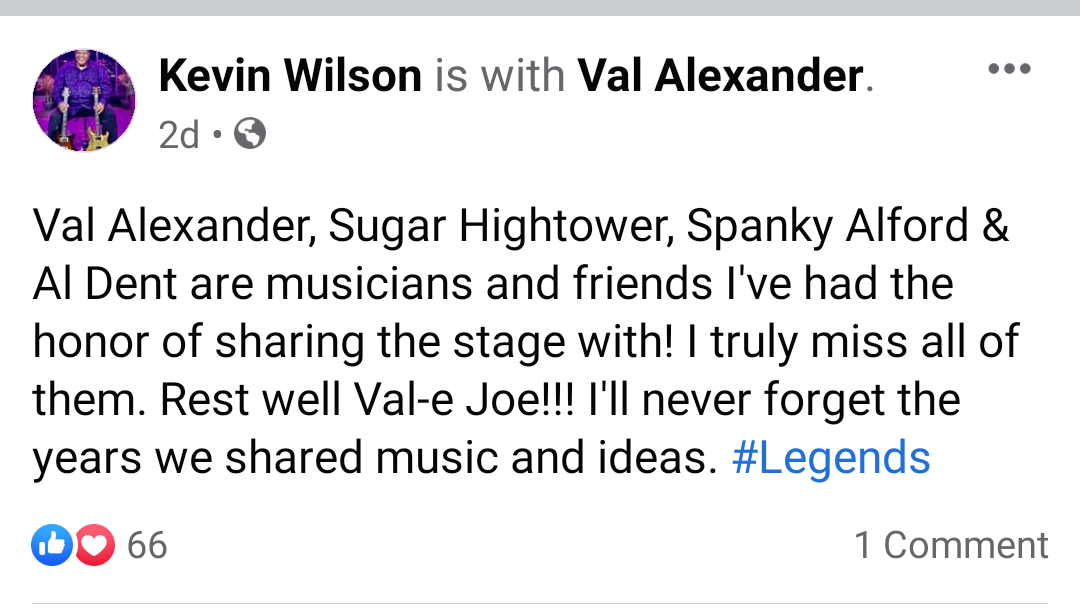 "Rest Well Mr. Val Alexander," shared multi-genre guitarist Fitz McGill on Facebook. McGill, who has worked with Tyler Perry and Kelly Price, among others, continued, "For those of you that don't know who this man is he was the guitarist for the Quartet group The Gospel Keynotes. Starting around the age of 9 years old when My father would take me to the quartet programs he would convince the promotor [sic] to allow me to be the opening act. Mr. Val starting sowing chords and encouragement backstage that pushed me to excel as a guitarist. Throughout the years of life, he would mentor, teach, and show me little things about the guitar and pedals. Thank you brother for all you sowed into our lives. My condolences to the family and the community of Quartet Music."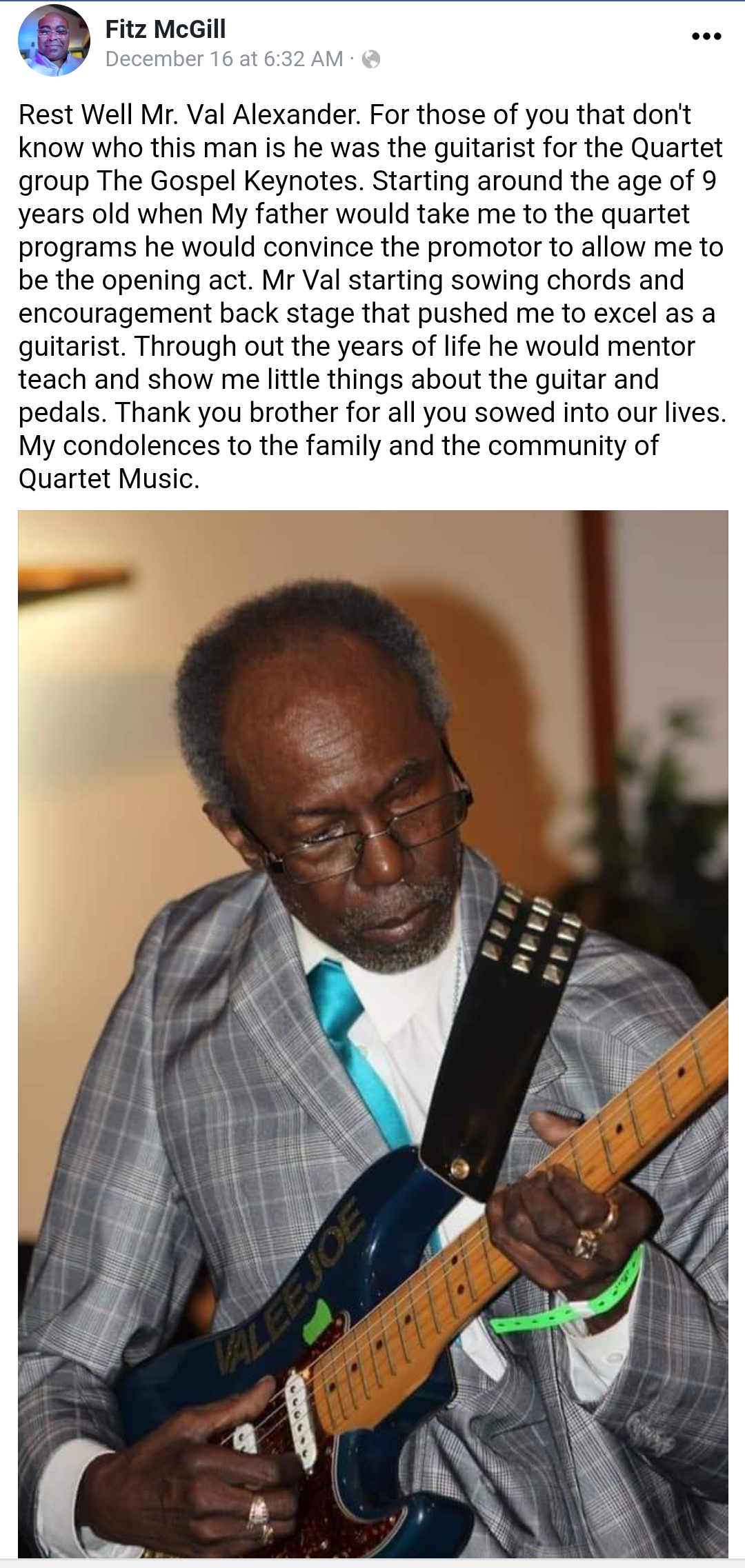 Pastor John P. Kee took to Instagram to pay tribute as well, noting, "He was so kind to me when I entered the industry!"
I join countless others in sending prayers up for the Alexander family and all who grieve the passing of Val, a humble man who now rests from labor.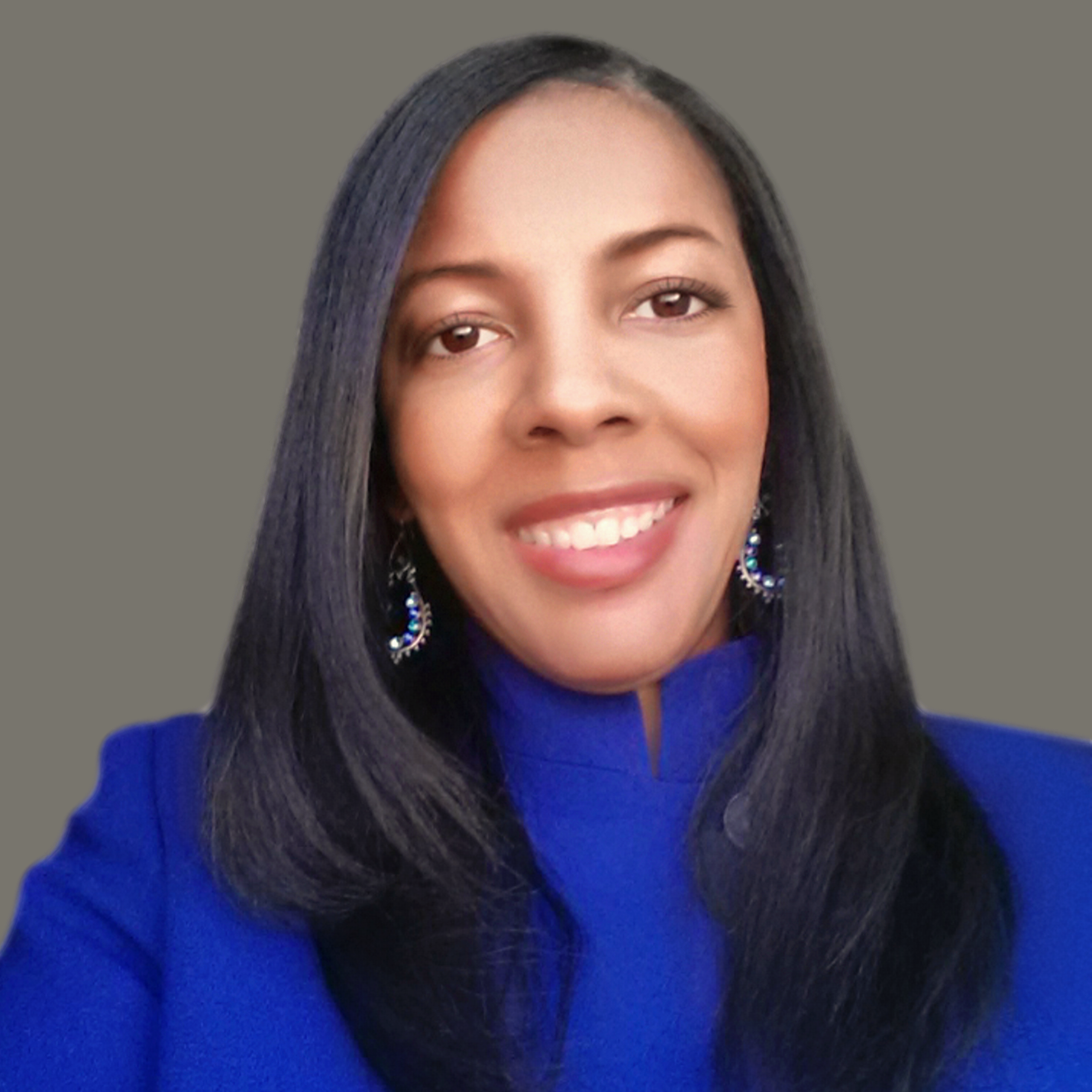 Libra Nicole Boyd, PhD is a musician, award-winning author, gospel music aficionado, and the founder and editor of Gospel Music Fever™. Her commitment to journalistic integrity includes bringing you reliable gospel music content that uplifts and advances the art form. Libra is presently working on several scholarly projects about gospel music in the media as well as gospel music in social movements.