By Libra Boyd
Gospel Music Fever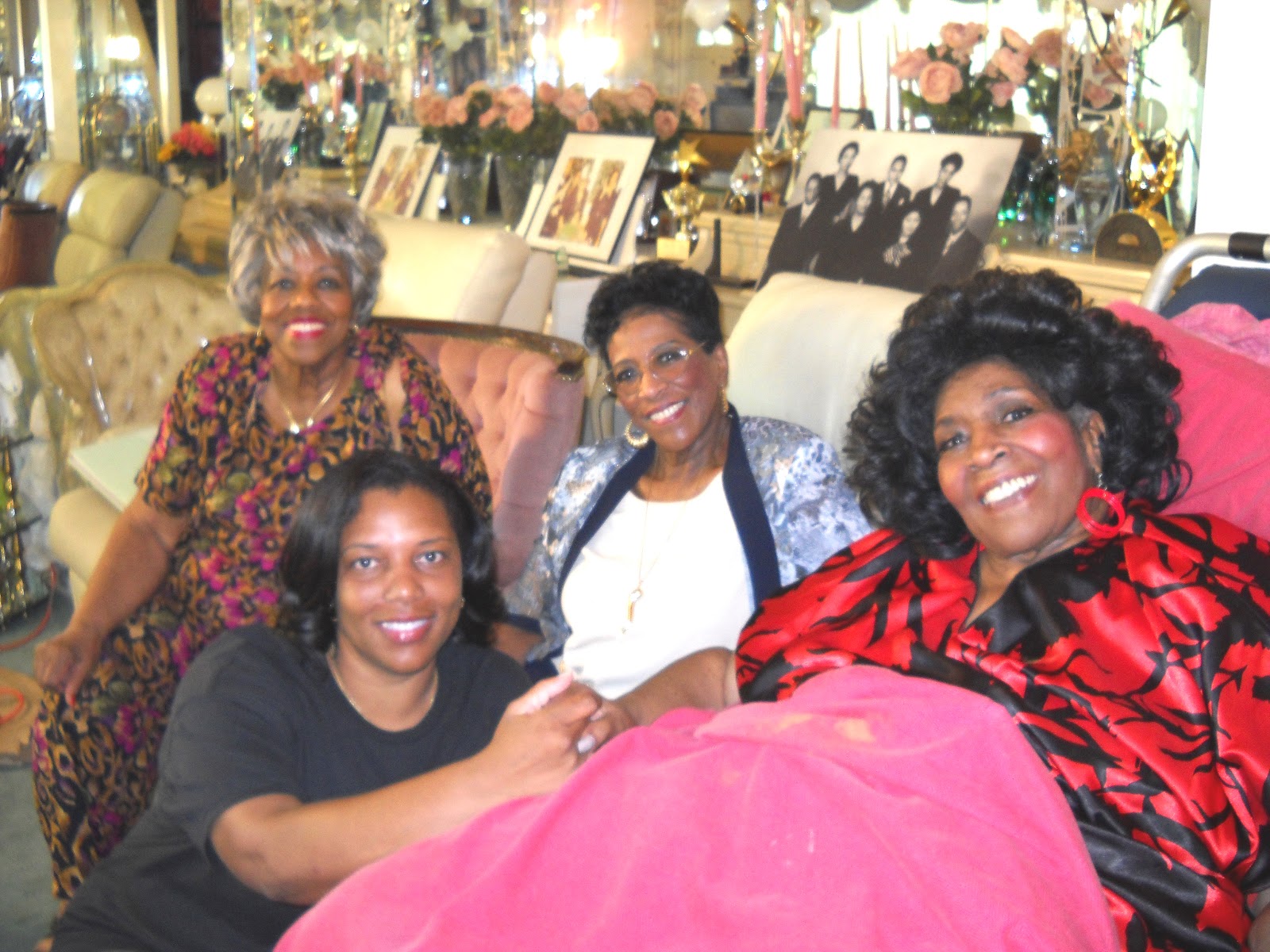 Photo | Do It All Productions, LLC
Producer Regina Rene (kneeling) with (from left) Rodessa Barrett Porter, Billie Barrett GreenBey, and the late Delois Barrett Campbell.
First introduced to the legendary gospel trio Delois Barrett Campbell and The Barrett Sisters through their
unforgettable musical performances in the critically acclaimed 1980's documentary Say Amen, Somebody, Regina Rene Davis recalls that the film quickly became one of her favorites.
Many years later, it would be her appreciation for the gospel veterans' legacy duetted with Rodessa Barrett Porter's dream–disclosed to Chicago Tribune journalist Howard Reich during a 2008 interview–that would inspire her to produce and direct the newly released documentary film The Sweet Sisters of Zion: Delois Barrett Campbell and The Barrett Sisters. The long anticipated 114-minute documentary chronicling the sisters' lives and careers premiered Saturday, February 16, 2013, at Chicago's Life Center COGIC. (Read Bob Marovich's recap and review on
The Black Gospel Blog
.)
For the multi-talented producer/videographer/editor whose resumé includes a lengthy tenure with Entertainment Tonight, the project was an intensive labor of profound love for octogenarian sisters Delois Barrett Campbell, Rodessa Barrett Porter, and Billie Barrett GreenBey, as well as the group's most recent member, songbird Tina Brown. Nevertheless, undaunted by personal adversities, unforeseen challenges, and the sisters' inability to compensate her for the enormity of her undertaking, she forged ahead enthusiastically to transform a dream into a reality for the gospel greats.
"I found [an] article where Mrs. Rodessa said that she wanted a document of their career and that she had all these videos that someone told her would cost $5,000 to put together," remembers Regina. "And I said, well I can put their stuff together; that's no big deal."
The fact that it evolved into a feature length documentary, however, is a huge deal.
"I thought I was simply going to be stringing together their footage because if you've ever visited Mrs. Campbell's house when she was alive, she'd always want to put [the Barrett Sisters' videos] on so people could see them singing–and the grand-kids always had to come in every 15 to 20 minutes to change the DVDs!"
But it wasn't long before Regina discovered that
like many artists of their era, the sisters–
whose career includes over 30 overseas tours, multiple television and radio appearances, invitations to perform at every major concert hall in the United States as well as The White House, and numerous awards and commendations–
had amassed considerably more fame than fortune throughout their careers and had been grossly underpaid for their work. Meanwhile, there were savvy folks on the business side who had reaped the financial harvest of the sisters' labor.
"So [I thought] maybe I could create something…see what happens and try not to let someone just sign it away again….That's really how I approached [the idea of a feature film]. I tried to do it in such a way that nobody was gonna take it away from them."
The Sweet Sisters of Zion: Delois Barrett Campbell and The Barrett Sisters is co-produced and owned by The Barrett Sisters
.
"At the age of 80-plus, the Barrett Sisters [finally] own something that they did–and they've never had that before," beams Regina.
Audiences will be overjoyed that the documentary serves as a fond memorial to Delois, who
passed
August 2, 2011, at age 85. Her anecdotes are uproarious at times, although characteristically candid. Still, beyond Delois's
bright eyes and larger-than-life personality, Regina was especially intent on giving the audience an inside look at the bond that Delois and her younger sisters–each only two years apart and the last survivors of ten siblings–relished both onstage and off.
"The thing about the Barrett Sisters is that they're just like this beautiful hidden jewel of talent, and once you discover them you're like, 'Oh wow!' You see these little morsels of performances, like on YouTube, but then you don't know anything about them because they don't have that recognition like the Caravans and Shirley Caesar and James Cleveland and all of those folks from that generation that were successful…but they were very much in that loop [because they were all contemporaries]."
Regarding the film itself, Regina explains, "Most documentaries are very sterile and very matter-of-fact. I really wanted this one to be like listening in on a conversation." The concept of the movie was to allow each sister to tell her story in her own words, but to also allow fans to experience the ongoing interplay of ladies who are as
close as any siblings can be.
"That was the whole point: to capture their spirits, their personalities. They're just like honey, and we're the bees. When they sat down together and they started that camaraderie and that give-and-take and yin-and-yang, that's when I knew I had something special. It's them in their element, being themselves."
Despite the sisters being their delightful selves
, the making of the film was not devoid of hurdles.
"
The most challenging thing was trying to make sure I got clearances situated [for the performance footage]. The challenges were more technical than creative….But in terms of going to Chicago and spending time with the sisters, that was a joy!"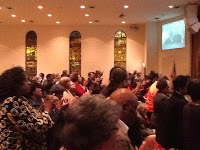 Photo | Herbert McFadden
At right: The audience responds to the documentary with a thunderous standing ovation.
That joy was also expressed by every family member, friend, and fan who attended the premiere. Throughout the movie, laughter, swaying, applause, and even tears filled the edifice of Life Center COGIC as the Barrett Sisters along with professors and icons like Aretha Franklin contextualized the ladies' indelible influence on sacred music
.
"
I actually spoke with Donnie McClurkin last week, and I told him all about [the movie], and he got super excited," Regina says. "He just went over the moon when I showed him a picture of the Barrett Sisters. He was excited to know that someone was doing a documentary about them."
The Sweet Sisters of Zion: Delois Barrett Campbell and The Barrett Sisters can be purchased online at www.barrettsistersonline.com and is a must-have for traditional gospel music enthusiasts.
"Most of the documentaries that are done about gospel singers and jazz singers are done by people overseas," Regina points out. "This is one of the few times that we are truly telling our own story in a way that doesn't come across as rigid and sterile."
"When you're done watching this movie, if you didn't know the Barrett Sisters you're going to say 'Wow.' If you did know the Barrett Sisters, you're going to say 'Amen.'"
For more information on Regina and her company Do It All Productions, LLC, visit

www.diaprods.com.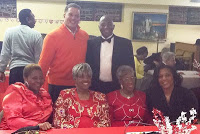 Photo | Herbert McFadden
Regina Rene (right) and group members (seated from left) Tina Brown, Rodessa Barrett Porter, and Billie Barrett GreenBey as well as Chip Johnson (standing left) and Randy Johnson are congratulated by friends at the VIP reception for the documentary premiere.
Related Stories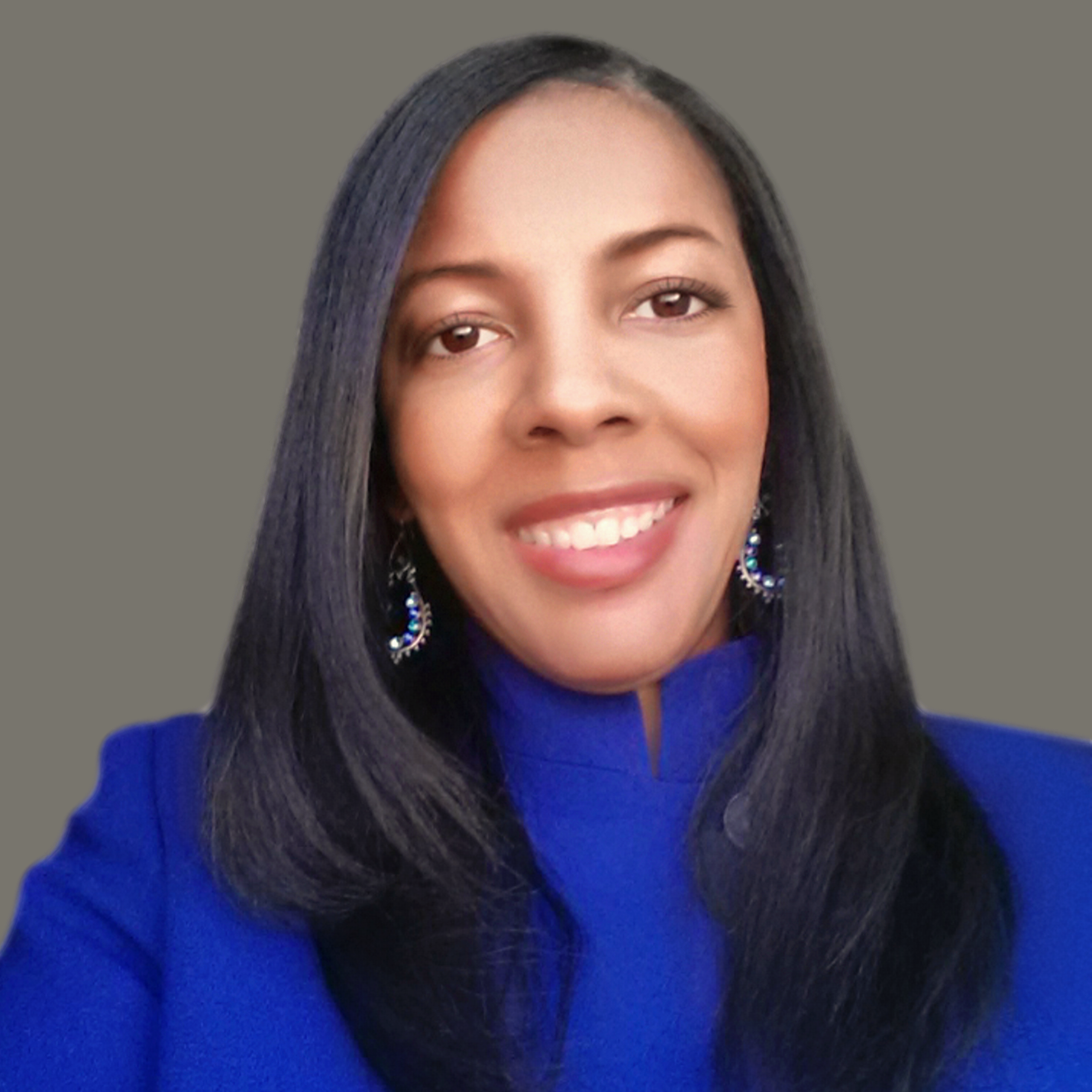 Libra Nicole Boyd, PhD is a musician, award-winning author, gospel music aficionado, and the founder and editor of Gospel Music Fever™. Her commitment to journalistic integrity includes bringing you reliable gospel music content that uplifts and advances the art form. Libra is presently working on several scholarly projects about gospel music in the media as well as gospel music in social movements.