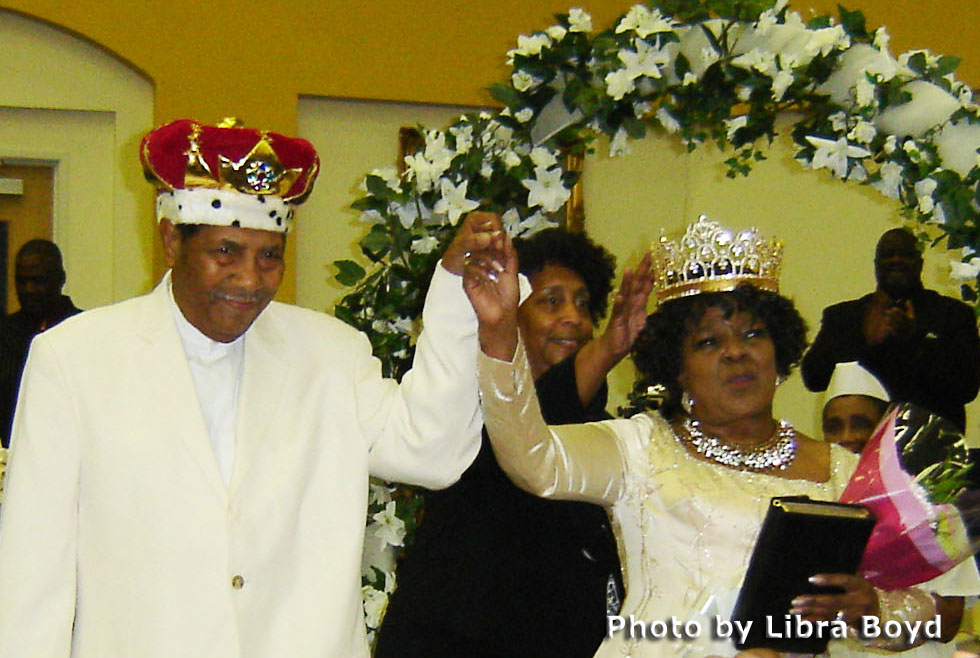 Bishop Harold I. Williams presents his wife, Pastor Shirley Caesar, 
as the newly crowned "Queen of Gospel."
By Libra Boyd
Gospel Music Fever
"Mahalia Jackson is gone, but we have Shirley Caesar!" shouted longtime Caesar Singer, Bernard Sterling to a capacity crowd at Mount Calvary Word of Faith Church.  "We're gonna love her while she's here!"
A jubilant ovation erupts.  It was one of many during the five hour salute.
Every pew was packed and folding chairs were filled inside the 1500 seat sanctuary Sunday night as its pastor, Shirley Caesar, was crowned "Queen of Gospel." 
The symbolic crown–previously worn by greats Mahalia Jackson and Albertina Walker–was passed to Walker's protégé Caesar, whose accolades include 11 Grammy, 13 Stellar, and 18 Dove Awards; McDonald's Golden Circle and SESAC Lifetime Achievement Awards; and induction into the Gospel Music Hall of Fame.
Throughout the celebratory musical, no less than 14 performers paid tribute with several of Her Majesty's hits like "Jesus, I Love Calling Your Name," "Heaven," and the perennial favorite, "No Charge."  Pastor Caesar smiled, clapped, swayed, and occasionally stood in awe.
Even the youngest generation of gospel singers was well represented in the persons of twelve year-old Michael Boone, nine year-old Rev. Leniyus Sullivan, and eight year-old Symone "Baby Shirley" Spencer.
Also in the house as a surprise guest was Douglas Miller, whose classic "My Soul Has Been Anchored" ripened the atmosphere for a praise break.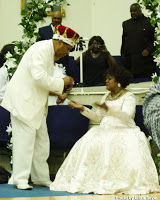 In the styling of the British monarchy, Sunday's coronation followed similar protocols such as Pastor Caesar being anointed with oil (left) by Bishop Harold I. Williams, Patriarch of the Mount Calvary Holy Church of America, Inc.  Dressed in an exquisite floor-length gown with dainty gold accents, the ageless beauty then rose to receive the charge from Evangelist Carolyn Sanders.  Following the charge and presentation of the Holy Bible, master of ceremony Jerry Smith of Radio One crowned Pastor Caesar, as the title "Queen of Gospel" was bestowed.  To a thunderous standing ovation, she was given a bouquet of flowers and presented with more gifts, including a trophy.
As the long evening drew to a close, Queen Shirley took to the lectern, graced the congregation with "Strong Man"–sprinkling a sermonette over its chorus–and expressed heartfelt gratitude along with a sobering exhortation.
"I charge you tonight," she urged, "as many as who stand on my shoulders…walk holy…live holy….Live what you sing.  Live what you preach and teach."
_________________________________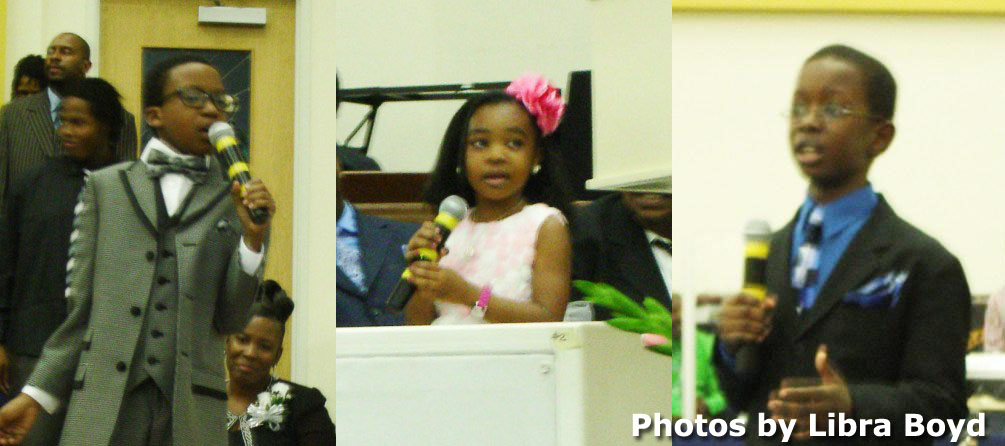 From left to right: twelve year-old Michael Boone sings "No Charge," eight year-old Symone Spencer performs "Jesus, I Love Calling Your Name," and nine year-old Rev. Leniyus Sullivan delivers the Caravans' "Lord Keep Me Day By Day."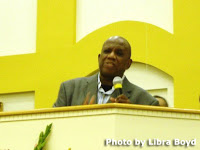 Grammy-winning producer Sanchez Harley recalls how Pastor Caesar orchestrated an opportunity for him to produce on her 1983 gospel album
Sailin',
which garnered a Grammy.  After citing Caesar as his favorite singer, he adds, "That [crown] is not an imaginary token crown. She
is
the Queen–the real deal."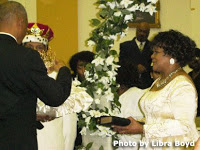 Jerry Smith, of Radio One's The Light 103.9FM, prepares to crown Pastor Caesar as Bishop Williams and Bernard Sterling look on.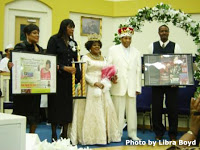 The newly crowned "Queen of Gospel" receives more gifts including a framed commemorative announcement of the ceremony and a trophy presented by Dr. Mildred Summerville (second from left), on behalf of The Diamond Club.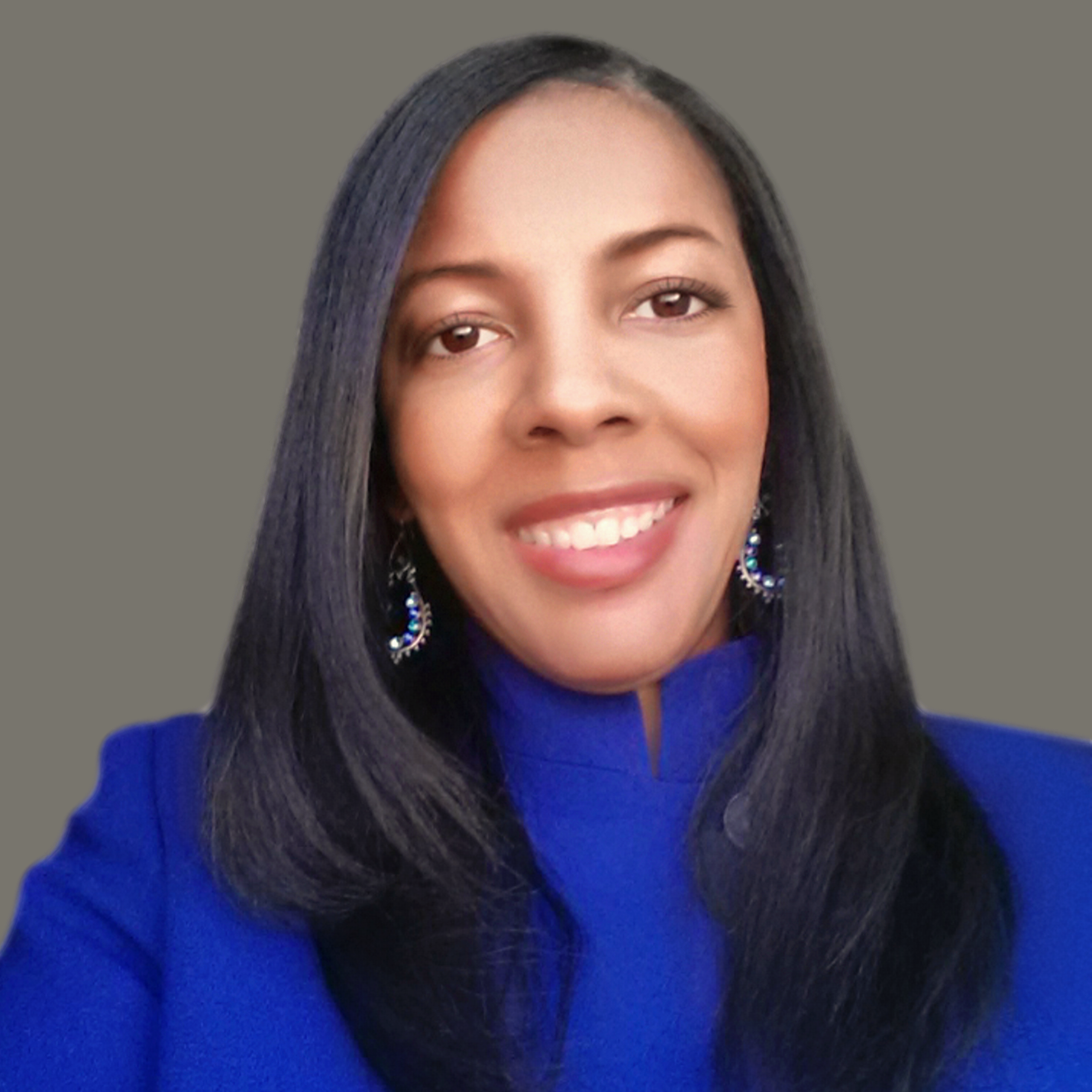 Libra Nicole Boyd, PhD is a musician, award-winning author, gospel music aficionado, and the founder and editor of Gospel Music Fever™. Her commitment to journalistic integrity includes bringing you reliable gospel music content that uplifts and advances the art form. Libra is presently working on several scholarly projects about gospel music in the media as well as gospel music in social movements.