Originally posted March 10, 2012 at 8:18PM
Last Updated April 26, 2012 at 3:08PM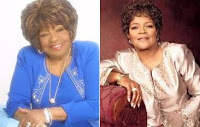 GMF has learned from Mildred Summerville that the "First Lady of Gospel" Pastor Shirley Caesar will be feted on April 29, 2012, during which she will be crowned the "Queen of Gospel."  The metaphorical crown was previously worn by the late Albertina Walker, who passed October 2010.  Pastor Caesar, an alumna of the famous Caravans, considers Walker as a mentor, friend, and legend on whose shoulders she stands.
A multiple Grammy, Stellar and Dove award winner, Pastor Caesar is one of the most recognized and beloved women in gospel music, both here and abroad.  Her recording career stretches across six decades.
The crowning ceremony will take place at Mount Calvary Word of Faith Church (3100 Sanderford Road, Raleigh, NC), at 4 PM, where Caesar pastors.  The service will feature a host of gospel singers and performers including six year-old Symone Spencer, performing as Baby Shirley Caesar, Michael Boone, Leniyus Sullivan, Fayetteville State University Choir United Voices of Praise, Mount Calvary Word of Faith Choir, and the mini-stage play "Hold My Mule" by Lucy Hawkins of the 700 Club.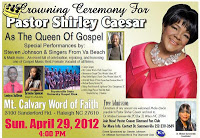 Click flyer to enlarge
Also performing are: The Caesar Singers, Virginia Beach, Juan Santiago and JSUP, The Maryland Mass Chior, Ruth La'Ontra Jones, Bishop Floyd Knowlin & Lighthouse Choir, Steve Johnson & Singers, New Bethel Baptist Choir, TDK Mime, and Anointed Voices of Praise.
Jerry Smith of The Light 103.9FM and Peggy Tatum of TCP Magazine will host.
The service is open to the public and all seats are free.
Update (3/17/12):  A fan club donation along with congratulatory cards will be presented to Pastor Caesar during the ceremony.  This is your chance to give her flowers while she can enjoy them, by showing her just how much her music has meant to you.
Cards as well as donations of any amount are welcomed.  All checks should be made payable to Pastor Shirley Caesar and mailed to:
Dr. Mildred Summerville
Fan Club Coordinator
P.O. Box 21
Wilson, NC  27894
Related Story
Shirley Caesar on Today's 'Singingest' Women, Whitney, and the Big Screen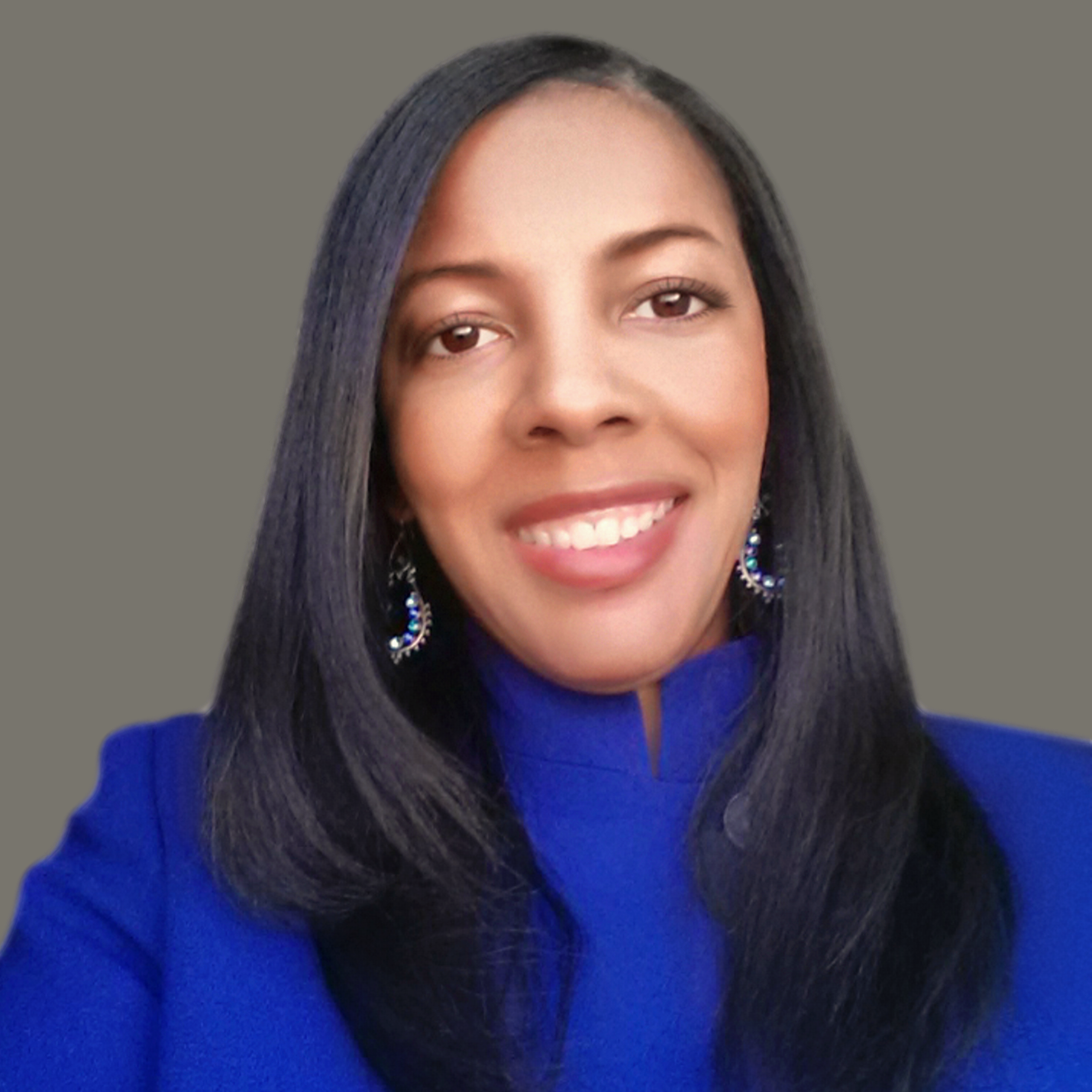 Libra Nicole Boyd, PhD is a musician, award-winning author, gospel music aficionado, and the founder and editor of Gospel Music Fever™. Her commitment to journalistic integrity includes bringing you reliable gospel music content that uplifts and advances the art form. Libra is presently working on several scholarly projects about gospel music in the media as well as gospel music in social movements.