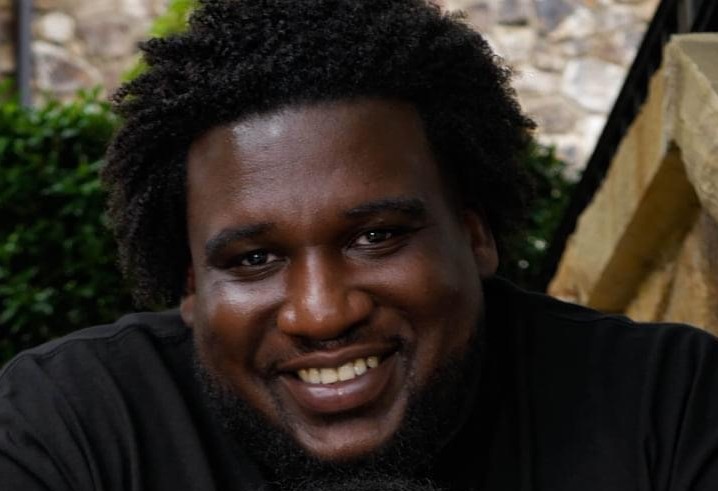 By Libra Boyd
Gospel Music Fever
Prior to the COVID-19 pandemic, Erin Ganey-Hill, cultural arts program director at Kirby Cultural Arts Complex, had an idea, recounts Michael Gentry.
Over the years, Erin had witnessed how the community celebrated Black gospel music and its singers in their small city of Roxboro (population, roughly 8,100) and throughout Person County. Several quartet-styled groups regularly booked the Kirby to host their singing anniversaries or major programs, and Erin and the Person County Arts Council envisioned a project that would pay homage to the valuable legacy of music and culture in the community.
"Erin's goal was to talk about the history of gospel [music], but from the standpoint of quartets," Michael explains. "She wanted to celebrate the history of that [in Person County] and [the impact its] singers had."
The culminating result is a feature-length documentary titled Gospel In Person. It premieres on Father's Day at the Kirby Theater. Michael is the film's creator, producer, and director.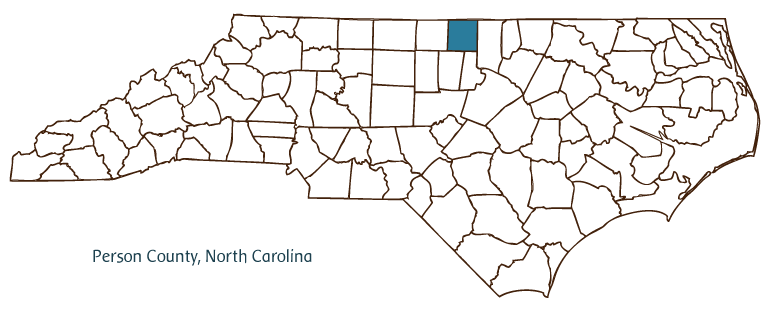 Gospel In Person chronicles over eight decades of the rich Black gospel music history found in Person County, located in the Piedmont region of North Carolina, along Virginia's border. Much of the history is told by the singers themselves, many of whom still travel the circuit singing God's praises. In their vivid accounts, they also reminiscence about area legends who are no longer with us, such as Roosevelt Whitfield of the pioneering Silver Moon Quartet and his son, prolific singer and multi-instrumentalist Michael Whitfield; Martha Pettiford of the Joylettes; Leroy Cash of the Spiritual Lights; Victor Hester of another pioneering group, the Traveling Sextet; Willie Carrington of the Mighty Harmonaires; and many more. Additionally, the film features classic performances of the Mighty Gospel Travelers, Original True Lights, Spiritual Lights, Mighty Prophets, Joylettes, and others. And although they may not be household names beyond the region, their impact has created ripple effects throughout the broader gospel music scene, as their stories reveal.
Michael grew up in Person County and in church. Admittedly, he was more interested in playing basketball as a youngster than attending weekend gospel music programs. His parents, on the other hand, "know all about this music scene," he asserts. "This is what they grew up in. Of course, as I grew in Christ and grew in ministry, as God had told me that my work would be in Person County, I developed an interest in wanting to get to know [some of these singers' stories]. I just didn't know that I would be called upon to do this."
The calling of which he speaks came about after Erin took notice of Just Love In Person, an organization Michael co-founded that is committed to strengthening Person County through acts of service powered by love. One way the organization does this is by sharing first-person narratives of people in the community with webisodes fittingly called "Just Love Stories." The web series piqued Erin's interest so much so that she jotted Markeith Gentry's name down to contact about her idea. Markeith is the head of Gentry Visuals multimedia publishing company, the official publisher of Just Love In Person's "Just Love Stories" series. He is also Michael's younger brother. In the meantime, she ran it by fellow arts council board member Kim Hargrove.
"So it just so happens that Erin asked Kim one day, 'Hey, do you know Markeith Gentry? I need to find a way to get in touch with him,'" Michael recalls. What Erin did not know, he says, is Kim "is like my brother's second mother."
It turns out Markeith's schedule was full, but he had already been showing his big brother the ropes when it came to videography. Erin and Michael finally met in March 2022 and began developing the project.
The first Sunday in June, Michael visited New Hope Person Missionary Baptist Church in south-central Person County to invite its pastor to appear on "Just Love Stories." "I went to the church—this is after I had met with Erin—and of course, who do I see? Dr. Libra Boyd. And that's when I told you about this idea that the Kirby had. And you got on your phone, pulled up several pictures, and said, 'Here are the people you have to contact. Here are some of the older groups.'"
One of the first people Michael contacted was David Ramsey, a renowned singer and bass guitarist who has been a member of several of the groups discussed in the Gospel In Person film. He is also a longtime radio personality and host of the David Ramsey Gospel Show on WRXO 1430 AM / WKRX 96.7 FM. "I started with David Ramsey, and he's just a gold mine of knowledge."
Ambitiously, he went on to conduct interviews with more than 60 people for Gospel In Person and estimates working on the project an average of eight hours every day for just over one year. "But my soul was getting fed. My knowledge was being increased. So it was a labor of love—emphasis on love, not labor." Still, the most demanding task may have been condensing nearly 100 hours of accumulated interview and archival footage into a suitable documentary length for one sitting. Gospel In Person runs approximately three hours and is divided into three parts. "From a quartet standpoint, you're talking about probably 85 years of history."
And even though the film focuses on singers of the quartet style, both choirs and churches are acknowledged in this body of work because "all the quartets, for the most part, come directly from a church choir," he points out. "They were in the choirs, even though they were singing full-time, you know, every weekend, all evening long. They were always in their churches on Sunday morning."
Another eye-opener, one that blew him away as he collected stories and listened to audio and video recordings, was, "I believe all of these groups could have been professional. Traveling the country. Famous. And I think had these groups been in a larger city, they would have been. . . . You know, they weren't just 'Roxboro' good. They weren't just 'North Carolina' good. They were awesome. But not only that; they had relationships with professional groups. . . . 'I'm coming through North Carolina. Can I come stay at your house?' (laughs) The professionals knew them. Some of these singers were singing alongside professionals before they were professionals."
The Gospel In Person documentary rounds out the "Gospel In Person" series, which since the fall of 2022 has featured live concert performances of MG Music Group, the Torain Family, Just Us Guys, the Spiritual Lights, the Mighty Harmonaires, and John Thorpe and Truth. Concertgoers were treated to short documentaries spotlighting the headliners, but Michael is quick to emphasize that the full-length documentary is a new release and not a stringing together of the previously released short docs. "You're going to see a lot of things that were not in the stories we've already [released]. . . . We have not released any information on Facebook or in these concerts about maybe the most talented gospel singer in Person County history."
"Historic and monumental" is how the talented producer and director describes the significance of Gospel In Person; and yet, his prayers and hopes for it are profoundly humble.
"My prayer for [Gospel In Person] has been that it moves people spiritually because that's [Just Love In Person's] assignment; our assignment is to make a spiritual impact. I pray that it gets folks saved, revitalizes people, strengthens the spiritual work of quartets in Person County, and continues to strengthen the church community. I hope it encourages the active quartets to continue the work they're doing and realize they've made an impact. And then my prayer is that people can know, understand, and appreciate what exists in our community. We have greatness all throughout. I hope people understand what is in these roots and see it as their responsibility to continue to feed these roots by producing more greatness. My main prayer is that God is glorified and the people are encouraged.
"I'm grateful that God called me to the work because it is, to me, it's been the most important thing that I've really ever worked on."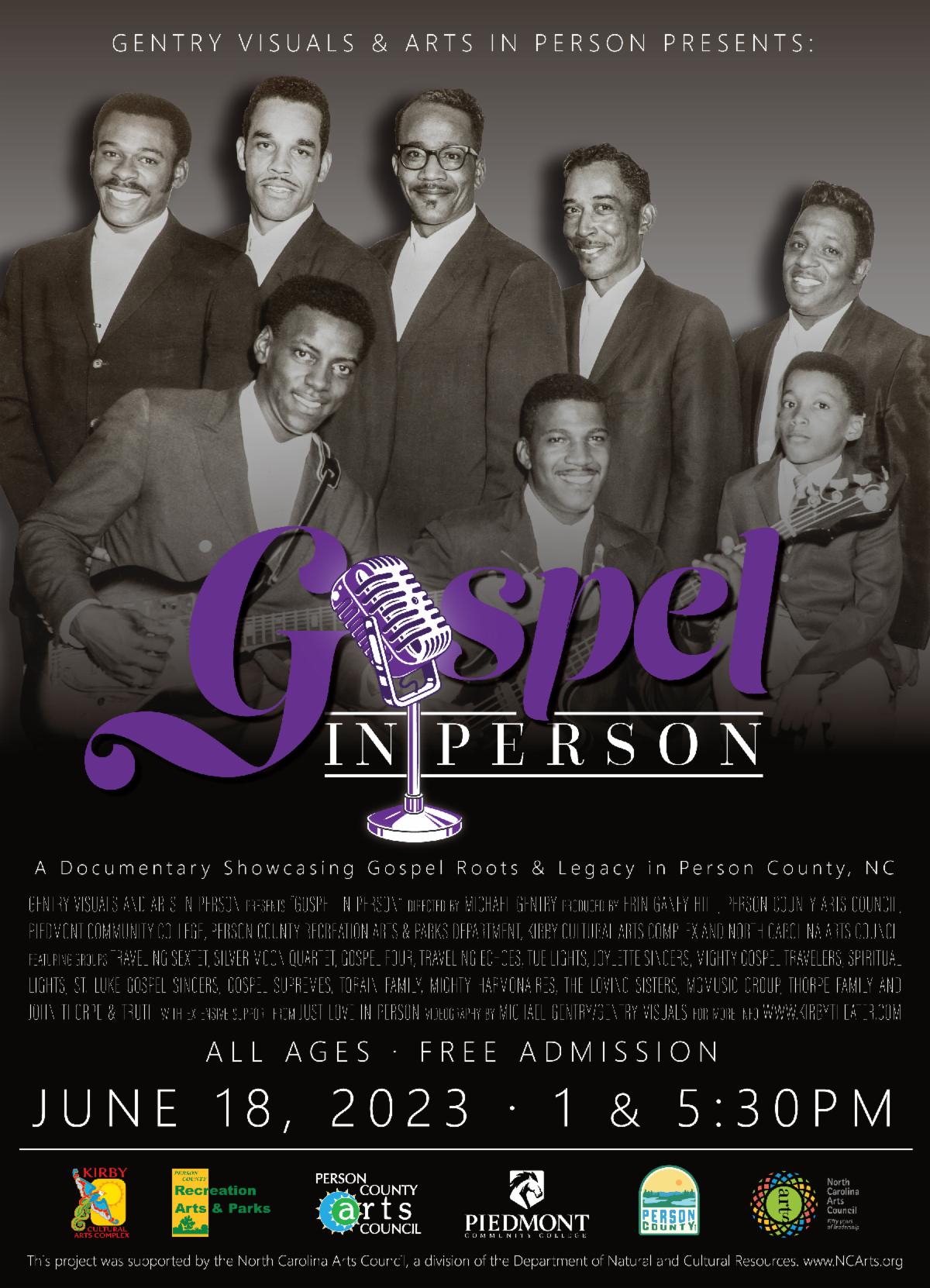 Gospel In Person premieres Sunday, June 18, at Kirby Theater on 213 N. Main Street in Roxboro. Showtimes are 1 pm and 5:30 pm. Admission is FREE. GMF's Libra Boyd appears in the film.
Editor's Note: The group pictured on the graphic is The Mighty Gospel Travelers. Seated from left to right are the late Michael Whitfield, David Ramsey, and Stacey Pettiford. Standing from left to right are the late James Lunsford, Rev. McArthur Pettiford, the late Victor Hester, the late Burley Pettiford, and the late Freddie McGhee.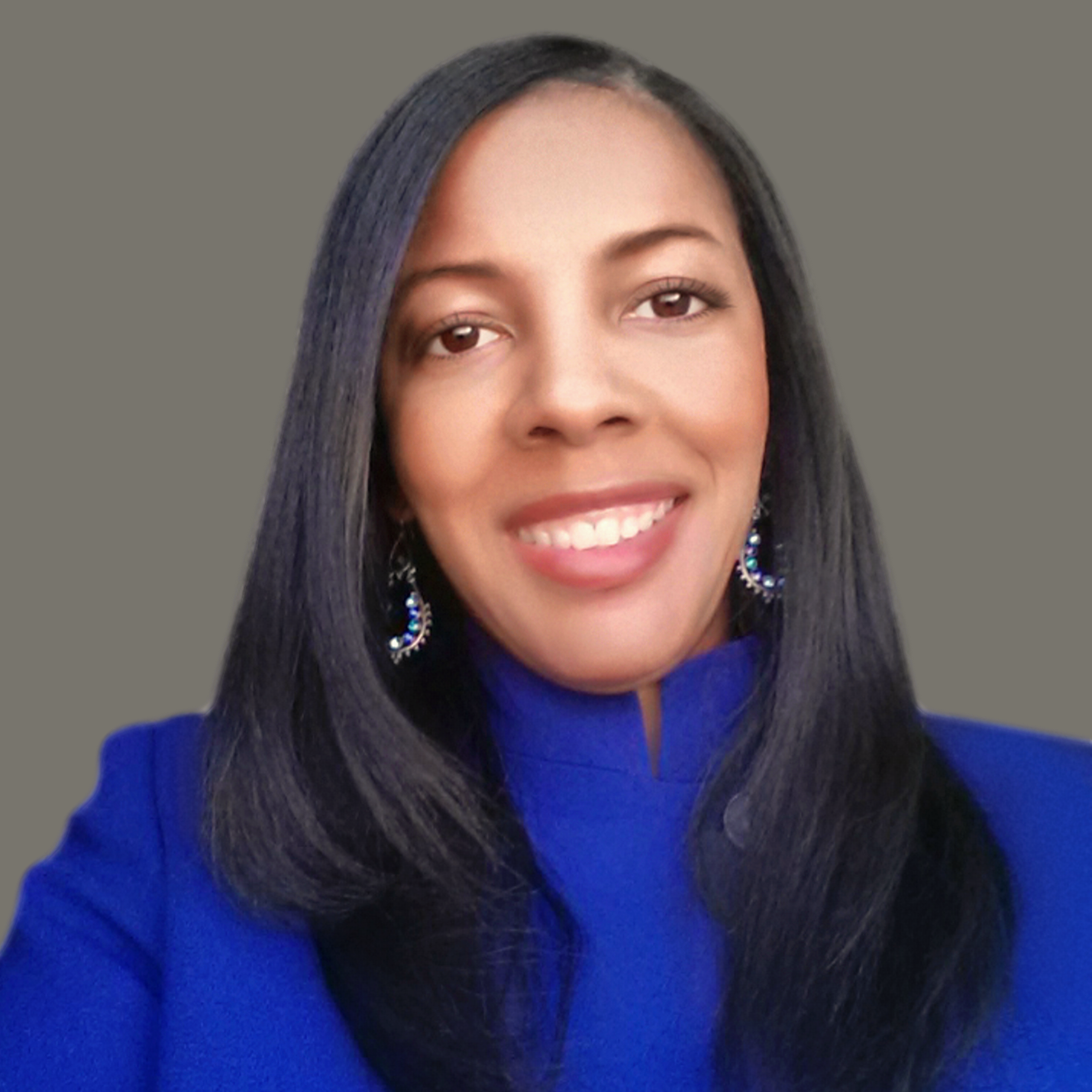 Libra Nicole Boyd, PhD is a musician, award-winning author, gospel music aficionado, and the founder and editor of Gospel Music Fever™. Her commitment to journalistic integrity includes bringing you reliable gospel music content that uplifts and advances the art form. Libra is presently working on several scholarly projects about gospel music in the media as well as gospel music in social movements.